Introduction:
Hi all, this is my second marine set up. The first was in Germany with a 450 ltr. This here is my second attempt and first here in Australia with around 1000ltr. after a 4 Year break, and I still love this hobby.
Here is a bit of my set up to read.
Lots of corals as
Lobophyllia (Meat Corals)
Fungia (disc / plate coral),
Acanthastrea (fleshy brain)
Acroprora (staghorn),
Anthelia (waving hand),
blastomussa_merliti (posie coral),
capnella cladiella (colt coral),
Catalaphyllia jardinei (elegance coral),
caulastrea (candycane),
favities (closed brain),
Goniopora (Coral) and lots of live rock in the Tank
2 Clams,
1 Dsummeni Tang,
2 Blue Tang,
2 Yellow Tang,
1 purple Tang,
1 Melanurus Wrasse
2 occelaris Clowns
8 green chromis,
1 Foxface
1 Hawkfish
1 Aussie chromis
1 banana wrasse,
2 coral banded Shrimps
1 Cleaner wrasse
and approx 10-15 other slugs and crabs or something like it.
Hope you all have fun reading and seeing it.
System Objectives:
Nice looking good growing Show Tank
System Type:
Mixed Reef
Display System:
Strike up Date:
April 2009
Display Tank:
2200cm x 65cm x65cm.
Display Lighting:
2 LED Lights from Reefsecretsaquarium
Stand:
Steel covered with wood.
Hood:
open
Sump:
1500cm x 50cm x50cm
Refugium:
37.5cm x 50cm x 50cm
Refugium Lighting:
LED
Support systems:
System Water:
Natural salt water
Display Water circulation:
2x Tunze Turbelle electronic
Return Pump:
Powerhead 5000
Skimmer:
Tunze Classic DOC Skimmer 9210
Evaporation Top Up:
manual at this stage
Other Equipment :
Teco TC20 Chiller incl UV light and Heater. bio pellet Reactor
Chemical Support:
Calcium Addition:
calcium reactor Schuran jet
Alkilinity Addition:
calcium reactor Schuran jet
Other Chemical Maintenance:
Growtech Tec III NG pumps to dose the rest which is need as 3ml per day
Current Water Chemistry:
Nitrates:
15
Phosphates:
0
Alkalinity:
0
Calcium:
430
Salinity / Specific Gravity:
1.026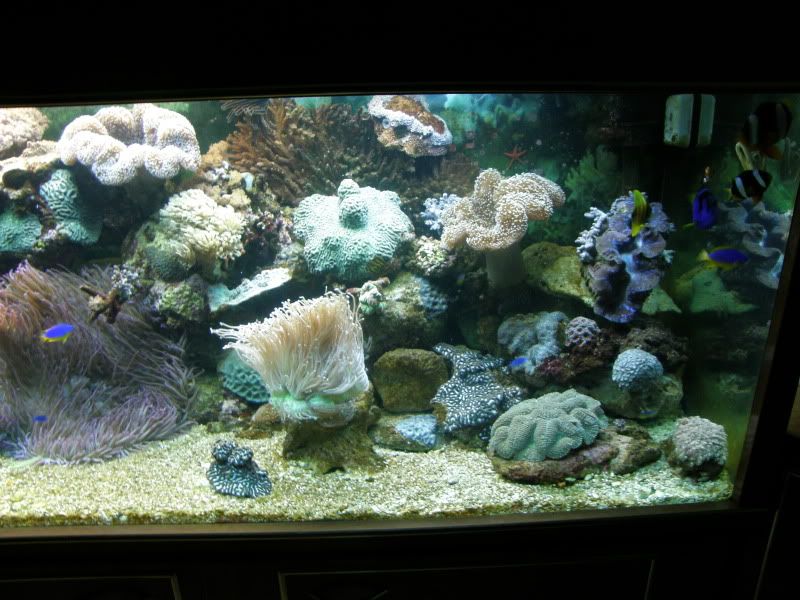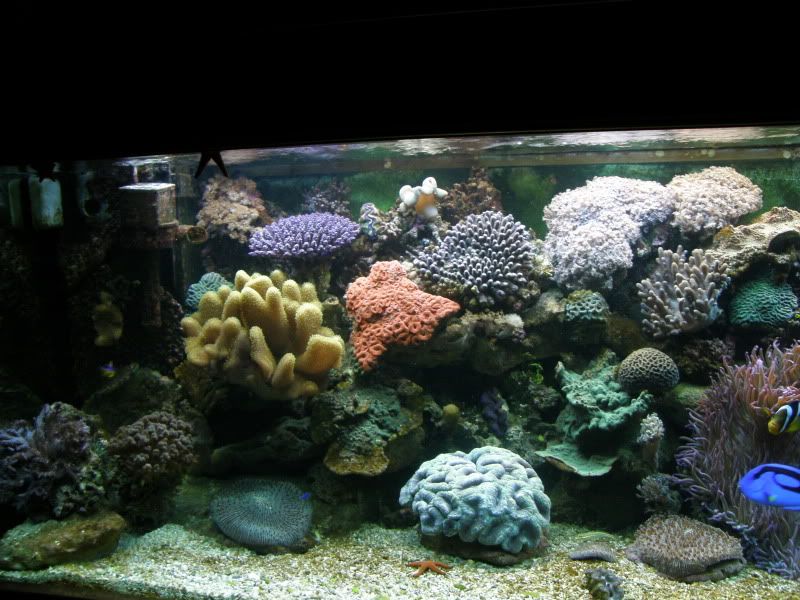 Images: