Introduction:
So After much pestering, annoyance and general help from the MASOV community over my little pico, its time to upsize and run a decent size nano reef. The main reasons for the size of the tank are:
- I have limited space.
- I want a nano that is more stable and more trip friendly.
- I like the feel that owning a nano provides.
- Im moving to perth in round 2 years, and hence this tank will have a limited lifespan.
System Objectives:
A much more stable system which is more conducive to keeping livestock, that still provides the challenges of a Nano, while allowing me the flexibility to have a lower maintenance schedule.
System Type:
SPS and zoas plus some LPS.
Display System:
Strike up Date:
14/1/2009 (But is actually an upgrade of an established tank + additional LR from an established system with 0 out of water time, hence I do not reccomend following the additions I make, rather see my old 20L journal).
Display Tank:
2ft x 1ft x 1ft
Display Lighting:
Hai-Yang 150W fan/Light Combo with 14,000K bulb. 10 Hour cycle 10am-8pm.
Stand:
Wooden 2 footer stand
Hood:
No hood planned as yet.
Sump:
26" long x 9.5" wide x 10" high, seperated with baffled section to eq and return, opposite end for fuge and DSB.
Refugium:
Part of sump, Coral Rubble and LR with Caulepera Brachypus, and seperate parallel DSB, these are seperated at one end of the tank and trickle into the return, opposite to the equipment/media end.
Refugium Lighting:
20W Lamp from bunnings with Cool Daylight globe running on a 14 on / 10 off cycle starting 3 hours before and going for 4 hours after the MH cycle.
Support systems:
System Water:
ASW
Display Water circulation:
Vortech MP20 plus sump return for a turnover of around 100x.
Return Pump:
2000LPH JHQ
Skimmer:
Deltec MCE300 hanging off display
Evaporation Top Up:
Manual
Chemical Support:
Calcium Addition:
aragamilk dosing
Alkilinity Addition:
aragamilk dosing
Other Chemical Maintenance:
aragamilk dosing
Current Water Chemistry:
Nitrates:
4 ppm
Phosphates:
0.11 ppm
Alkalinity:
8.5 dKH
Calcium:
410ppm
Salinity / Specific Gravity:
1.025
Magnesuim:
Not measured at this stage
Stocking:
Fish:
Assessor macneilli
Oxycirrhites typus
Inverts:
Tridacna maxima
Trochus sp.
Turbinastrea sp.
Corals
Acropora sarmentosa
Acropora dallas
Montipora sp.
Acropora sp.
Images: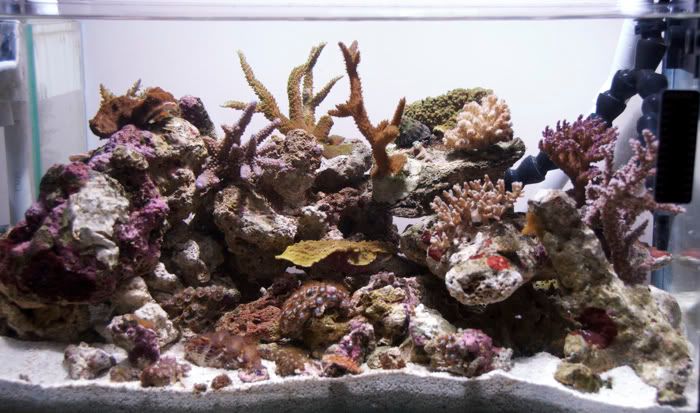 Hope people enjoy the trials and tribulations.[/i]