CURRENT FTS (26/07/2012):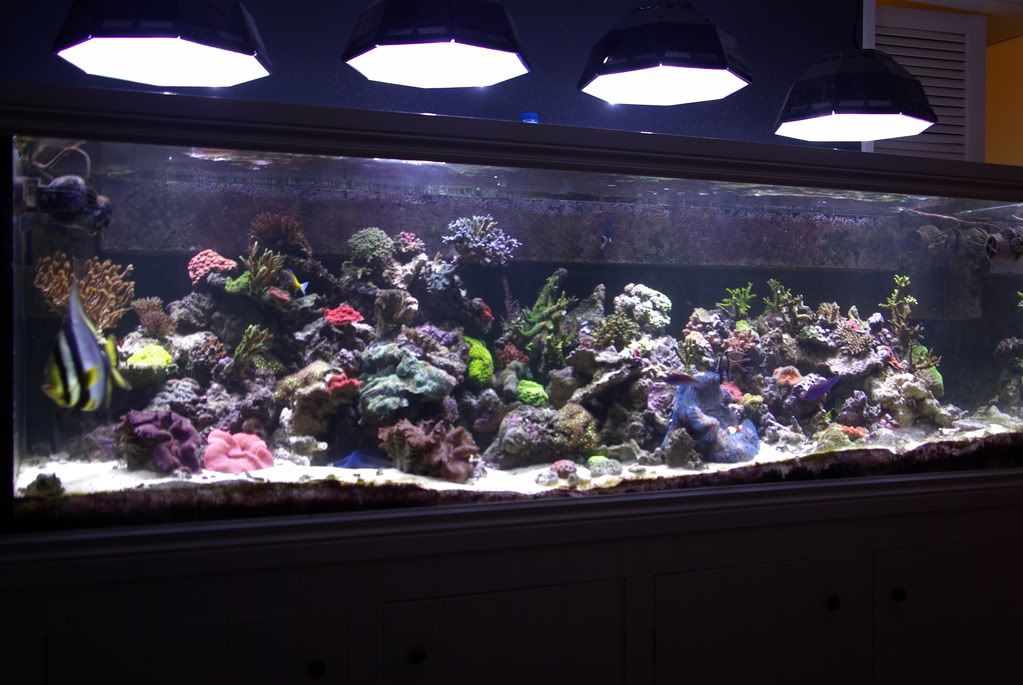 Hi All,
I am currently setting up an 8ft x 2.5ft x 2.5ft starfire reef tank replacing my old 5ft x 2ft x 2ft setup. At the moment my 5ft has now been broken down completely and I have a 6ft x 2ft x 2ft hosting my current reef inhabitants whilst the 8ft is allowed time to cycle \ establish itself. I would really love to leave the 8ft sit there cycling for 6 months but think temptation will overcome me and it will be cut short but I am determined to make an effort to keep it predator free as long as possible.
The main time restraints on this setup have been the fact that I had to setup a temp 6ft tank separately so that I could safely break down the 5ft without any mishaps and I also had a whitespot outbreak causing me to keep the fish in the old 5ft whilst treating with hypo salinity. I have also had further strikes of bad luck with my display tank splitting (due to all round poor workmanship), my sump smashing (due to a clumsy mate) and my frag tank smashing (due to poor workmanship - glass too thin).
I have found much inspiration and direction in Anthony Calfo's "Book Of Coral Propagation", his advice is well balanced and respected.
Im trying to reduce maintenance and areas of failure to a minimum. I will try to automate as much as possible, not from a laziness point of view but to help remove
myself
from being a point of failure in its operating as I am very much an elephant in a china store with these big sausage fingers of mine
LOCATION \ LAYOUT:
Here's a basic idea of the house layout and where Im planning on placing the tank. It will be replacing my old 5ft display and in order for me to have a smooth transition I will be setting up a 6ftx2ftx2ft at the other end of the lounge on the same wall. The wife is going to freak when im in the transitional phase of have both the 6ft setup and then the newly purchased 8ft side by side. 14ft of tanks in a row lol.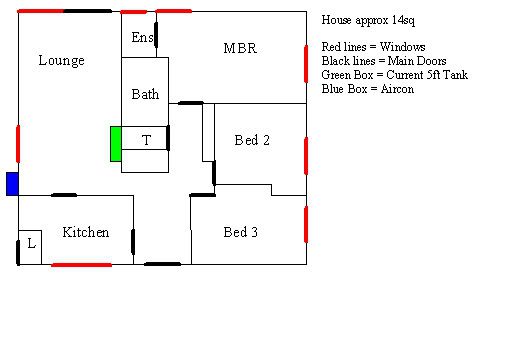 I will also be using our current cupboard which stores our hotwater service and ducted heating by gutting the lot and putting in all of the equipment such things as a sink\skimmer\reactors\shelves\chiller etc.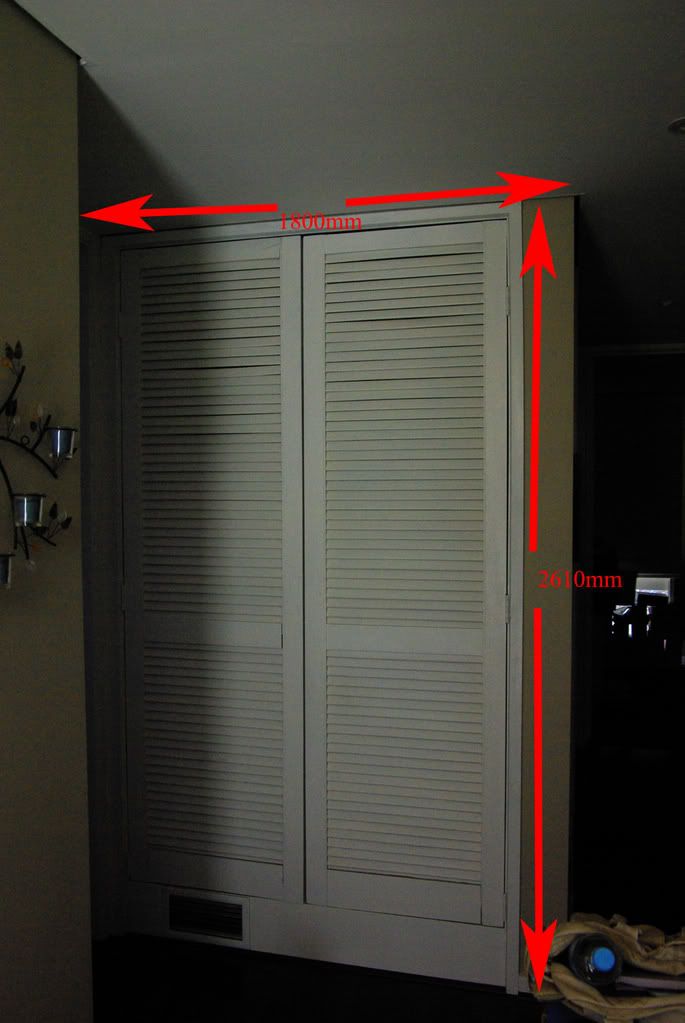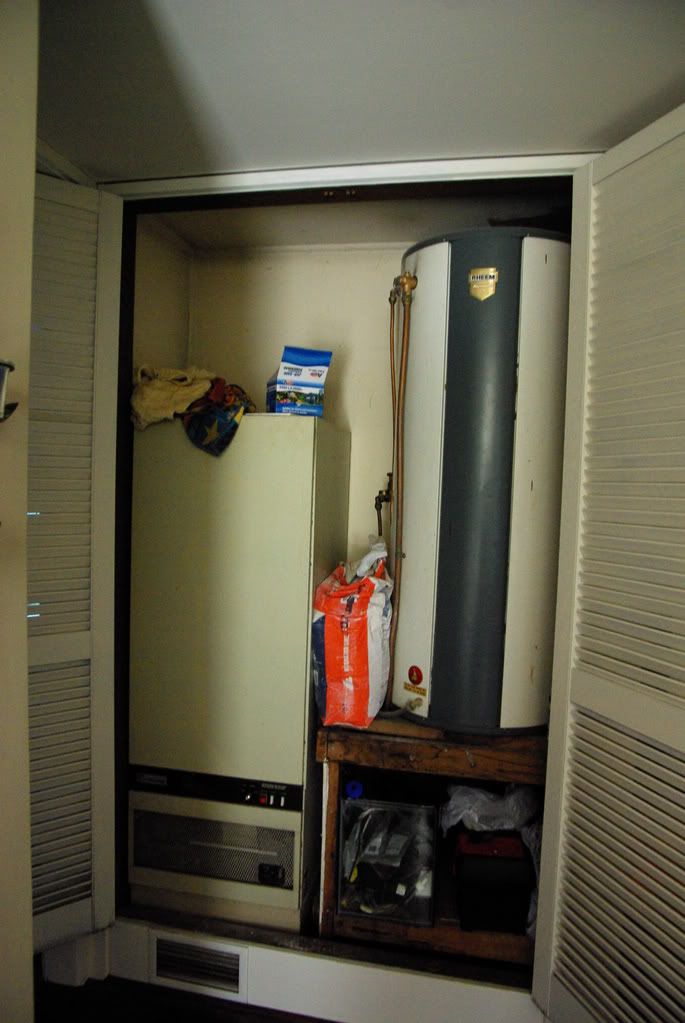 HARDWARE SETUP:
DISPLAY TANK SPECS -

DONE
*8ft (96") x 2.5ft (30") x 2.5ft (30") - Approx 1312 Liters / 356.4 Gallons
*16mm Starphire Glass \ Low-Iron (front, sides and top ie bracing)
*Polished Edges
*Tinted Weir (sides and front but not bottom)
*Black Silicone
*Silent\Fail-Safe Siphon -
BeanAnimal Design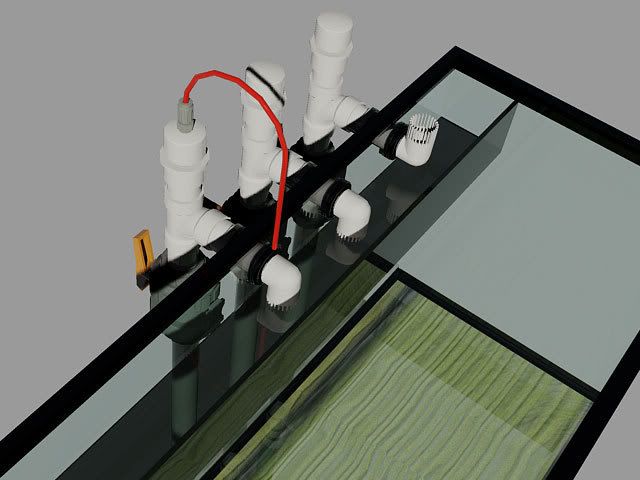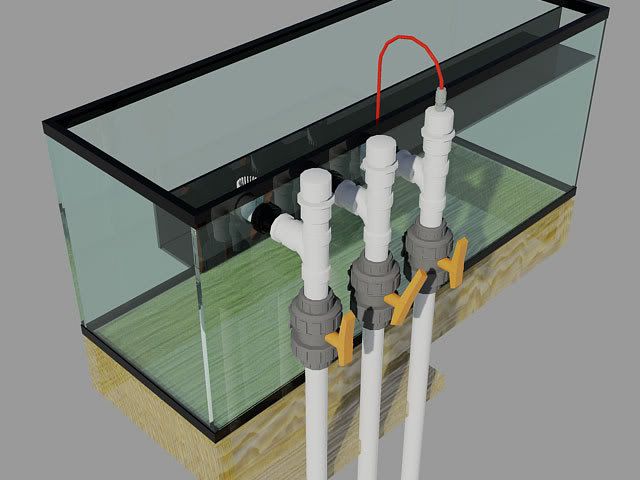 *Horizontal Weir\Overflow (Calfo Style) - See above \ combined with BeanAnimal Siphon. Tinted Black sides and front but with clear bottom to allow light to get through to below sandbed etc.
*Euro Braced (Single laser cut piece with one central cross beam as per engineers requirements)
*20 x 20kg 2mm Coral Sand for a 5" deep sand bed in the display
*Live Rock - I will primarily be basing this off a visual process but expect to use approx 200kg of fresh live rock.
TANK STAND -

COMPLETED
MATERIAL: Pine frame & Marine Ply top and bottom base
FINISH: Painted gloss white
FRAME HEIGHT: 950cm high
FEATURES:
*1 concealed end panel (no door knob, concealed latches)
*4 front doors (door knobs, concealed hinges)
*bottom skirting
*top pelmet (removable) - sits ontop of display tank
*water proofed
*doors sealed against light
*hard backing
*quad fan vents to assist with oxygen & reducing humidity
__________________________
EQUIPMENT
__________________________
SUMP:
7ft (84") x 2ft (24") x 1.5ft (18") Sump - 594.6 / 157.1 Gallons -
DONE
- Baffles divided into 6 sections. From left to right it will be:
*Carrib Sea Mineral Mud (8" DSB) & Macro Algae (One of two outlet split from wier\overflow return from display)
*Carrib Sea Aragonite\Aragamax Select (8" DSB)
*Coarse Coral Rubble (8" DSB)
*2mm Coral Sand with Live Rock (8" DSB)
*Return Section
*Split Wier\Overflow Return & Equipment\Treatment Section. ie. Heaters, Skimmer, Carbon, Reactors etc.
FLOW:
2 x Tunze Turbelle Stream 2 (6205's 5,000 - 22,000 l/h each) -
PURCHASED.
2 x Tunze Turbelle Stream 2 (6305's 9,000 - 30,000 l/h each) -
PURCHASED.
Tunze Turbelle Stream 2 - 7096 Multicontroller
PURCHASED.
Tunze Wavebox 6212 & Tunze Wavebox Extension 6212.50 -
PURCHASED
FILTRATION:
Ozonizer\Redox Controller (AquaZone Ozone Generator 200 Deluxe w/built-in controller & air dryer) + Single Air Pump-
PURCHASED
Skimmer (Reef Octopus Hurricane 4000 4X) -
PURCHASED
Return Pump (Reeflo Hammerhead Gold - 21,000 lph) -
PURCHASED
Calcium Reactor (Reef Octopus SNF-200) -
PURCHASED
Denitrator (Octopus CalFusion 2500:CR-140) -
PURCHASED
Phosphate Reactor (Reef Octopus PhosFusion 1500) -
PURCHASED
MEDIA:
Phosphate Reactor - PhosBan
Calcium Reactor - Deltec Rowa Lithc+
DeNitrator - Aqua Medic Sulphur Beads
MISC:
c02 bottle - Brewcraft 6.8kg
PURCHASED
Chiller (Supreme Aqua 1.5 HP) + (Plumbed inline with return) -
PURCHASED
Generator (GEN4500ES ie 4.5Kva) -
PURCHASED
Heater 500W + Digital Controller (Mercury Aqua) x 2 -
PURCHASED
Auto top off - Tunze Osmolator Universal (3155.000) -
PURCHASED
PH Controller (Tunze PH/C02 controller set 7074/2 ) -
PURCHASED
PAR Light Meter - Apogee Instruments Quantum Meter Dual Calibration
PURCHASED
RO/DI - PSI-019B-DI -
PURCHASED
FOR NSW COLLECTION:
2 X 1000L IBC Containers for NSW collection
PURCHASED
1 x Water Pump 6.5HP 1000 L /Min Petrol 4 Stroke Cara
PURCHASED
1 x Dual Axel Tandem Trailer with light truck tires and raised suspension rated for 2 tonne
PURCHASED
LIGHTING:
4 x CLB DE Pendant (Coralvue Lumen Bright Double Ended Pendant Reflection) -
PURCHASED
4 x IceCap 250-MH Ballast
PURCHASED
4 x Phoenix 14,000K DE MH
PURCHASED
Sump Light - 6FT Double T5 54W High Output -
PURCHASED
FRAG TANK:
- Plumbed inline with DT
FLOW - Tunze Nano Wavebox (6206)
PURCHASED
LIGHTING - Solarmax T5 AQUARIUM LIGHT 4x39W H/O 900 Long Individual Reflectors /w 4 x Ati Aquablue Special 39w Globes.
PURCHASED
PREPARATION WORK REQUIRED BEFORE SETUP:
*Upgrade home switchboard to safety switches -
DONE
*Get dedicated electrical fuse\line installed just for marine setup -
DONE
*Install Baileys 3300 Litre (726G) Water Tank for storage of natural salt water -
DONE
*Seal salt water storage tank to ensure no light (stop algae) nor rain water can enter\ contaminate tank -
DONE
*Relocated Hot Water Service from planned equipment cupboard to outside laundry -
DONE
*Remove Ducted Heating Unit from planned equipment cupboard -
DONE
*Build Shelves\Cupboards\Sink\Plumbing in equipment cupboards. -
DONE
*Install Chiller on top of roof \ outside -
DONE
*Install RO\DI, Auto Top Off activated by 12VDC Solenoid connected to mains water -
DONE
*Install & Configure Generator to automatically detect power failure and auto start. -
DONE
*Setup 6ft x 2ft x 2ft as a temporary (approx 6 months) display for current 5ft x 2ft x 2ft live stock. -
DONE
*Break down 5ft x 2ft x 2ft display to make way for new 8ft setup. -
DONE
*Setup 3ft Frag Tank in cupboard connected inline with display. -
DONE
*Setup QT Tank in cupboard independent of display. -
DONE
PLANNED FUTURE PROJECTS:
*Automate water changes
PLANNED OPERATIONS:
*Water Parameters: Other than the obvious zero Ammonia, Nitrite, Phosphate and Nitrate I will be aiming for Salinity/Specific Gravity - 35ppt/1.026, Temperature - 25-26ºC, Alkalinity - 10dKH, pH - 8.2 and Calcium - 450 mg/L.
LIGHTING PHOTO PERIOD:
MH Pendant 1 - 14:45 - 22:45
MH Pendant 2 - 14:00 - 22:15
MH Pendant 3 - 15:00 - 32:00
MH Pendant 4 - 14:30 - 22:30
Sump Light - 24:00 - 08:00
Frag Tank Light - 01:00 - 09:00
__________________________
LIVE STOCK:
__________________________
Some of the Live Stock I have had for a few years, others are intended future purchases.
FISH:
ANGELFISH
2 x Potter's Angelfish (Centropyge potteri)
1 x Flame Angelfish (Centropyge loricula) - CURRENTLY STOCKED
1 x Regal Angelfish (Pygoplites diacanthus)
1 x Emperor Angelfish (Pomacanthus imperator) - CURRENTLY STOCKED
BASSLETS
2 x Blackcap Basslet (Gramma melcara)
2 x Royal Gramma (Gramma loreto) - CURRENTLY STOCKED
BATFISH
2 x Pinnate Batfish (Platax pinnatus) - CURRENTLY STOCKED
BLENNIES
2 x Bi-Colour Blenny (Ecsenius bicolor)
2 x Midas Belnny (Ecsenius midas)
1 x Seaweed Blenny (Parablennius marmoreus) - CURRENTLY STOCKED
BUTTERFLY FISH
1 x Copperband Butterflyfish (Chelmon rostratus) - CURRENTLY STOCKED
CARDINALS
2 x Bangaii Cardinals (Pterapogon kauderni) - CURRENTLY STOCKED
CLOWNFISH
1 x Ocellaris Clownfish (Amphiprion ocellaris) paired w/ - CURRENTLY STOCKED
1 x Black & White Ocellaris Clownfish (Amphiprion ocellaris var) - CURRENTLY STOCKED
2 x Tomato Clownfish (Amphiprion frenatus) - CURRENTLY STOCKED
COWFISH
1 x Longhorn Cowfish (Lactoria cornuta) - CURRENTLY STOCKED
DRAGONETS
2 x Male/Female Pair of Green Mandarinfish (Pterosynchiropus/Synchiropus splendidus) - CURRENTLY STOCKED
EELS
1 x Zebra Moray Eel (Gymnomuraena zebra) - CURRENTLY STOCKED
GOBIES
2 x Green Clown Goby (Gobiodon atrangulatus)
4 x Yellow Clown Goby (Gobiodon citrinus) - CURRENTLY STOCKED
2 x Yellow Watchman Goby (Cryptocentrus cinctus) - Paired with pistol shrimp
HAWKFISH
2 x Flame Hawkfish (Neocirrhites armatus)
PSEUDOCHROMIS - DOTTYBACKS
4 x Orchid Dottyback (Pseudochromis fridmani)
TANGS
1 x Blonde Naso Tang (Naso lituratus) - CURRENTLY STOCKED
1 x Yellow Tang (Zebrasoma flavescens) - CURRENTLY STOCKED
1 x Purple Tang (Zebrasoma xanthurum) - CURRENTLY STOCKED
1 x Blue Tang (Paracanthurus hepatus) - CURRENTLY STOCKED
1 x Kole Tang (Ctenochaetus strigosus) - Hawaiian Species - CURRENTLY STOCKED
1 x Achillies Tang (Acanthurus achilles) - CURRENTLY STOCKED
WRASSE
1 x Harlequin Tusk (Lienardella fasciata)
1 x Six-line Wrasse (Pseudocheilinus hexataenia) - CURRENTLY STOCKED
2 x Canary Wrasse (Halichoeres Chrysus) - CURRENTLY STOCKED
ZANCLIDAE
1 x Moorish Idol (Zanclus cornutus - canescens)
IN MY WILDEST DREAMS - WISH LIST
These are either listed here because they are too hard to source, too hard to keep or not compatible with the above listed stock\setup. But they deserve an honorable mention for just being some of my favorite pictures
1 x Japanese Pygmy Angelfish (Centropyge interruptus)
1 x Clarion Angel (Holacanthus clarionensis)
CORALS - CURRENTLY STOCKED:
Currently I have the following but I am intending to base all future coral choices around potential angel nippers like the one I already have so will be relying on people like yourselves to offer suggested 'low risk' coral choices to attempt.
HARD CORALS
1 x Red Lobed brain coral (Lobophyllia spp)
1 x Orange Tri-Colour Lobed brain coral (Lobophyllia spp)
6 x Dallas Acro
1 x Purple Acro
SOFT CORALS
1 x Finger Leather Corals (Sinularia spp)
1 x Finger Leather Coral (Cladiella sp)
1 x Brown Spiny Sea Rod (Muricea elongata)
1 x Blue Spiny Sea Rod (Muricea elongata)
NON-CORALS
3 x Green Corallimorphs \ Mushroom Polyps (Discosoma sp.)
3 x Red Corallimorphs \ Mushroom Polyps (Discosoma sp.)
3 x Blue Corallimorphs \ Mushroom Polyps (Discosoma sp.)
3 x Blue Patterned Corallimorphs \ Mushroom Polyps (Discosoma sp.)
3 x Purple Patterned Corallimorphs \ Mushroom Polyps (Discosoma sp.)
3 x Orange Ricordea (Ricordea sp)
INVERTERBRATES - CURRENTLY STOCKED:
STAR FISH \ SEA STAR
1 x Large Blue Sea Star (Linckia laevigata) - HAD FOR 3+ YEARS
SHRIMP
20 x Peppermint Shrimp (Lysmata wurdemanni)
2 x Coral Banded Shrimp (Stenopus hispidus) - (Mated pair, rare variant of yellow bellies with blue legs)
4 x Red Line Cleaner Shrimp (Lysmata amboinensis)
2 x Pistol Shrimp (Alpheus sp)
4 x Blood Shrimp (Lysmata debelius)
CRABS
1 x Anemone Crab (Neopetrolisthes spp)
ABALONE
2 x Abalone (Haliotis spp)
SEA CUCUMBERS
1 x Tiger Tail Sea Cucumber (Holothuria hilla, Thymiosycia hilla)
SNAILS - Will be using the rough guide of 1 snail per 25 gal = 15 in display, 7 in sump
6 x Banded Trochus Snail (Trochus sp)
20 x Turbo Snails (Turbo sp)
20 x Zebra Snails (Austrocochlea porcata)
Zounds x Large Stomatella Snails (Stomatella varia)
ANEMONES
1 x Blue Carpet Anemone (Stichodactyla gigantea)
1 x Red Carpet Anemone (Stichodactyla haddoni)
1 x Rose Bubble Tip Anemone (Entacmaea quadricolor)
2 x Green Adhesive Pizza Anemone (Cryptodendrum adhaesivum)
CLAMS
1 x Blue Squamosa (Tridacna squamossa)
Please feel free to critique, offer advice, thoughts, concerns etc. Im looking at no expense spared when it comes to hardware etc so if there are other devices that you would suggest please let me know.
Thank-you to everyone for taking the time to read and respond.