Hi everyone.
Introduction:
I have had a 4ft standard running for around 2 years now, with no sump.
I have had limited success with this system, constant PO4 issues, and limited space for livestock.
It is time for the 4x2x2.
System Objectives:
I am aiming to have good coral growth. All of the TOTM/Y tanks truly inspire me, and to achieve coral growth even half that of the owner's tanks would be fantastic!
System Type:
SPS dominated, - minimal fish.
System Water Volume:
415 liters
Display System:
Strike up Date:
31.08.08
Display Tank:
4'x2'x2', with corner weir, 25 mm syphon, 50mm durso back-up.
Display Lighting:
2 x 250w MH @ 15,000K AMD (itzmatty) + 3 x 10K 54w T5's, + 1 x actinic 54w T5.
Stand:
Custom made, 800mm high, pine stand, stained to mahogany color, 4"X 4" legs.
Hood:
hanging light fitting from ceiling, no hood to be used.
Sump:
950mm long x 500mm high x 450mm wide.
Refugium:
Macro (calupera)
Refugium Lighting:
20watt energy saver 6500K.
Support systems:
Filtration:[/b
In-tank DSB (80kg's of 2mm coral sand @ 100mm average depth)
Live rock (80kg's)
refugium w/macroalgae
Protein skimmer
200 micron filter sock (cleaned daily ATM)

[b]System Water:
NSW
Display Water circulation:
1 x 5000lph korallia copy, 2 x 12000lph korallia copy
Return Pump:
5000lph Minjiang - MJ-6500
Skimmer:
Marine Sources MS-A-200-2-6450 ,gravity fed.
Chiller:
Resun CL-650, 1/2 HP w/1000lph weipro feed pump.
Evaporation Top Up:
Aquamedic SP3000 auto top up, 60ltr reservoir.
Heating:
2 x aquaone heaters. Total 600watts.
Chemical Support:
Calcium Addition:
Aquamedic KR1000 Kalkstirrer,, Acryllic Oceans dual chamber recirc Ca reactor.
Alkilinity Addition:
Aquamedic KR1000 Kalkstirrer,, Acryllic Oceans dual chamber recirc Ca reactor.
Other Chemical Maintenance:
Dolomite run in Ca reactor for raising Mg.
500grams GAC run in 800lpf FBF, changed monthly
10grams Rowaphos, changed monthly
Current Water Chemistry:
Nitrates: <0.05ppm (undetecteable on salifert test kit)
Phosphates:0.15ppm
( detectable on salifert test kit)
Alkalinity:9dKh
Calcium:425ppm
Salinity / Specific Gravity:1.025
Magnesium: 1250ppm
Images:
Initially the tank had no weir or hole in it. A guy from my LFS came out and drilled a 63mm hole in bottom rear left corner and supplied the fitting aswell.
I order some 10mm glass cut to size and constructed the corner overflow myself.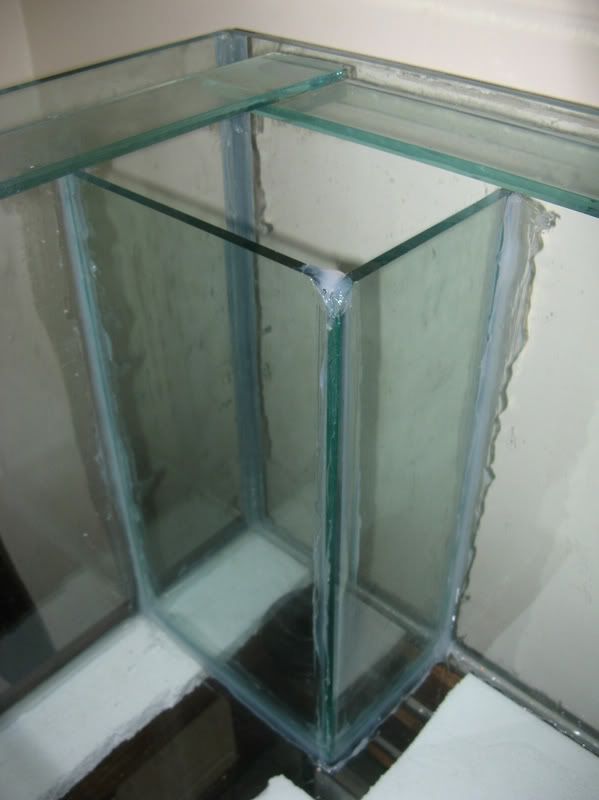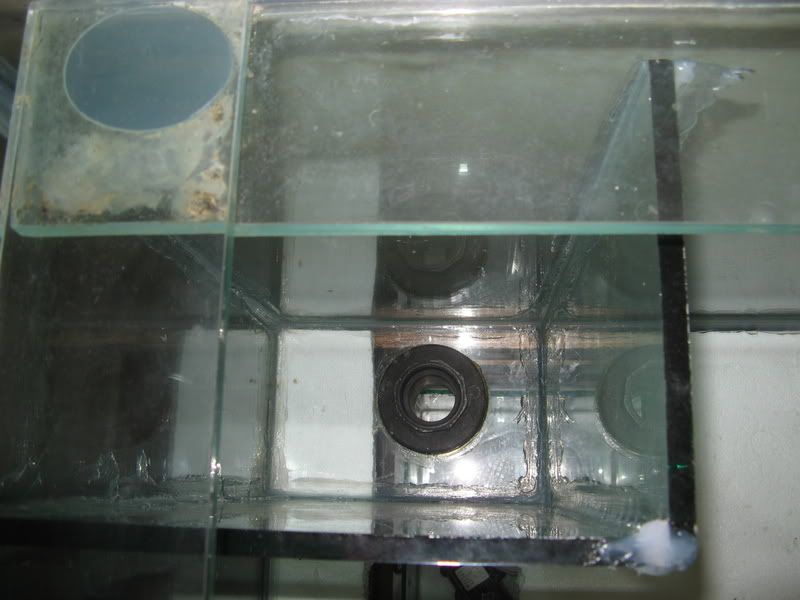 Note aircon. Tank wont be overheating this year! Unless there's a blackout, in which case i'm buying a genset.