As the case with a lot of people I have been meaning to start a tank journal ever since setting up my tank. So here goes – Sorry for a mammoth first couple of posts..
I have been keeping Cichlids in a standard 4 foot tank for over 10 years. It was always an understanding with my wife that upon us buying a house, I can get a marine tank. We bought a house in April 2006 and in Janaury 2007 my friend Adrian who had a marine tank for years pointed me towards MASA and thus I started researching Woo hoo!!! Thankyou to all the people who answered the many questions that I asked. And I assure you all, there were many. The best advice was – read, read, read before you spend any money. I've spent a scary amount of money, but I would have spent more without that advice.
My mates tank was an established (5yo) standard 4 footer with in tank DSB and a couple of powerheads. His skimmer broke 12 months before, thus no skimming. His tank was humming along with zero nitrates etc. He was moving house, thus packing his system up and the plan was for his livestock to go into my tank. Thus I wanted to have my tank up and running 3 months before the transfer to ensure inhabitant survival.
So after all the reading, with my mates tank as a baseline, I came up with this plan:
TANK -
a mixed reef/fish eurobraced 4x2x2 tank with offset centre weir.
FILTRATION
An in tank DSB with liverock (modelled on my friends tank).
SUMP
- A DIY sump underneath with skimmer, heaters and return and a section for running carbon and stuff like rowaphos.
CABINET
- A DIY cabinet with the modern look that fits in with my other furniture
PLUMBING
- A straight through 25mm siphon with a backup 32mm stockman standpipe. I put valves (group buy) to limit the flow on the siphon to approx 95% of the total throughput. Thus the stockman takes a tiny bit of flow resulting in the removal of the flushing toilet sound. The water only falls about 2cm into the weir, thus nice and quiet. I also installed an extra pipe out of the siphon that connects straight into the sewer under my house (easy for water changes)
SKIMMER
- Reef Octopus NW-200
HEATERS
– 2 x 300w one set a tad lower than the other
RETURN PUMP
– OR3500
LIGHTING
- A Sun Sun 2x250W MH, 2xT5's and moonlights. I replaced the ballasts with the masa groupbuy, thus my house shouldn't burn down.
POWERHEADS
- 2xTunze 6045's
COOLING
– evaporation with 2 desk fans installed over tank.
TOP-UP
- Tunze Osmolator using Tap-water only.
·Due to $$$ spent so far, there was no chiller or RO/DI filter for topups.
So I ordered my 4x2x2 and once it arrived I designed the cabinet to fit the tank and skimmer height. I followed the plan in ReefCulture magazine and modified it for my purposes. The cabinet was made from 70x35mm and 90x35mm structural pine with a shrouding of 16mm Tasmanian Oak for walls, doors etc. One end is held on with magnets and the front doors use removable hinges. The structural pine was glued, clamped and screwed together. There must be at least 100-200 screws, all countersunk and covered with putty. I used a router and biscuit joiner to make the shrouding and doors. I stained it with a dark stain and sealed it with 4 layers of carbothane. The inside of the cabinet was painted with leftover exterior house paint.
The hood was also made from pine and Tasmanian Oak. If anyone wants my plans, PM me. The only thing I would have done different is to make more space between the braces under the weir. It's a massive PITA to tighten the bulkheads and the ball valves underneath.
While making the cabinet I was also doing major renovations on my house i.e. ripping up the floor to lay floorboards. While the floors were up I installed extra bracing and a duragal adjustable pier under the tank.
I made a simple DIY sump from 8mm glass to fit perfectly in the cabinet. It consisted on a skimmer section and a return section. On the return side of the baffles, I installed a section to put carbon/rowaphos.
On 1/7/2007 the stand was bought in, tank put on top and a fresh water test done. With some tweaking of the valves and general tightening of connectors, it was all systems go. I tested for a power outage. Hmmmmm I had calculated for the water in the wier to siphon to the sump, but not the display. i.e. The display siphons down through the return hose to the level of the bottom of the return bulkhead. Before disaster occurred I turned everything back on. Some quick calculations indicated that a power outage would result in 27L of water on the new floor. So I changed the baffled in the sump and increased the height of the siphon pipe in the weir. Thus at power outage, the weir only siphons about 1L and the sump would now take the display head.
Next, 60kg of substrate went in (I can't remember what type) and the mission for collecting water was on. 3 trips to Swansea and the tank was running. The DSB was only about 6cm deep, So I ordered another 40kg. That left the DSB to be 12-14cm deep. About 10kg of liverock was put in along with the substrate samples people gave me (thanks again)
I 'fed' the tank while it cycled. The only thing we could see was a small anemone looking thing. After admiring it for a week or so we found it was aptasia. arrghhhh
). On 18/8/2007 A lawnmower blenny, a few microhermits and snails were added. Grungefreek (Brad) gave me a BTA. I was so stoked to have some livestock. Thanks mate.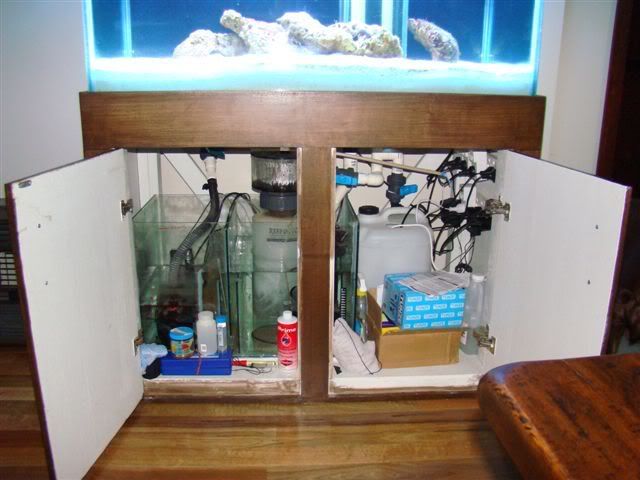 1st September 2007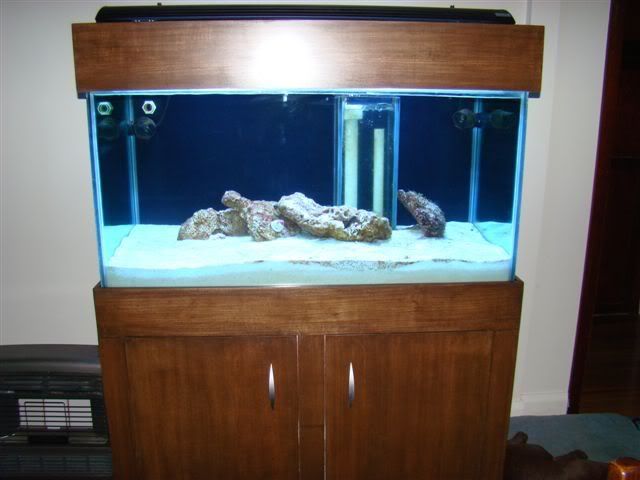 1st Sept 2007
On 29/9/2007 the mission to my mates place in Sydney to pack up his tank and move the livestock into mine. His livestock consisted of about 30kg liverock, assorted LPS, SPS, a collector urchin, red legged hermit crab, maxima clam. All transported well to my place. All stock was put in tank to sit for a few days. Grungefreek (Brad) was there when it all turned up. It was a mission fitting it to lie low on the sand. My mate had old 150W globes, I had brand new 250W. After about a week I did some aquascaping. The only death I had was a yellow SPS. Not bad I thought.
Over the next few months I added a green hammer coral, a 6-line wrasse, torch coral, some purple firefish, a royal dottyback and coral beauty and an assortment of other things. One day I notice my lawnmower blenny was missing, only to find him 6 weeks later in the sump. I the meantime I had replaced him with a Gold Spotted Rock Skipper.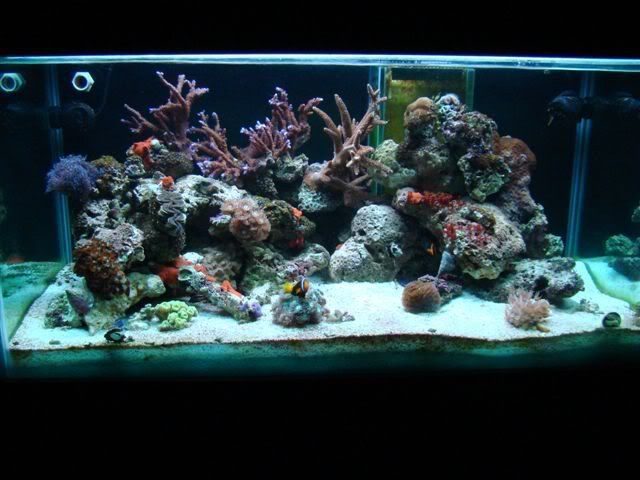 14th October 2007
17th October 2007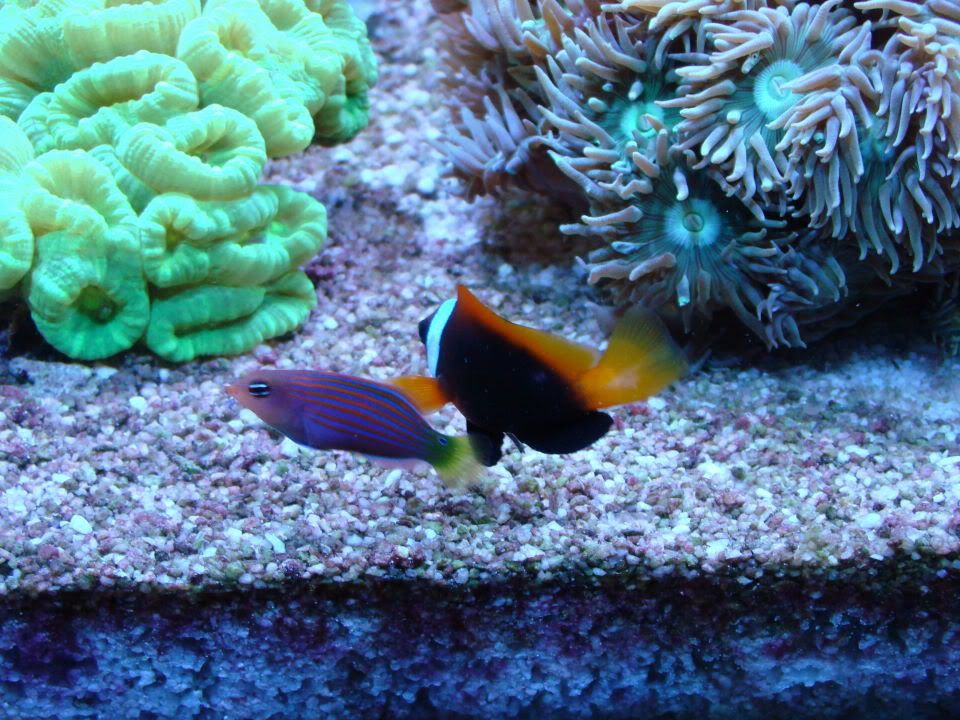 In November 07 I started using bicarb and damprid for Ca and Alk.
I noticed some phosphate. So I ditched the insump rowahos and pulled out my old canister filter from the shed to run the carbon/rowaphos. Recently I have bought a fluid bed filter (SKIMZ FF-200 from truly fish) for the rowaphos. It works a treat. I think I must have been lucky as I received this item promptly from trulyfish.
About 6 weeks ago I started my current cyano outbreak. It has been doing my brain. I decided to get a RO/DI system from PSI filters for my top-up. This has been running since25/6/2008
My nitrates have never been at zero. And its never stressed me out. However now it is because I want this damn cyano to go away and perhaps it is a contributor!!! I'm thinking of ditching the canister and only running carbon/rowaphos in the fluid bed filter
So that's where I'm at right now. Well done if you read this far. Thankyou everyone that has posted to my questions and run group buys. Without you my tank would be nothing like it is.
My lastest Water Parameters:
SG: 1.026
pH: 8.2
NO2: 0
NO3: 10
PO4: 0
Ca: 440
kH: 6
Alk: 2.1