Well I have put this off long enough (3.5 years to be exact ) but I have finally decided to do a tank journal for my 6ftr.
I bought a "marine set up" in 2004 without really understanding exactly what I would need to successfully run a marine tank.
In the early days I had T8`s running under a tank hood and a sump full of bio balls. The tank just looked too sterile.
I was inspired by the display tank at Seaview Aquariums and set about with the idea of creating something similar.
Since then, I have gotten rid of the hood, tank lids, t8`s, bioballs etc and due to the info found on RTAW and the rest of the web, I have gradually got to the stage Im at now.
The tank is very stable nowdays and goes weeks without any maintenance besides algae removal from the glass.
Im basically a fish lover and love to watch my fish interact with each other and watch their individual habits. The corals are mainly just a colourful background, in my eyes. I think this not the way most people view a reef tank.
Im not a water chemistry freak who has to monitor daily and sometimes go months without any testing. I can usually tell if something is amiss nowdays by watching the inhabitants.
Since the early days, I have added a mozoo metal halide unit (3 x 150 + 4 t8 actinics tubes) , a second hand Teco chiller, a calcium reactor ,skimmer and a auto top off unit. I have also redesigned the sump and Im pretty happy with the whole thing now and would consider it to be about finished.
My only problem is I still impulse buy fish at the LFS.
It was for this reason that I started another tank to house the excess fish.
My 4 ftr journal here
viewtopic.php?t=187688
The current inhabitants of the 6ftr include
1 Harlequin tuskfish (my oldest fish)
1 Yellow tang
1 Clown tang
2 mandarins
2 Ocellaris clowns
1 pink goby
1 Flame angel
1 Coral beauty
1 Humbug
1 Damsel
1 Chromide
1 Banana wrasse
Probably too many fish but they all seem to be thriving.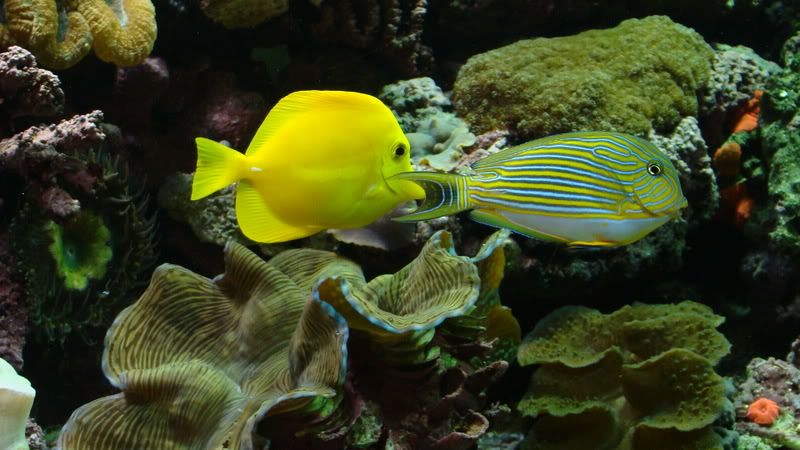 I use NSW for water changes and apart from what comes out of the calcium reactor , no additives.
More pics soon.