System Objectives:
Simple system to get the best results - My goal is always to have a tank system with basic equipment which drive the best outcome, i.e. colourful SPS, fast growth rate with cheap/affordable setup with minimum maintenance
I understand reef keeping is never going to be cheap (already proved that to myself when my equipment/fish died on me), but I do believe we can achieve the same results, like we get from using expensive equipment e.g. Zeovit system, by having a simple, inexpensive setup
No Zeovit method is used
System Type:
I made a lot of change with my tank in order to bring the best outcome in an affordable way, but I would like to keep mainly SPS with zoas/morphs as other additions. I also set my goal of being able to make this hobby sustainable by propagation and selling frags to cover my expenses on this hobby. It has been a success so far, although I did make a few mistake and lost some valuable corals in the past, but at least I have been able to cover most of my expense with the money I get from selling zoas and morph frags
Display System:
System setup date: set up since Jul2007, but I was running a 2ft tank over 1 year before I set up my current system
Display Tank: 3' x 2' x 2' tank
Display Lighting: Mini Lumenarc replica reflector with 250W MH and 3 x 24W T5 supplement (Actinic, blue plus and Fuiji purple), and also a 2x24W PC light
Stand: DIY stand by my mate Dave, with both side panels removable
Hood: DIY crown hood done by my mate Dave also
Sump: New 3ft sump with 3 baffles, DSB and macro algae in the middle and return on the right.
Support systems:
System Water: Natural salt water
Display Water circulation: Vortech MP20, and Maxijet 1200 (giving 40x circulation)
Return pump: Eheim 1260 pump (2400LPH)
Skimmer: RO DNW110 running out of sump lately replaced by the new Bubble Pioneer BP-CE180 cone skimmer
Refugium lighting: solarmax 2ft twin T5HO unit (white and blue)
Cooling system: 12v fan + Teco TC-10 during summer
Evaporation Top Up: Tunze auto-top up
Other support:
Calcium management:
Deltec PF501 CA reactor (will soon add an addon chamber to stabilize PH level)
FBF filter with N/P biopellet
Livestocks:
Fishes:
2 x Blue Yellow tail Damsels (pair)
2 x Chromics
2 x Banana Wrasses
2 x Bangaii Cardinals
1 x Royal Gamma
1 x mini blue tang
Corals:
Reduced my collection from over 30 to 15 different SPS, e.g:
Acropora sp.
Seriatopra sp.
Stylophora
Pocillopora
Montipora sp.
Others:
Goniopora
5 different corallimorph, discosoma, rhodatics (all gone)
Over 15 different zoas sp
2 x fungia
Sarcophyton sp.
Others:
Heaps of turbo snails, Cerith, Trochus and Astrea snails (All from Oceanarium)
A couple hermit crabs
Peppermint shrimps (gone unfortunately), replaced by a mantis shrimp
Collector urchin
Images:
First up is the FTS: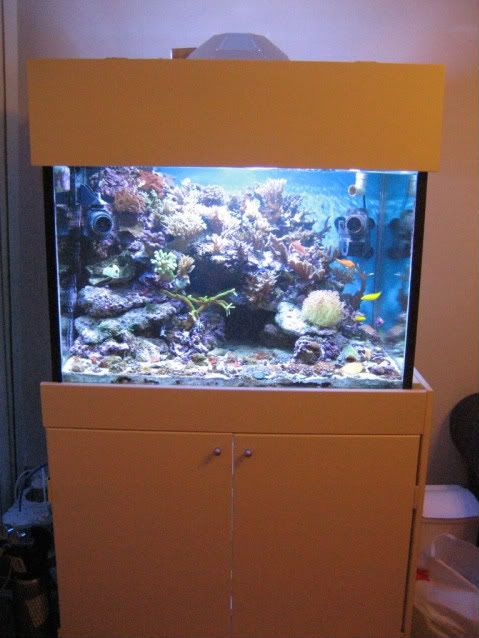 Here's my old TJ:
http://www.masa.asn.au/phpBB3/viewtopic.php?t=178057&highlight=
Now.. That was how my Tank Journal began......
Back in July07, I bought a 3ft tank, came with hood, cabinet, sump, plumbing and all the equipment off another MASS member for a bargain.
It came with all the equipment I needed to kick start a new tank, e.g. Skimmer, MH light reflector+external ballast, light for the sump, heaters etc. Below was the 2.5ft sump that I bought also.
The equipment list:
Tank: 3x2x2 with eurobracing and reinforcement on all 4 corners (quality build from St.George)
Sump: 2.5+ft sump
Return pump: Eheim 1260
Skimmer: Resun dodgy skimmer came with a Resun feed pump
Sump light: A cheap chinese fluro light
Main tank light: Start off with a SunSun 2ft single 150W unit and then changed over to the 250W MH reflector later in the stage
Circulation: 2x Seio 4400L/H pumps
Heaters: 1x 300w and 1x150w heaters
However, my fiancee didn't like the colour of the hood/cabinet so I decided to invest on another set of hood and cabinet. I got another MASS reefers Dave to custom make them for me and then I did the stain and vanish.
(Sorry for the photo quality as I used my mobile cam instead)
I spent a lot of time setting up the tank, added a few things and changed a few stuff to try to get things right.
In order to save myself a couple of hundred bucks on LR, I used a milk crates in the tank:
I traded the 2.5ft one with Dave and he in return custom made me a smaller one. Basically I had 3 baffles between the 1st and refugium and then only 1 baffle between the refugium and the return . It is a 2ft one so I had more room for other equipment in the cab
I also added some plastic desk protector (from Ikea) in the cabinet to prevent it from water damage
Here's a pic of the plumbing and standpipe, with a ball valve to control the flow
I stick with the original durso as I was happy with the height
For weir guard, I played safe by having the egg crates plus some comb shaped materials I got from my old tank
For the return, I also sticked with the original design but made a new but identical one
I test run it and everything seemed to be OK so I added the DSB and all the other equipment into the sump
I also DIY a bubble trap (Got the idea from a fellow reefer. Basically one container, with holes drilled on the bottom, glued inside another bigger container. I double the work by using stocking to wrap around the pipe end (idea from Yung Lucifier... don't ask where I got the stocking from!!!
)
So, all good... more pics to be added