Introduction:
By request, here is an up to date profile of where my Tank setup is at as of 21/07/08. I will update this post as things change keeping you all up to speed or should I say those of you, that don't want to read through 30 odd pages of me dribbling on bringing you up to speed.
Full Tank Photo Shot Taken 10/12/08

System Objectives:
To have an in wall display tank that is easy to maintain and look after, with a nice select selection of fish and corals with lots of colour and movement.
System Type:
Mixed Reef.
Display System:
Strike up Date:
Fish Room preparations and renovations started early September 07 with all work being carried out by myself. The fishroom is 3150 x 2350 x 2400mm High, fully tiled to a height of 1100mm with a floor drain and a drain to waste water. The room is also fitted with a 2 door cupboard for storage and a stainless steel wash hand basin and draining board for that all important washing and maintenance of pumps and other equipment.
Display Tank:
Tank was Custom built by Maryannes Aquariums and is 2360 x 910 x 750mm High using 12mm thick glass. The tank also has an inbuilt weir to one end and two weir pumping sections for in tank circulation, the tank has 2 braces dividing the surface lighting area into three equal areas, and is strengthed around the top and around the base and all vertical corners with additional glass strips. Tank pics start on page
(6)
of my Journal.
Display Lighting:
3 x Lumenbright Reflectors fitted with 400w Reeflux 12000k lamps controlled by CoralVue dimmable electronic Ballasts. Controlled using the Profilux controller for on and off only. 12 x 2' Profilux controlled dimmable HO T5's to provide full weather simulations. Lighting pics start on page
(22)
of my Journal.
Display Moon Lighting:
Was using the Fishbowl Lunar cycle Computer controller with 4 x Moontubes. These are going to be replaced with the Profilux LED units controlled by the Profilux to give full day / night and various full weather simulations.
Stand:
The stand was Custom built by myself and more info can be found starting on page
(2)
of my tank Journal.
Lighting Frames:
3 x Light weight 25 x 25 aluminium angle light frames, fitted to aluminum Cowdroy sliding tracks and wheel fittings mounted to the ceiling above the tank. Lights can be slid along the tracks the full length of the fish room and was built and installed by myself. More info can be found starting on page
(24)
of my tank Journal.
Sump:
Sump was Custom built by Maryannes Aquariums and is an all in one unit consisting of a Water in section 200 x 350 x 460mm High / DSB 700 x 350 x 430mm High / Media section 320 x 350 x 430mm High / DSB & Refugium 830 x 250 x 430mm High / Return section 390 x 250 x 460mm High. The overall size of the sump is 1220 x 610 x 460mm High. More info can be found starting on page
(10)
of my tank Journal.
Refugium Lighting:
Aqualina 4 x HO T5 28w controlled using the Profilux controller for on and off only. Photo can be found on page
(29)
of my tank Journal.
Support systems:
System Water:
Natural salt water.
Aquarium Computer Controller:
Profilux Plus II EX Computer Controller. Photo can be found on page
(26)
of my tank Journal.
Display Water circulation:
In tank water circulation is provided by 4 x Gen 2 Vortech MPW40's and 3 x 6110 Tunze streams and 1 x X-Wave.
Return Pump:
Sump return is an Aquabee 7000 L/Hr which also feeds from the return plumbing to my CA Reactor.
Skimmer:
Is an out of sump 1120mm high 150mm dia single Becket Injected Turbo Skimmer, powered by an Aquabee 7000 L/Hr pump.
Evaporation Top Up:
Water top up is currently done manually using RO water, However top up will eventually be controlled using the Profilux Controller when I eventually get around to setting it up and purchasing the Profilux pumps.
Water Changes:
Natural saltwater changes are conducted manually with no set period, monitoring the tank and its inhabitats is the key to my water changes. Water changes in the near future will eventually be controlled using the Profilux Controller providing more regular smaller changes. Water storage is a 1000Lt IBC.
Chilling:
The tank temp is maintained using a 11/2 HP Aqua One Arctic Chiller which is installed outside and plumbed into the fishroom. The chiller is controlled using the Profilux controller. Pumping to the chiller is provided using a Haliea HX 6550 pump.
Heating:
1 x 300w Heater, controlled by the Profilux controller.
Chemical Support:
Calcium Addition:
Is provided using a Turbo 520mm High x 150mm dia twin chamber reactor using a ViaAqua 1100 L/Hr circulation pump controlled by the Profilux controller (Always on). The chambers are filled with course coral rubble to the bottom of each chamber with Carib Sea Aragonite on top of that and topped off with A.R.M.
Alkalinity Addition:
Alkalinity is maintained as noted above.
Other Chemical Maintenance:
No chemical Maintenance at this stage.
Current Water Chemistry:
Nitrates:
Undetectable
Phosphates:
Undetectable
Alkalinity:
2.7
Calcium:
420
Salinity / Specific Gravity:
1.025 Monitored by the Profilux controller.
Magnesuim:
Not tested.
pH
8.2 Monitored by the Profilux controller.
Ammonia
Undetectable
Water Temp
26 degrees C, Monitored by the Profilux controller.

END OF EDIT UPDATE
Well here we are again with the startings of another Tank Journal for my latest project.
Confirmed Tank size with Dennison from Maryannes Aquariums which will be 2400mm (l) x 915mm (w) x 750mm (h), with super end weir with 3 chambers which will include 20 holes drilled for circulation system and 14 Aqua medic 50mm round grates with a black acrylic cover plate to block out any viewing into the weir area from the front of the tank, there will be two holes drilled in the bottom of the centre section, one 63mm for 50mm bulkhead and one 35mm for 25mm bulkhead, 2 x 320mm Aqua medic overflow combs for surface skimming. Still to confirm if I am going to go with the Pilkington Opticlear for the front viewing panel. Tank will be built in November for installation into wall of the fish room hopefully late November.
A big thanks to Dennison for helping with the decision making for my new project.
DEMOLITION STARTS
Well, I have started with the demolition works by removing all the cupboards and tiling from the side of the room that will be the tank viewing side, ended up with a bit more work than anticipated due to removing half the gyproc away with the tiles.
Marked out the gyproc ready for cutting.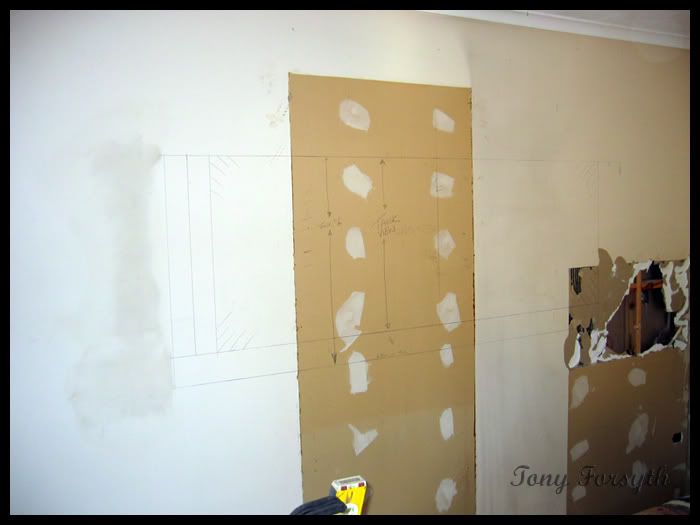 This shot is taken inside the room which will become the new fish room before any work commencing.
Wall marked out inside the fishroom, so will commence cutting the gyproc to expose the timber studs ready for cutting.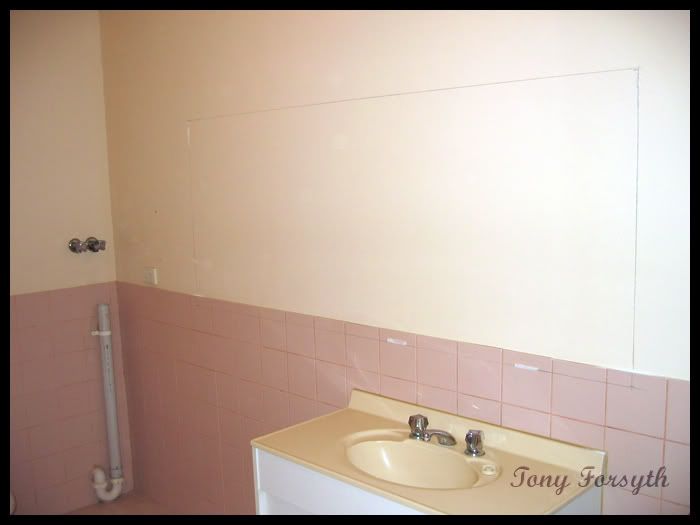 I decided to cut the the tank viewing side first then check the alignment of the inside marks just to make sure everything was aok before cutting the inside.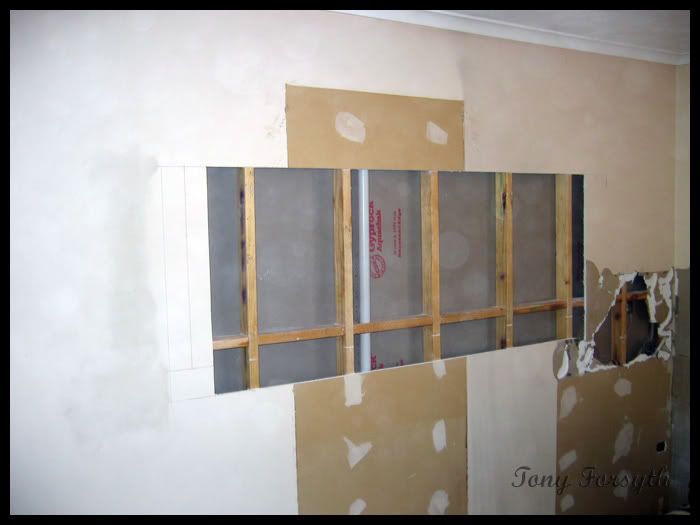 When I built this room many years ago, and as it was a wet area I used the Aquacheck Gyproc so all is good for the fish room walls.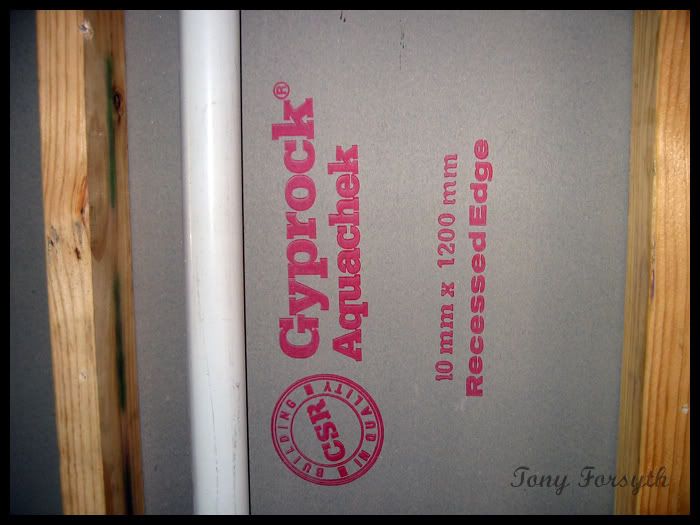 You can see the PVC air vent for the drain to the vanity unit which went up through the tiled roof, lucky I had some spare roof tiles once the air vent pipe was removed to make good.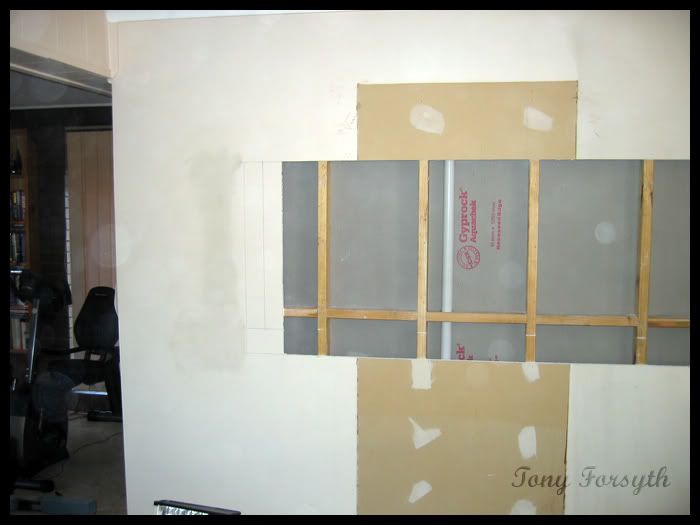 As you can see from this next shot removing the tiles from the walls around the cupboards was a tough job with most of the Gyproc coming away with the tiles. The damage can also be seen on the returning wall as well so I think the Gyproc and plastering job has turned out to be larger than expected, but it will be worth it in the end.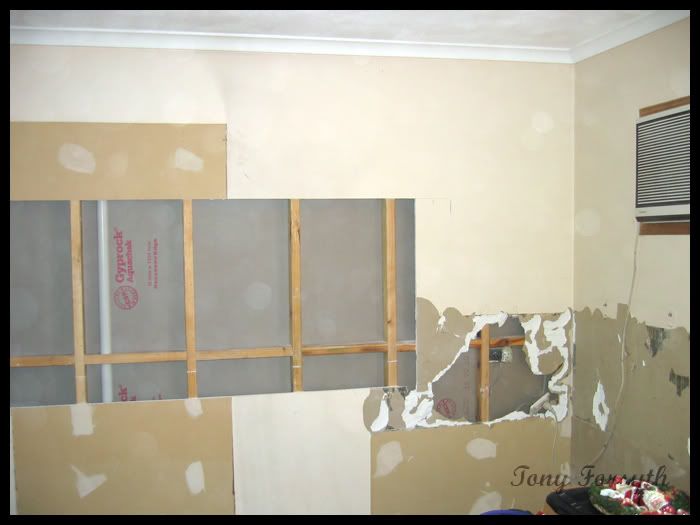 Oh man !! I hate Gyproc !! what a mess !! On second thoughts I hate Tiles.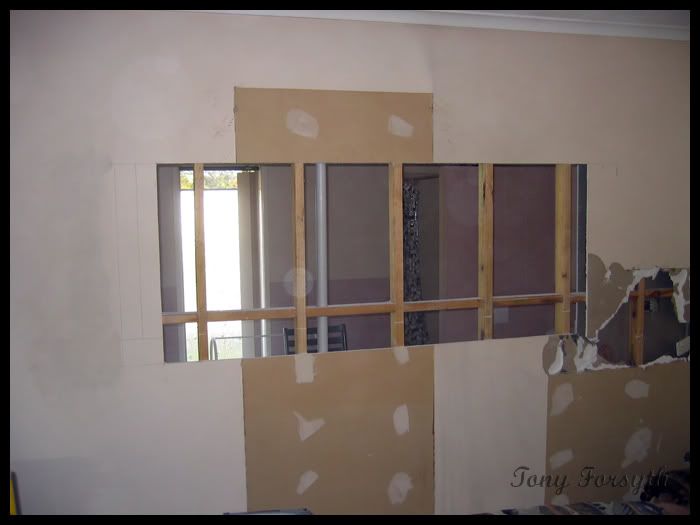 Used a diamond tipped cutter in my 4" angle grinder to cut the tiles, done a great job cut through them like butter. All the alignment was aok.
There is light at the end of the tunnel, Oh sorry its my outside window.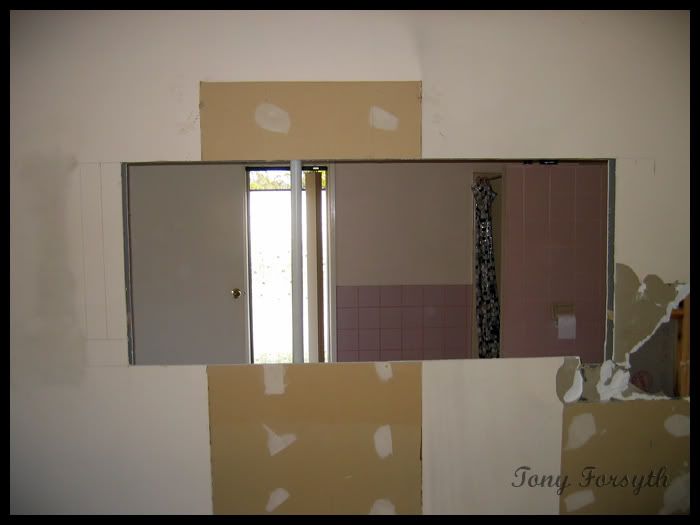 Sorry about the mess, I dont have any cupboards left to put anything in, will fix that one later.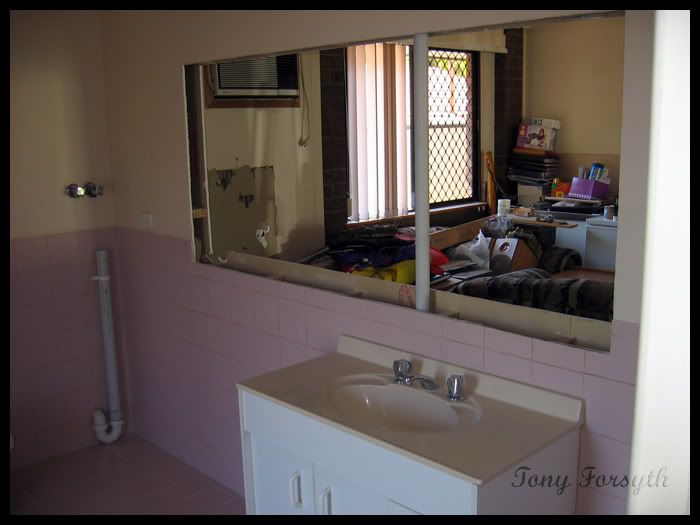 More light at the end of the tunnel, only in the other direction this time.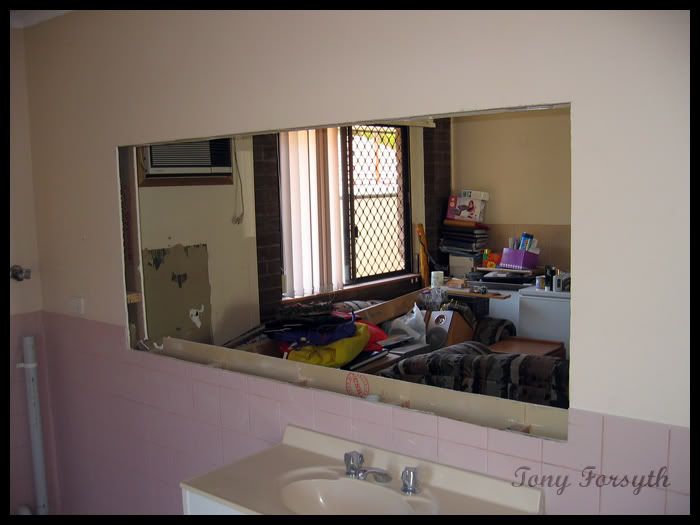 And again, more light, and a view of what will be our new relaxing tank viewing area when finished.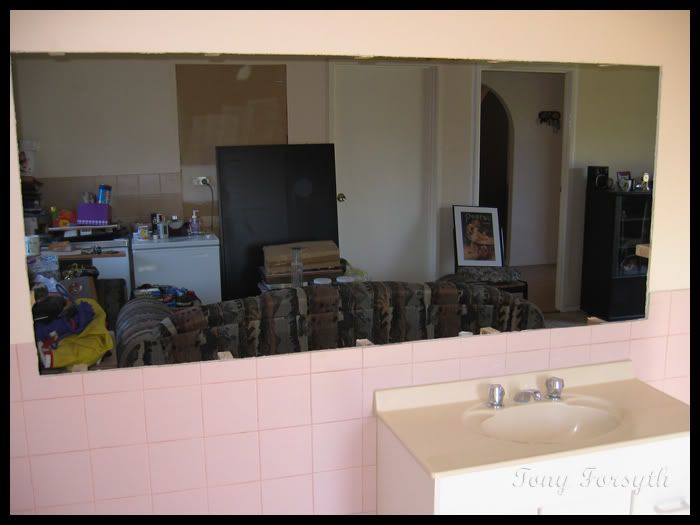 Decided to remove all the Gyproc to the tank viewing side of the wall and will replace with new later, my reason for this was that Firstly, it was pretty bad and would have taken some plastering to get it right, secondly, it would give me better access to carry out the timber work required and thirdly, for ease of relocation of the water taps and drain and of course more wiring for more electrical points to be fitted in the fish room.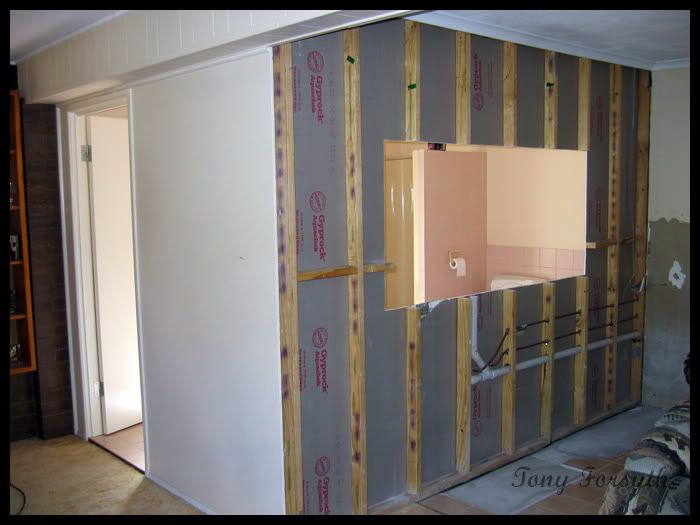 Well thats enough for now !! its been a big day. Next I will start framing and strengthening around the opening then it will be the stand inside the fishroom and then new Gyproc and plastering. Thanks and hope you all enjoy seeing the progress so far.
Tony.