Hi everybody.
I've been lurking on this site since late 2004. I haven't been posting much, but I'm trying to change that
anyway, onto the tank.
History:
I first set up this tank in August 2005. By about half way through 2006 I had one sps coral, a trachaphylia, a cataphylia and an ancora for corals. As for fish, I had a pair of occy clowns, a sandsifter goby, a sixline wrasse, a young Tomini tang (I loved this fish, he would eat out of my fingers, kept algae down and ate anything) and lastly I decided to add and Eibli angel. The Eibli brought Amyloodium (Marine velvet disease) into my tank. I lost all of my fish, including my favourite Tomini Tang
, and almost all of my corals bleached out. After this I decided to give my tank a big overhaul! I started by cooking the live rock (not physically boiling it, but keeping in a dark bin with a heater and power head for some months and taking it out every week to change the water and get detritus off of the rock.) The main reason for cooking my rock is because I had always had a bit of Valonia growing around and an annoying macro algae that kept on staining my water. The Lr cooking was successful, it left me with my corraline algae, plenty of pods, but no valonia and no more nuisance algaes. I then decided to do a dwarf Lionfish reef in this tank, so I put the rock back into the tank and I went out looking for a bumblebee Lion and/or an arceye hawkfish. I cam home with a Flame hawkfish and a bumblebee Lion. I woke up the next morning to find the lionfish dead. I took it back to the shop with a sample of my water and they said they would order me a new one for no extra charge. I got a call a week later to pick it up and it was dead in their holding tank. I thought I'd leave the lion for another tank. So anyway by about december last year I had a tank with a totally bleached trachaphyllia and a flame hawkfish. After a few months of hard work I have turned into what I think is a successfull tank, no bad algae, good and stable parameters good growth on coral, and healthy fish, most are pigs, including my mandarin, but my citron goby is being a pain
.
Current setup:
Specs:
4ft 200lt display
2.5ft 75lt sump/fuge
2x 150w 14,000k metal halides
2x actinic pc
weipro SA-2011 protein skimmer (not great but it will hold me untill my parents will let me get a better one)
30kg Live rock (7kg in fuge, 23 in display)
3-4inch sand bed.
1x aquaclear 701 powerhead 1x aquaclear 401 powerhead (I want to change to Tunze when I get the cash)
In the fuge I have a filter that I use to run carbon.
I do 2x 5.5% water changes a week
Livestock
Fish:
I've tried to go for fish with good personality
1x onespot Foxface
Siganus unimaculatus
1x flame hawkfish
Neocirrhites armatus
2x Occelaris clownfish
Amphiprion ocellaris
1x spotted mandarin
Synchiropus picturatus
1x Indian blenny
Cirripectes stigmaticus
1x Chromis
Chromis viridis
(I had three to start with but he decided he liked the clownfish more than other Chromises)
1x citron Goby
Gobiodon citrinus
Corals:
- trachaphyllia, I've had it since the beginning, it totally bleached at one stage but it has come back with great colour.
- a couple of different zoanthiods
- leather coral
- fluffy mushroom rock
- a little blue mushroom with red dots that i picked up for free and has grown thee more mushrooms
- a brand new sps frag that I picked up for $10
- something that came on the Lr (maybe someone here could ID it)
- and an unknown LPS that came on the base of the leather coral.
Anyway, sorry for the long post, here are some pics and I'll try to update this thread regularly, or at least when ever I get something new.
Full tank shot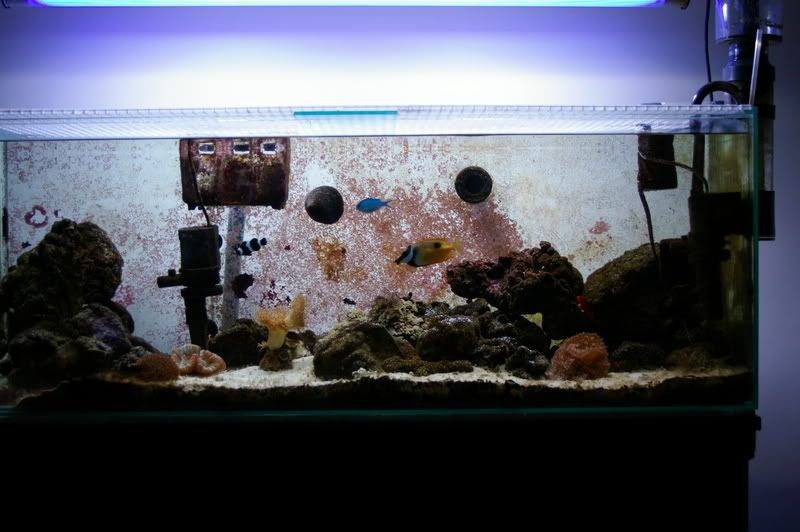 foxface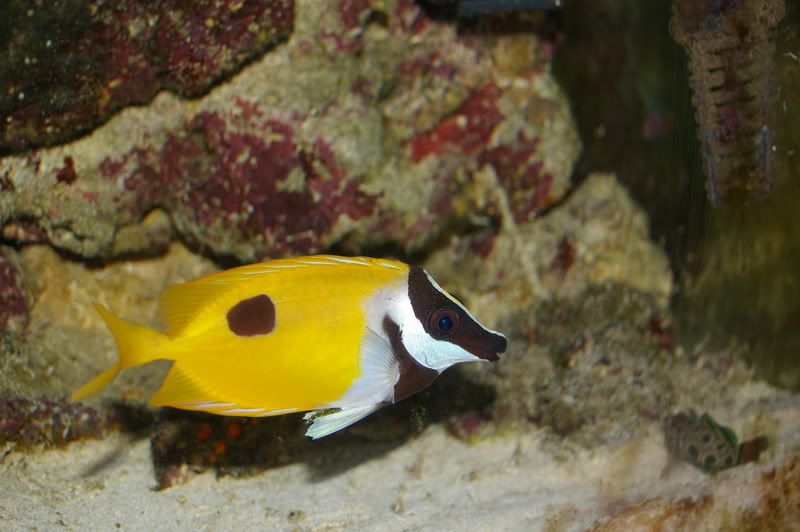 chromis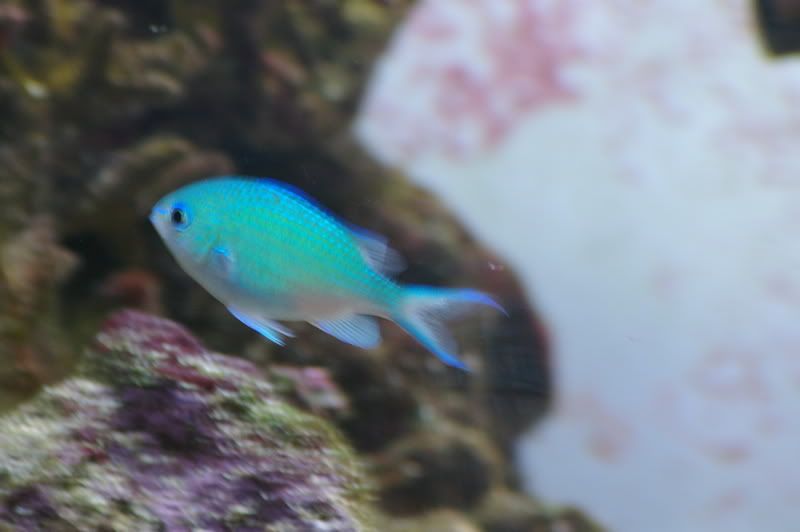 mandarin
occy clown and his leather coral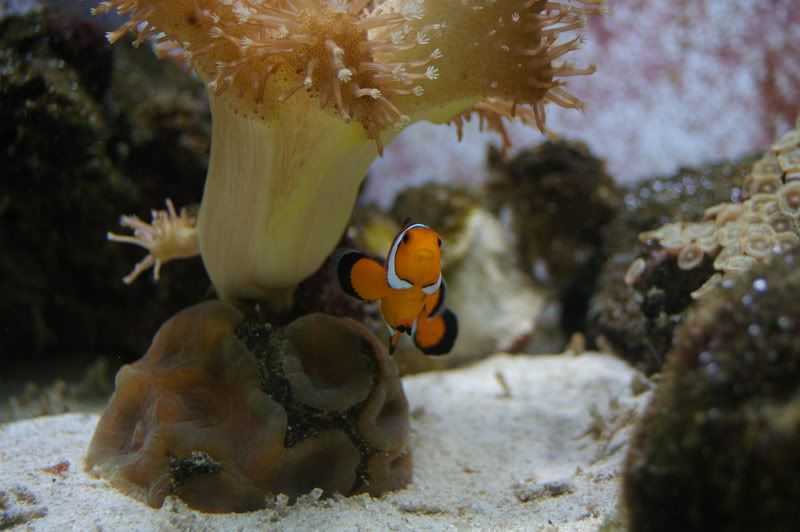 flame hawkfish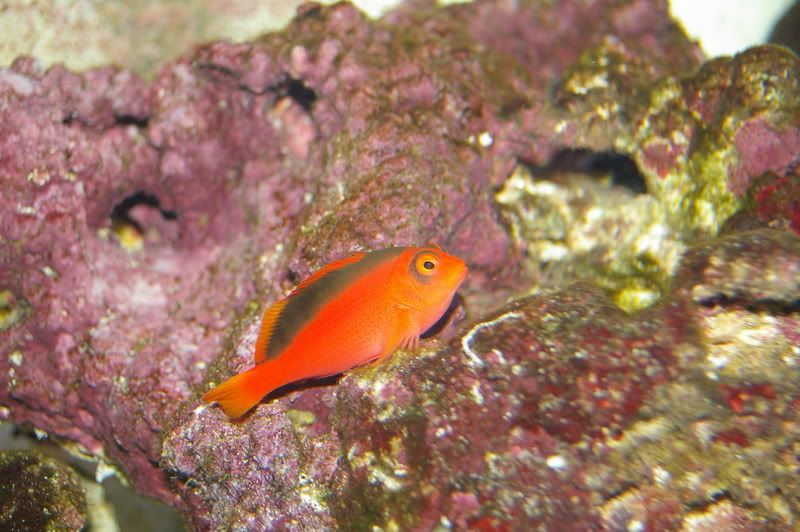 Black occy clown facing off against the orange one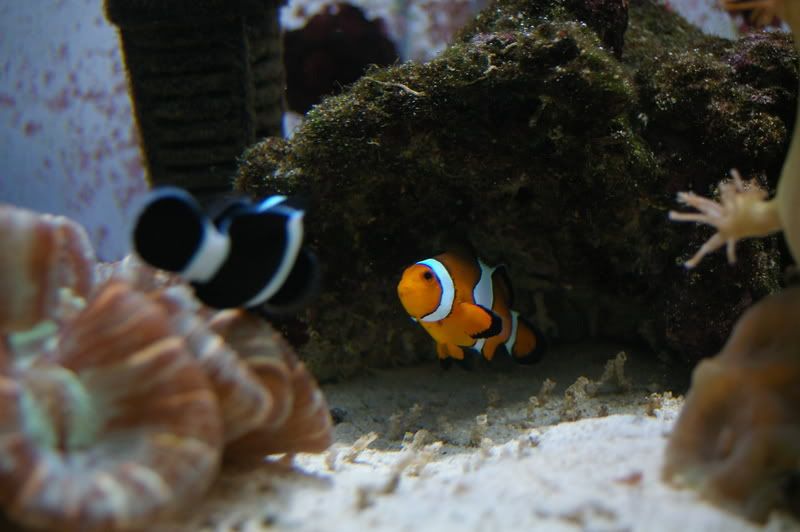 Indian blenny and hawkfish
my little goby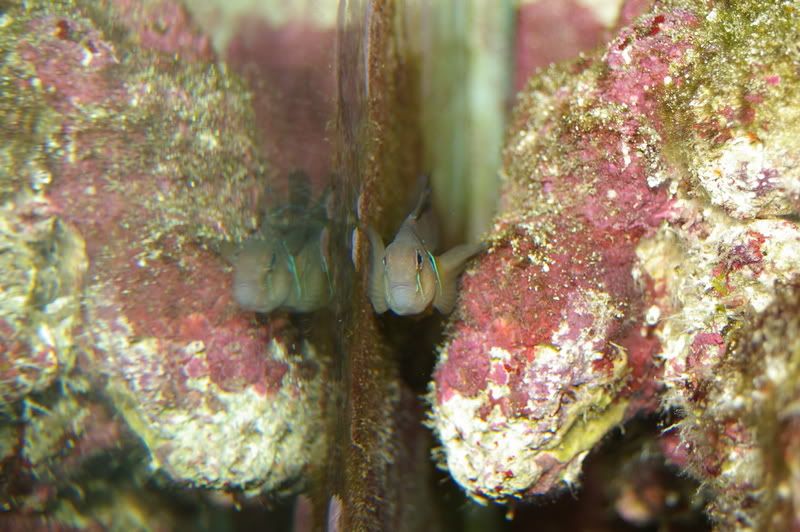 Zoos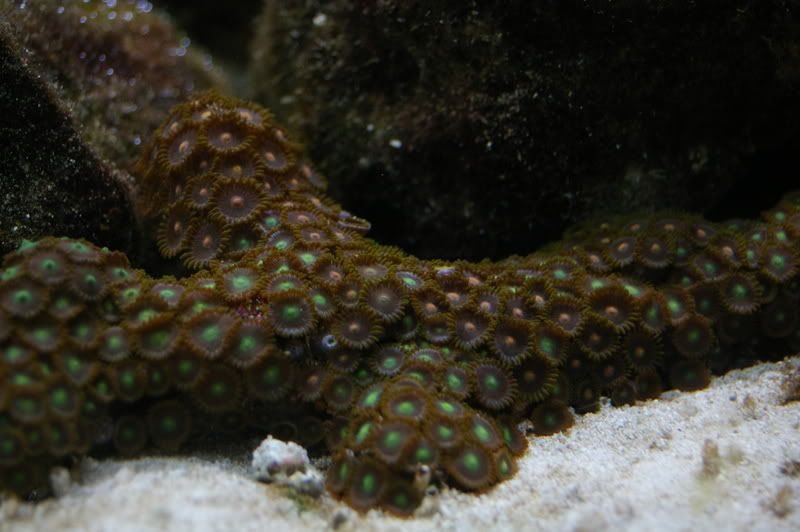 Trachaphyllia
new sps frag
fluffy 'shrooms
hitchhiker