Hi Guys and gals.
Well there has been a lot of talking, planning and R & D, but I've finally done it!!
My dream was to have natural sunlight supplementing my Mh's.
A bit of background:
I set up my 4' 7" x 18" x 20" three years ago and have been keeping mainly stoneys. I ventured into the realm of SPS only a couple of years ago.
I have an Eheim 1260 main return pump and another 1260 closed loop giving me over ten times flow.
There are two sumps. In one I have
live rock
, caulerpa and heaps of pods. The other houses the return, heaters, auto top off (dosing Kalk) and the Turbofloater 1000. I also run a
Calcium
reactor.
I have two x 150w Mh pendants supplemented with actinic.
Here's a
pic
;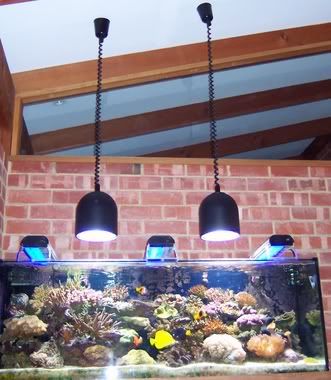 After following various threads on skylights and natural
lighting
I decided to go for it!
My thought was that the extra light would be supplemental to the Mh's and wouldn't replace them. The tank was settled and mature and was already capable of supporting SPS.
Here's a couple of
pics
;
Being a roofer I just happened to have a few skylights hanging around.
I joined two 600 x 800 skylight frames together as I needed a long rectangle to suit the tank. Living in a high bush fire danger area I couldn't use the domes (Plus I didn't think I'd get enough light through them) so I discarded them and after much research ordered a sheet of 12.38mm clear laminated glass to go on top.
Fortunately the roof faces north so it picks up max sun.
I liked the idea of Solatube style tubes to bring the directed light right down to the tank and thought that three tubes alternating with the pendants would be good.
As you can see in the
pic
, my ceiling is raked so I had the added hassle of different length tubes. The shortest is 1200mm up to the longest at 1600mm.
Another problem was that the Solatube tubes only come in 400mm and 600mm lengths that you stick together with tape, which I thought was going to look pretty ordinary inside the room.
The way I got around that was to give them a twin skin of HIP – high impact polystyrene.
Here are some
pics
of the install ;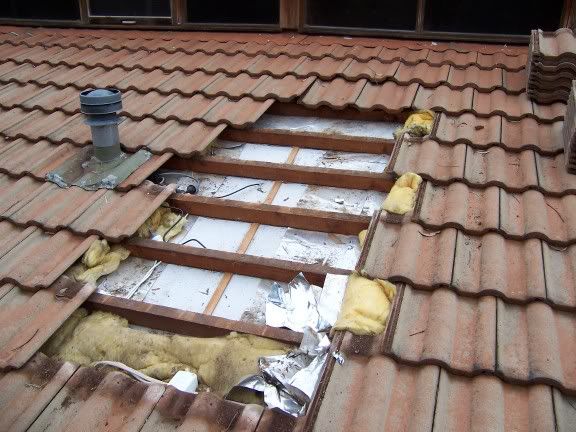 And here's a
pic
of inside ;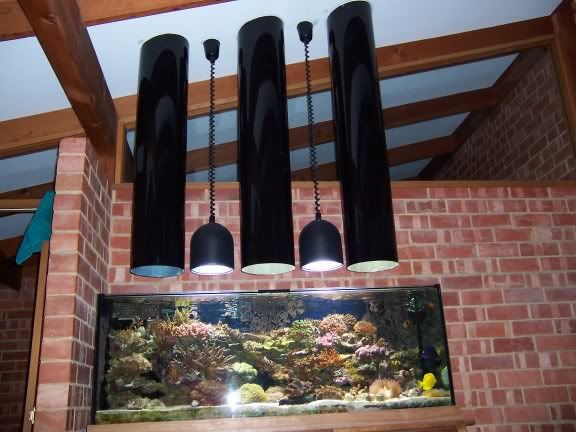 I had to re-think the actinic light issue as the old fittings were in the way of the tubes. So I suspended a 4' just in front of the lights/tubes.
So I could still get into the tank I installed retractable suspension cables.
Here's a
pic
of the tank with all
lighting
in place ;
(Just skylight, about 9am, no lights on)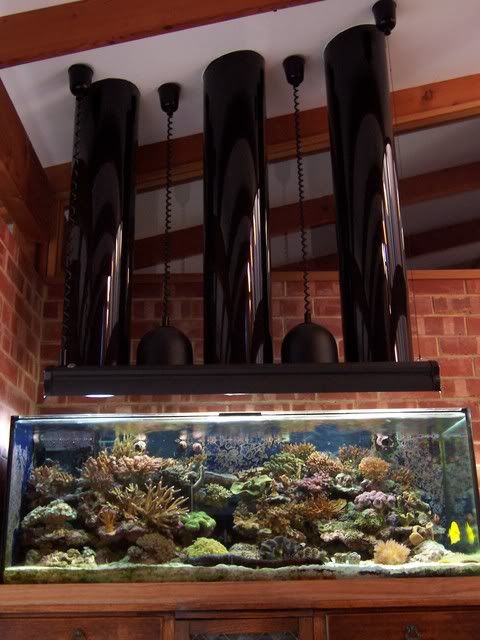 Here's a
pic
of tubes and actinic, about 9.30am
And all lights on, about 11.30am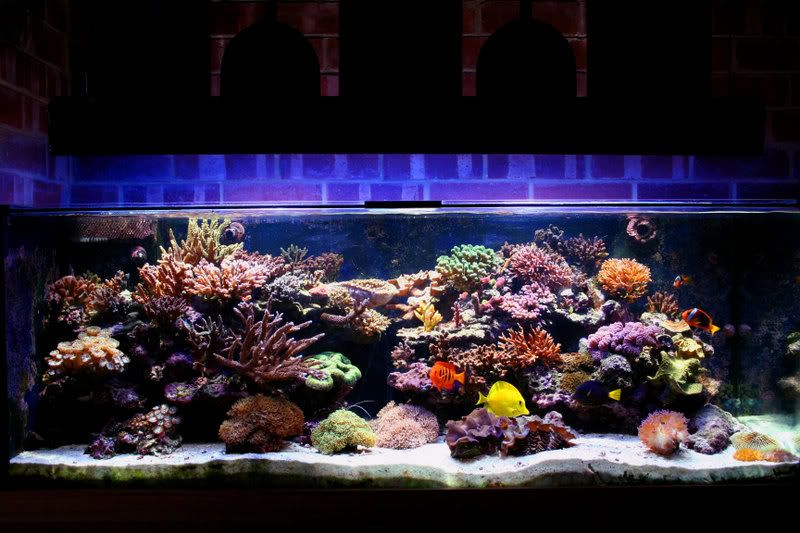 I purchased a light meter to check just how much I was getting. (Readings at 12 noon 10.9.06)
Under the 150 Mh – 150000 Lux (150mm from lamp)
Under the skylight – 190000 Lux (150mm from tube)
Outside in full sunshine – 160000 Lux
Observations so far :
Incredible natural dawn. (Mandarin and shrimp love it!)
Very natural fluctuations in light as clouds go overhead.
Amazing moon light.
Well that's it!! I think that during summer I will probably be able to turn off the halides. During winter I will need them and during spring and autumn, we'll wait and see.
Rod.