Introduction:
Hi all i I have gained interest in ornamental fish over the past few years and a few trips to the GBR and have always wanted a slice of it in an inside aquarium. Yet to have the wife interested but she cant really picture it without it being there although she likes fish in genneral so fingers crossed
System Objectives:
To start with will be a FOWLR setup to allow the tank to mature with a dabble at some zoas/softies. Once tank is establised i will upgrade my lighting and have a bit better idea of what corals i would like to keep.
System Type:
FOWLR to begin with with the eventual objective of Mixed Reef.
Display System:
Strike up Date:
7th October 2010
Display Tank:
Tank is a 120cm L x 35.5cm W by 46cm H approx 200L. Its a Tank i got off a friend that was sitting in his shed.
Display Lighting:
A 4X39W T5 unit from the same friend for free. It looks like a solarmax guppies unit but should be fine until the system is established since it will only be a FOWLR to begin with. *Now with a ATI aquablue Plus and Blue Plus as well as 2 10K tubes*
Stand:
DIY 6 post open stand to be clad later if the wife says it needs to fit with the furniture. 75cm top height
Sump:
No sump
Refugium:
Going with a custom above tank acrylic refugium designed in collabration with an aquaculture farmer.
Refugium Lighting:
Currently going to use 2X24W T5's with reflectors to increase growth of macro
Support systems:
System Water:
Natural salt water
Display Water circulation:
The custom refugium will have approximatly 3,000 Lph through it. 1X Hydor copy 3000Lph and 1 Tunze 6025 2500Lph on opposite sides blowing across the front of my rock work and one behind and through.
Fuge Pump:
AquaBee UP 3000
Skimmer:
deltec mce600 300LPH model added June 2011
Evaporation Top Up:
Will be manual to begin with with the addition of a ATO shortly after as i know it will become tedious.
Heaters[b] 200W Ehiem Jager heater




[b]Chemical Support:
Calcium Addition:
no corals but will keep in check
Alkilinity Addition:
test and add as required
Other Chemical Maintenance:
Current Water Chemistry:
Nitrates:
0ppm
Phosphates:
unknown
Alkalinity:
9.5
Calcium:
500
Salinity / Specific Gravity:
will aim for 1.026
Magnesuim:
unknown
Total volume for system will be approximately 200L
Images:
Current FTS
Photos are of average quality since dont have a good camera anymore.
Tank and stand prior to painting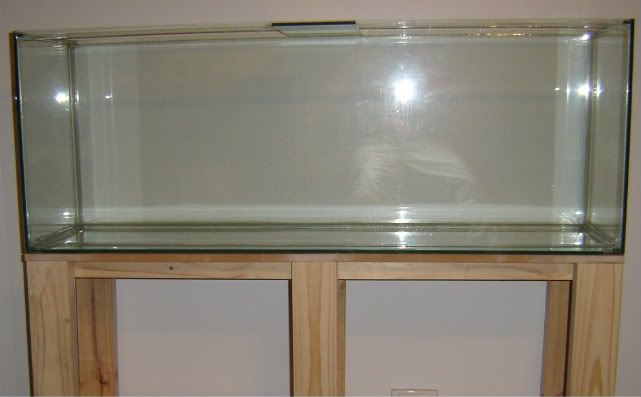 Went to bunnings and asked to get some sample paints in gloss black and they told me that they dont do them as they only have sample paints of certain tints??
I found some Knight interior acrylic paint in Black gloss and it worked a treat. Got some 1200 wet and dry to rough up the back a little and the paint adhered really well. After 3 coats it looks like this now
Purchased a couple of 10,000 K bulbs as 2 were broken and tightend up the lighting unit as everything was a little loose and rattly currently has 2 el cheapo coral blue and 2 sylvanian 10,000K tubes.
Front Shot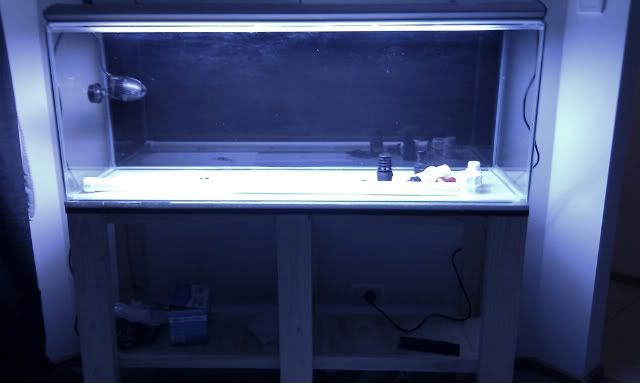 I may switch one of the blue for a 12-14K when i get some zoas if they need more light. It looks a little too blue but may look a little different when its wet.
Finished my fuge box. Borrowed some designed off the web for an acrylic box that some guy called Santamonica used for an algae scrubber. I thought if the macro isnt as good as it seams for nutrient export then could easily switch to an algae scrubber type system while i source a skimmer etc. Can you tell i like to experiment with everything i do yet??
Acrylic fuge box finished.
Angle Shot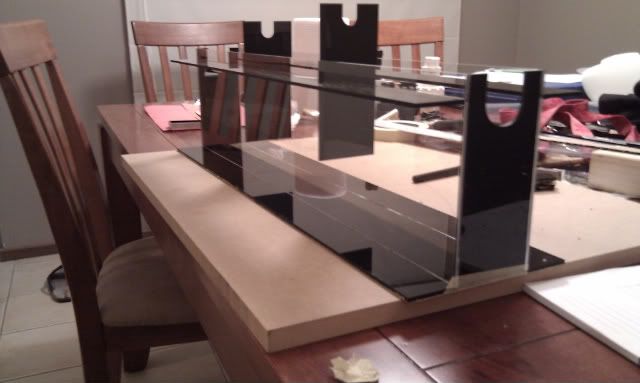 Front on with some pieces of acrylic added to let it dry square properly.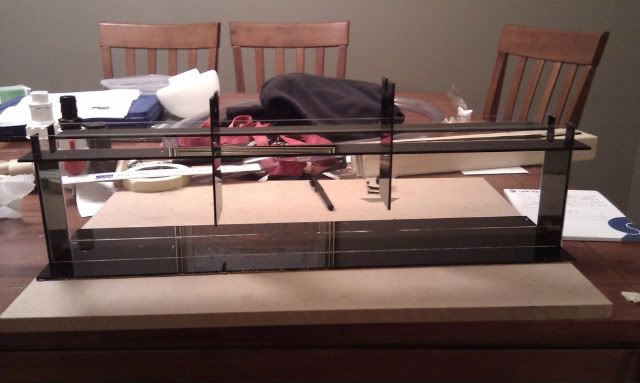 Just waiting on my pump, heater, refractometer and 20kg of rock to arrive in the mail and i will almost be ready to get it wet.
Just ordered an ATI Blue Plus and aquablue special from reefing life for a great price so i should be able to tune the display colour the way i like it now.
More updates once rock work and rest of the equipment arrive. Going to go for an open rock work look with minimal rock usage with a medium bommie and a smaller one.