Introduction:
Well I haven't been seen around here a great deal for a couple of years, and had let my system get into a pretty sad state. Recently decided that if I was going to have a rather large aquarium in the middle of the lounge room, then it had better look a whole lot better than it was looking.
The only real option for me was a complete rebuild of the tanks - many of the old leather corals had grown to the point where they were causing huge issues with shadowing, there was a lot of pest species in there - star polyps, some aggressive and unattractive mushrooms, nuisance algae etc. I was also keen to upgrade the tank to allow a greater variety of species to be kept in the main tank.
The tank journal for the original setup can be found
here
System Objectives:
"My dear, You can do whatever you want with the tanks, my only request is that you make it as quiet as possible". This has been modified slightly (see below).
System Type:
Mixed Reef - I have a large collection of nice mushies and rics, a bit of an LPS fetish, and miss having some nice acro (my old acro tank burst a seam and I lost everything). Basically any tank I develop tends to end up somewhat, well, full.....
Display System:
Strike up Date:
Originally set up April 03, rebuilt 24 August 09
Display Tank:
Main: 4' x 1.5' x 2'
Daughter tank 2' x 14" x 14"
Display Lighting:
Main 2 x 150 W MH
4 x 54 W T5 Actinics
LED moonlights (not currently in use)
Daughter 1 x 150 W MH
Stand:
Standard Strictly Aquariums wooden stands
Hood:
Standard Strictly Aquariums crown hood on daughter tank. No current hood on main but my wife assures me there WILL BE!!
Sump:
Standard 2 foot tank
Refugium:
At least in the short term the daughter tank will be used to grow macro algae as well as holding a few frags.
Refugium Lighting:
See above
Support systems:
System Water:
Natural salt water
Display Water circulation:
Tunze 6060
Seio 1100 (not yet installed)
Return Pump:
Pondmaster 2800 (due for replacement)
Skimmer:
Tunze skimmer - currently getting a long overdue vinegar soaking
Evaporation Top Up:
Auto topup as per ATJ design
Chemical Support:
Calcium Addition:
Kalk
Alkilinity Addition:
Kalk
Other Chemical Maintenance:
nil
Current Livestock:
- 2 x Percula clowns
- 1 x Blue Tang (whitespot but fat and eating well)
- 1 x Flame Angel
- 1 x Pink Spot Blenny
- 1 x Niger Trigger
- 1 x Potter's Wrasse (thin)
- 1 x Lunar Wrasse
- 1 x Coral Banded Shrimp
Images:
These photos were taken about 4 hours after I completed adding everything to the tank - obviously some things are going to be moved, and a lot of things are not really open. The leathers in the middle of the tank were fragged only recently and are looking pretty sad still, likewise a lot of the LPS are pretty unhappy. Please excuse all the tubing from the canister filter that I am running atm.
Full tank shot: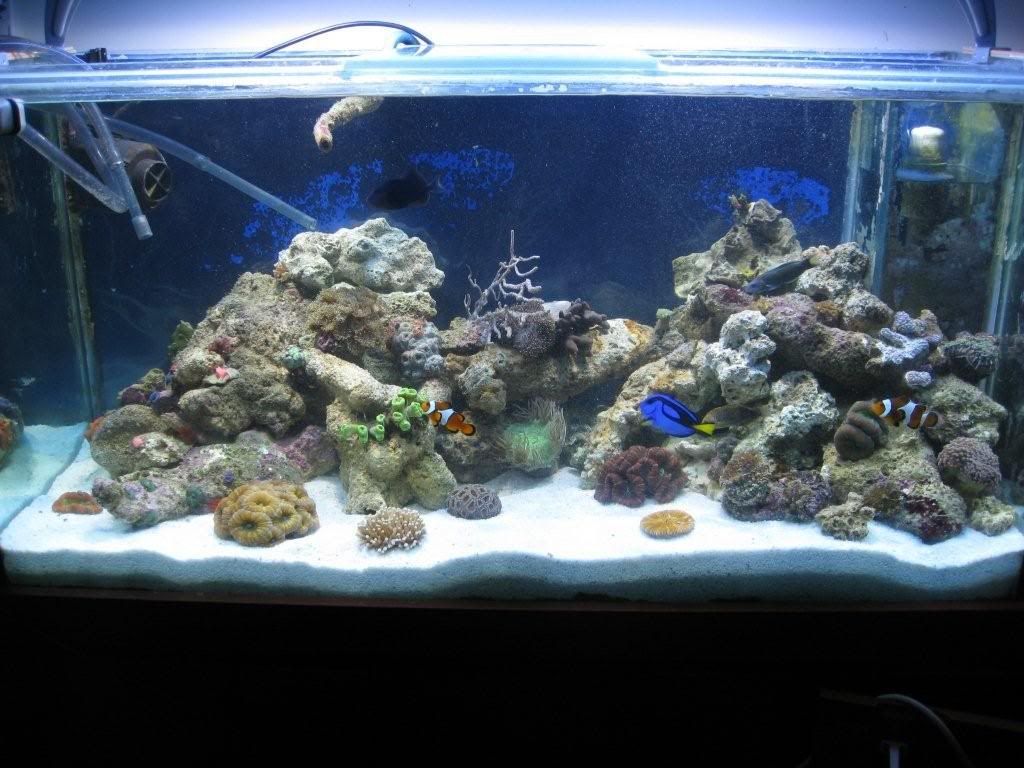 End on: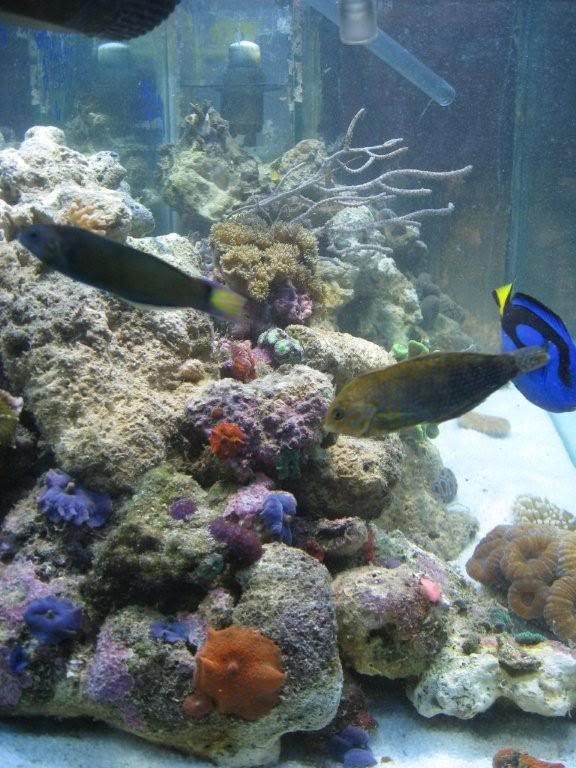 Left hand side: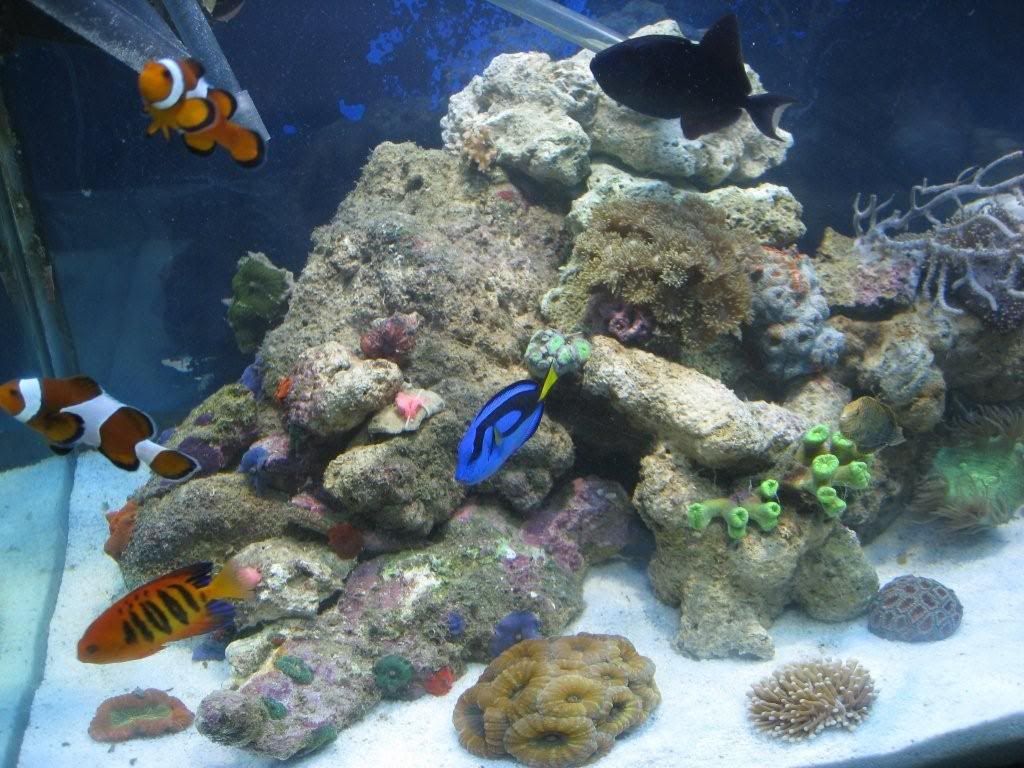 Right hand side: