Introduction:
Im new here, but been keeping aquariums for since 10 years old ranging from goldfish to discus and then marines. Due to other hobbies and time, ive now moved into my own place and can get back into marine after about 5 years off.
This will take a bit of time, but will get there with this build as im depending on others to make up the frames etc. to complete the setup.
System Objectives:
Aim is to have a modern tank with corals and fish.
System Type:
SPS Reef and Fish
Display System:
Strike up Date:
28 Feb 2009
Display Tank:
Custom 140 x 60 x 75 (l w h)
630 litres
Display Lighting:
Giesemann Infinity 2 x 250w MH + 4 x T5HO
Phoenix 14k MH - Giesemann Actinic+ - Fiji Purple
now changed to ATI PowerModule 8x54w
now changed to Vertex Illumina 1200-200
Stand:
Steel frame clad MDF
Hood:
No hood - floating light
Sump:
Dimension 80 x 50 x 40 ( l w h)
160litres
standard 3 sections -- skimmer / refug / return
Refugium:
10cm sand bed / macro algae / live rock
Refugium Lighting:
Power compacts
Support systems:
System Water:
Natural Sea Water
Display Water circulation:
Koralia 5000l/h copies x 4
Return Pump:
Eheim 1262
Skimmer:
Bubble Pioneer Cone skimmer
Evaporation Top Up:
Auto top up - RODI water
Chemical Support:
Calcium Addition:
Turbo Calcium Reactor - ARM Coarse media - Keg King CO2 - Tunze Regulator
Other Chemical Maintenance:
Current Water Chemistry:
pH:
8.0
Nitrite:
0
Nitrates:
0
Phosphates:
0
Alkalinity:
8.6
Calcium:
420
Salinity / Specific Gravity:
1.027
Magnesuim:
1290
Images: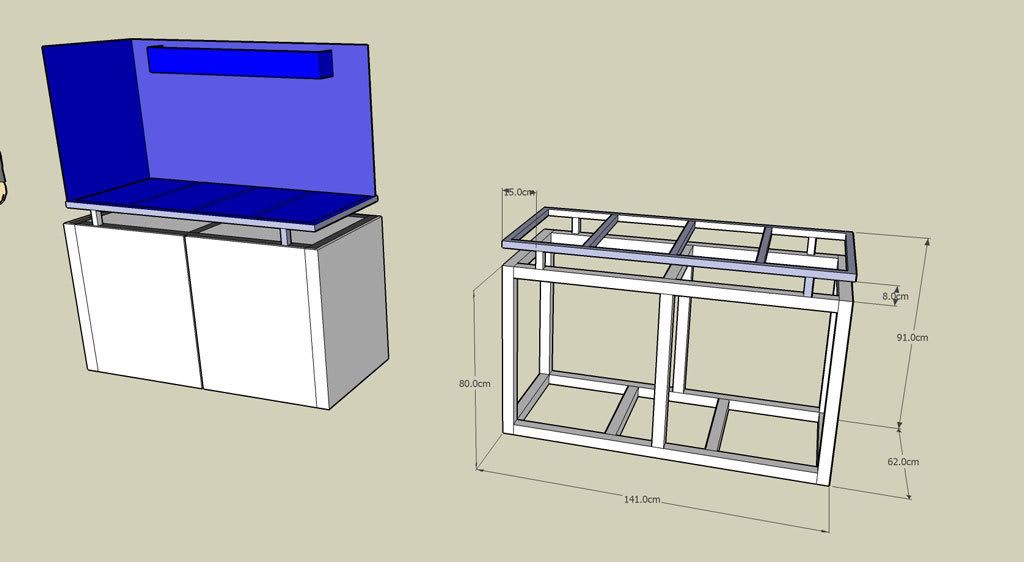 new tank is in progress...this is the design