Introduction

:
Well I'm like many reefers out there who have had to make hard decisions' and sacrifices.
Mine all started 10 years ago when I met my better half Annette. (Need to say that!)
She moved into my 2 bedroom unit, soon after she came home with a gold fish in a bowl.I took a liking to it and didn't mind.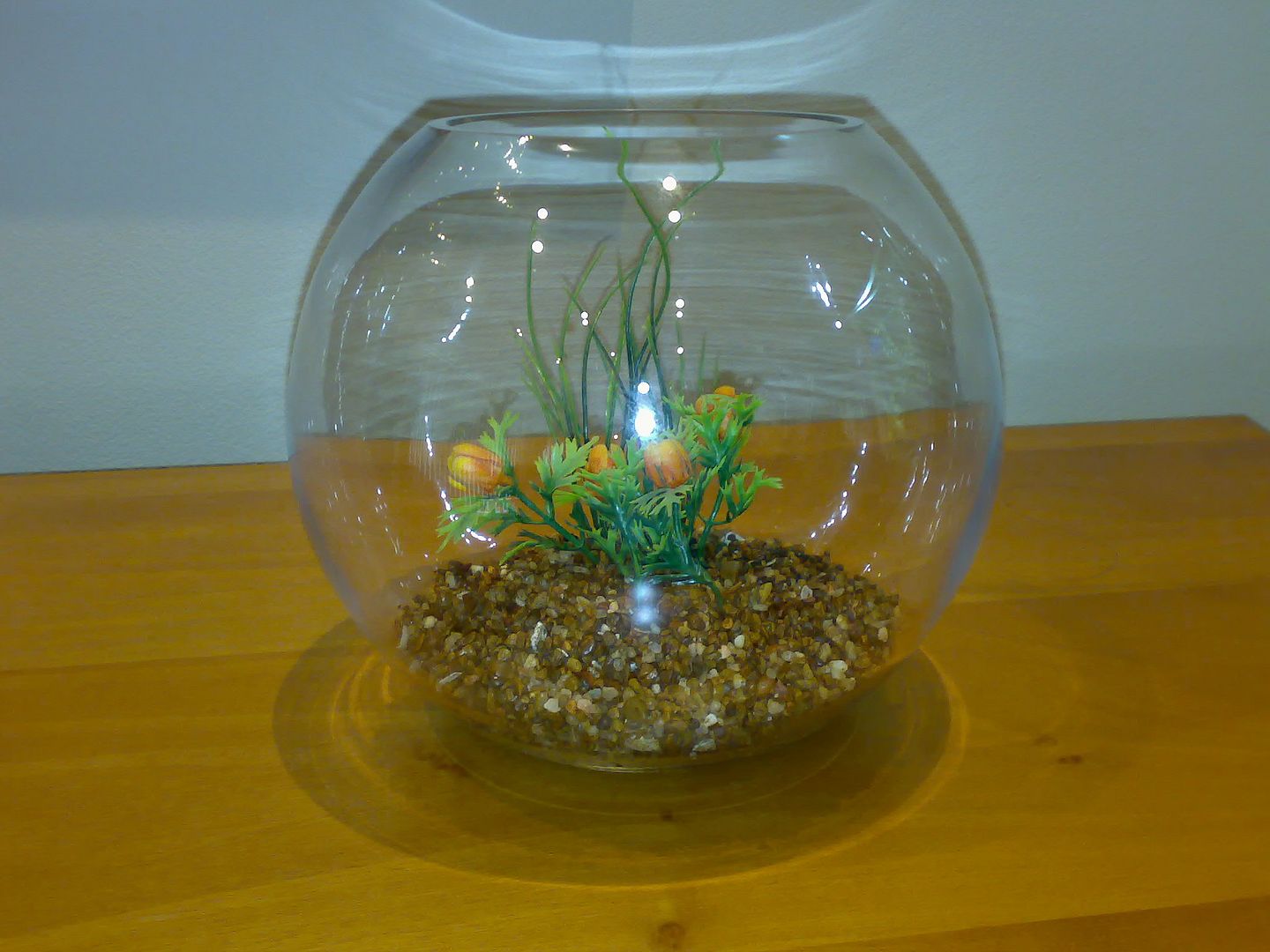 Well you know where this is heading? Right! . Wrong
I was an addict when Annette meet me.
Not that type of addict, I was a movie and music addict.
With a collection of over 6000 DVDs and 50.000 + cds my bedrooms were wall to wall DVDs and cds and my garage housed most of my cds .
Not long after Annette moved in we decided to move into a town house.
Need more room for my collection I was thinking.
Well wasn't I wrong, most of my DVDs and cds remained in crates in our new home.
The demon within was craving for more DVDs and music, but was held at bay.
I needed a new hobby so purchased a new tank for the gold fish, which died soon after.
We grew attached to goldfish and we decided to go to our LFS and buy some tropical fish.
Well in short it grew into an obsession, in a matter of 6 months I had 9 tanks all over our 3 bedroom town house.
It was all too easy for me so decided to give marine a go. (After months of research of course)
my first marine set up was a 3x2x2 .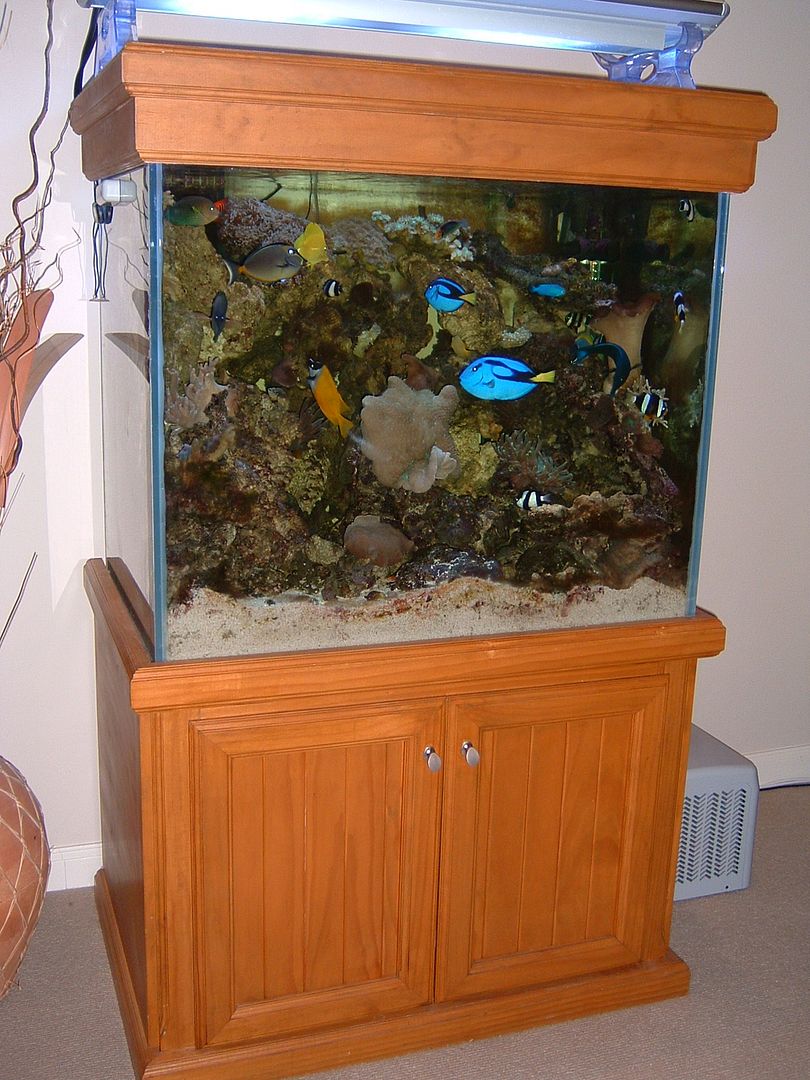 15 months had gone past and we decided to buy a house.
All my tanks had to go, what task that was. I was able to keep the marine tank only.
My intention was to have a in wall tank one day, so that was my criteria on the house I was looking for (I didn't let Annette know that).
After looking at about 60 houses we found the one.
It was old, rough, tired and in need of lots of TLC.
It has a in ground pool woohoo just what I wanted, but importantly had a great spot for the in wall tank.
After planning all the renos required with trepidation I asked Annette about placement of the in wall tank. Which was going to be in the kitchen.
Well at that point she said "you got to be kidding,
it's me or the tank
!" .
I was shattered, I wanted to pick the tank (wrong answer) so the tank was canned. I still had my 3x2x2 in the garage while I finished the renos.
The pool needed to be restored at a cost of 8k Annette was shocked and I wanted to do it but there were other more important things to spend it on.
Annette suggested we fill in the pool and have more back yard.
She knew I loved to have a pool, but she didn't know I didn't want to spend the money on it.
I had a sad look on my face when she told me (haha) . she said if we fill in the pool we can put the tank in the wall .
This was a blessing in disguise.
The very next day I arranged to have 125 tonnes of dirt del that week to fill in the pool. What a job that was .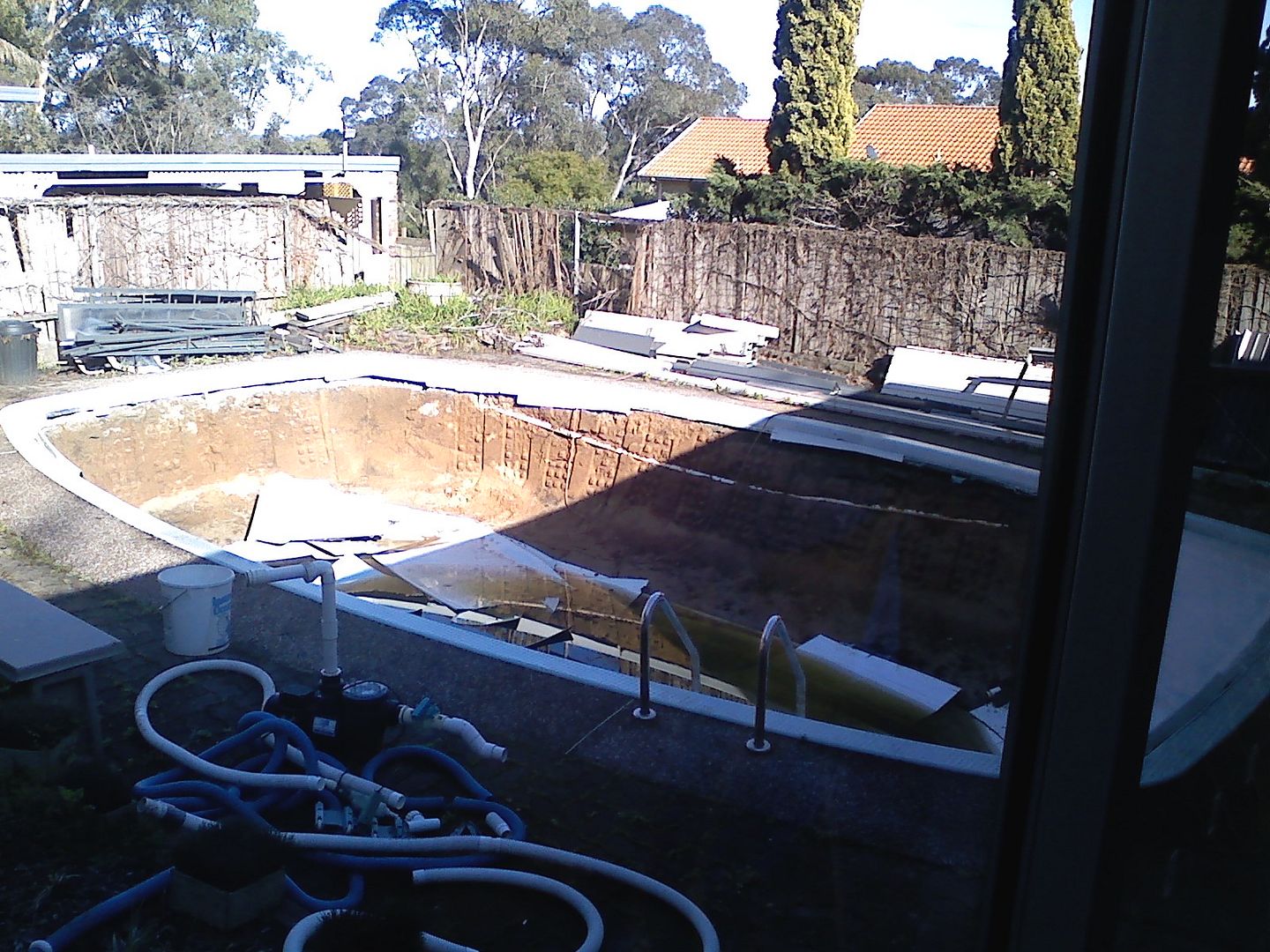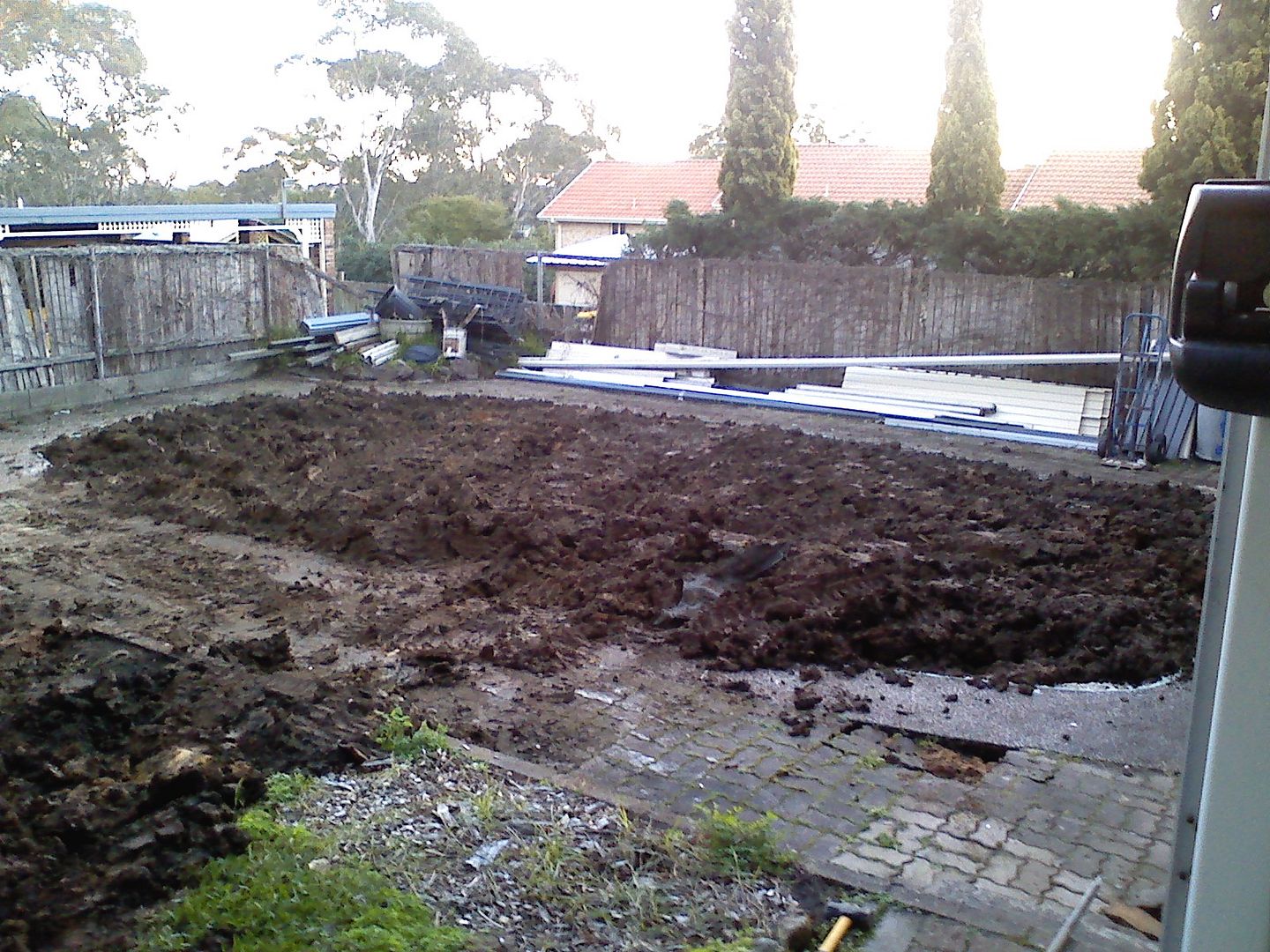 The journey now begins
The location - back wall in the kitchen
Size of tank – bigger the better
NOW FOR THE TECHNICAL BITS
System Objectives:
Objective is to have a self supporting reef system with
No Water Changes
( I hope)
System Type: , Mixed reef
Display System: Built inwall feature
Strike up Date: 2011-12
Display Tank: Display tank specifications 240 cm length x 80cm tall x 65cm wide
Display Lighting: Lighting specifications. 2 x PACIFIC SUN Pandora S 2x145W LED panels and 4x39W T5 hybrid fixture
Stand: Stand specifications.will be constructed from pine and Oregon built into existing stud wall
Sump: . First sump 110cm x 46 x 46
Refugium: 110 x 46 x 46
Refugium Lighting: Sumps will house 2 aqua beam 600 strips
Support systems: Aquatronica Controller
System Water: artificial salt water
Ro system - 4 stage with Di and tds output
Display Water circulation: 4 x tunze 6105 4 x tunze 6055 all controlled thru Aquatronica . Closed loop system plumbing fitted but not connected
Calcium reactor - Deltec Pf 1001
Phosphate reactor - Deltec 1016 Running rowa phos with Royal exclusiv RD3 SPEEDY 50watt dc CONTROLLABLE
Media reactor - Deltec 1016. Running vertex pellets with Royal exclusiv RD3 SPEEDY 50watt dc CONTROLLABLE
Carbon reactor - TBA
Nitrate reactor - Deltec Nfp512 -Decommissioned
Ozone generator - Red sea.
Chiller - Teco TC60
Uv steriliser - Lagunna 55 watt
Return Pump:Sump return pump. 2 x Royal exclusiv RD3 SPEEDY 80watt dc CONTROLLABLE
Skimmer: Royal exclusiv delux 300 internal
Evaporation Top Up:controlled via Aquatronica
Doising Unit : Pacific Sun KORE 5 PRO
Current Water Chemistry:
Nitrates:0
Phosphates:0
Alkalinity:
Calcium: 450 mg/L
Salinity / Specific Gravity:1.025
Magnesuim: