Hi Guys,
Seeing as questions about
white spot
come up all the time, I have decided to record a journal of how I am attempting to treat my tank.
I have no idea if my attempt will succeed but it may be useful for those who encounter the same problems later on.
Background:
- 8 week old Aqua One 850 tank
- 20kg
live rock
- Fish: a pair of B&W Occelaris Clowns, a single Zebra Goby.
The Clowns were purchased from a forum member and are around 1 year old, they were introduced at week 5 (a bit earlier than planned, but due to a
quarantine
tank issue, they were introduced early).
The Zebra Goby was introduced at week 7. It was quarantined for only 5 days, once again I intended to
quarantine
it for 2 weeks but due to an issue with the
quarantine
tank, I decided to introduce it to the display tank early.
At this stage, I believe the Zebra was the one who introduced the parasite.
Equipment used:
-
Hospital tank
: Aqua One AR380 All in one (34L) - a lot smaller than I would have liked but it will have to do for now; may change to a larger tank later.
- Heater
- Digital Thermometer
- 3 pieces PVC tubes, tied together into a triangle for easy removal
-
Refractometer
- API
pH
test kit
- Sodium Carbonate, made by getting Bicarb Soda, and baking it for 30mins at 180 degrees C

-----------------------------------------------------------------
Quick Reference - Tips for treating with Hyposalinity (Updated post Hyposalinity treatment)
-----------------------------------------------------------------
After going through the Hyposalinity process, here are a few tips that I've picked up along the way:

- Treat fish at Hyposalinity for a minimum of 6 weeks (the longer the better)

- Leave the Display Tank fishless for a minimum of 8 weeks (the longer the better)

- When setting up the Hospital tank, use water from the Display tank. This means fish don't need to be acclimatised when transferring from the DT

- Due to the exact levels of salinity required for treatment, always use a calibrated refractometer for measuring salinity.

- Lower salinity slowly over a number of days (I did it over 5 days)

- Use a fine mesh filter sock in the filtration system to minimise floating waste in the HT, clean this filter sock daily

- Water parameters are hard to maintain at Hyposalinity, so while daily water changes aren't always necessary, siphon out any waste on the bottom of the tank each day. (My water change regime involved siphoning out waste daily and then replenishing the removed water every 3rd day)

- For the first two weeks, monitor water parameters closely, check ammonia levels regularly. A handy tool for this is the Seachem Ammonia Alert device.

- Pre dilute your water in drums for water changes; if using NSW, diluting it 1:4 will give you an approximate salinity level required for Hyposalinity treatment; after diluting 1:4, check with refractometer and fine tune. Also ensure you buffer this water to pH 8.4

- Ideally use RO/DI water for hyposalinity water preparation, but this is not necessary. I ended up using conditioned tap water for most of my treatment.

- Get into a routine and the time required daily will be minimal. On average, I spent less than 10minutes per day treating my fish in the HT

- It will be very difficult to maintain pH in the HT at hyposalinity; everytime I tested my HT water, the pH level was around 7.8. This didn't bother my fish at all; although other fish may be more sensitive to this.

- After the treatment period, raise salinity slowly; over at least a week (although my fish were fine, I believe I did raise salinity quicker than I should have). Raising salinity is most easily done by preparing high salinity water with marine salt. NSW can be used, but towards the end, larger and larger water changes are required.

- Another method for raising salinity is to not use lids on the HT, allow the water to evaporate, and replenish with water at normal salinity levels.
--------------------------------------------------------------
Timeline
21/05/2012:
I come home to find the female clown and Zebra goby covered in white dots. The Zebra was flicking itself onto the substrate at times and was obviously irritated. I was shocked how severe the infestation looked and how quickly it appeared (it appeared overnight). The male clown appeared unaffected.
Here is an
image
of the female clown the evening I discovered the infestation:
22/05/2012:
I read up on the alternative treatments and decided to:
- Remove all fish from the main tank and place in a
hospital tank
- Run Hypo
salinity
in the
hospital tank
- Keep main tank running for the duration of the treatment (for a minimum for 6 weeks) to rid the main tank of the parasite.
My main reference was this site:
http://www.reeffrontiers.com/forums/f15 ... ess-27155/
A very helpful forum member has offered to give me some
RO
water as I don't have an
RO
filter. Due to something going wrong at work, I end up working back late and don't make it to collect the
RO
water.
I come home and work into the wee hours of the morning catching the fish and moving them into the
hospital tank
. The clowns were relatively easy to catch, the Zebra was not, always digging itself into the substrate. After a long time and a lot of frustration, I decide to tear down the tank and remove as much
live rock
as needed to catch the fish.
I finally get the Zebra into the
hospital tank
.
The
hospital tank
was simply prepared by putting mature filter media from the main tank into the Aqua One overhead filter; I then proceeded to fill the
hospital tank
with water from the main tank, while keeping the heater running. This meant that I didn't need to acclimatise the fish; simply catch and place into the
hospital tank
.
I also put a fine mesh filter sock over the trickle feed of the filter to catch as much debris as possible. This will aid in keeping the tank clean.
With no
RO
water, I decide to leave the fish in normal
salinity
water over night.
The
hospital tank
:
The torn down main tank: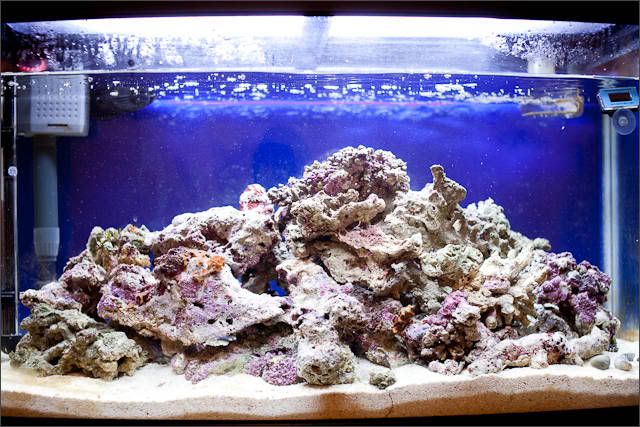 23/05/12:
Another late night at work so I'm once again unable to collect the
RO
water. I come home and see that the spots on the Zebra and Female clown have reduced significantly (is this normal?)
The male clown still appears unaffected. The fish are fed and they have a great appetite.
I am very keen to make a move on the hypo treatment ASAP so make a decision to use tap water with water conditioner to start the process. I used some water filtered through a Brita water filter, I doubt it will help much, but better than raw tap water I guess. Hopefully I don't have another late night at work tomorrow and can get some
RO
water.
After feeding the fish, cleaning the filter sock, and siphoning out some water to clean as much waste as possible, I add about 20% of the tank in treated tap water; I match the
pH
with the Sodium Carbonate.
Go EASY on the Sodium Carbonate, you only need a touch to adjust the pH
. I added what I thought was a small amount, only to blow the
pH
off the charts!
I wasted a lot of
pH
testing solution getting right, but at least now I know
Salinity
before: 1.027
Salinity
after: 1.024
Off to shower and bed..