Hi Guys,
Just thought id share a journal of my Hyposalinity treatment. This fish has a positive case of Marine
Ich
.
Information I read prior to treatment:
Reefpedia
http://www.masa.asn.au/masawiki/index.php/hyposalinity
ATJ
http://www.atj.net.au/marineaquaria/hyposalinity.html
Reef frontiers
http://www.reeffrontiers.com/forums/f15 ... ess-27155/
Equipment used:
Refractometer
,
NSW
, aged tap water/prime, 3x3x1.5 QT tank,
skimmer
, heater, 2 x Tunze 6055 powerheads, ATO.
Fish:
Achilles Tang approx 13cm, the only fish in treatment.
QT Water Parameters
SG - 1.009
Temp - 24/25
pH
- 8.3
Ammonia
- 0
These are the only things I test for daily during QT. I adjust the Alk of my
water changes
to a kh of approx. 7.5 with Bi carb.
I read that a
skimmer
doesnt skim during Hypo but seems my
skimmer
still is. Which is great: 1. more oxygen 2. better water quality. So I have left it on.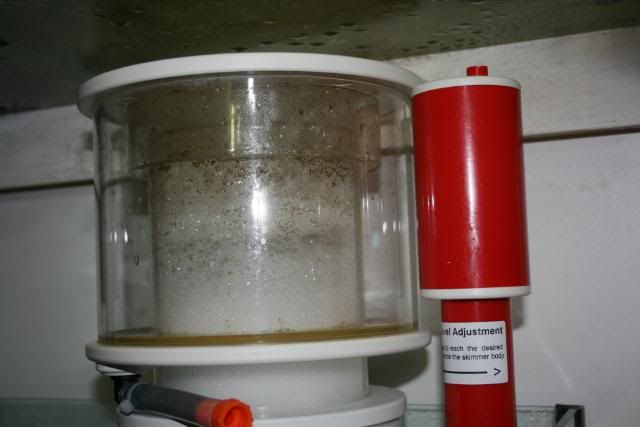 Daily water changes
Water is premixed in a 25L drum to get a SG of 1.009. More info can be found here:
viewtopic.php?f=45&t=226204
I change 25L a day, and siphon any debris out during
water changes
. Due to water volume (less than 10% WC) I dont adjust the
temperature
of the new water.
Journal
* 23rd Jan 2010 - Bought the fish from
LFS
. It was very black and fat but definately had
Ich
. I couldnt take it home that day, because my QT wasnt ready for a new fish with a positive case a
Ich
. I asked the
LFS
to hold the fish until the 14th February (3 weeks).
* 14th Feb 2011 - Went to pick up the fish. I had called weekly to get progress reports - The staff told me he was eating like a horse but still had
Ich
. When I arrived, he had been moved from the
LFS
reeftank, to the
LFS
hospital tank
being treated with Vertonex due to the
Ich
progressively getting worse. Breathing very quick, but no external signs of
white spot
.
Acclimatising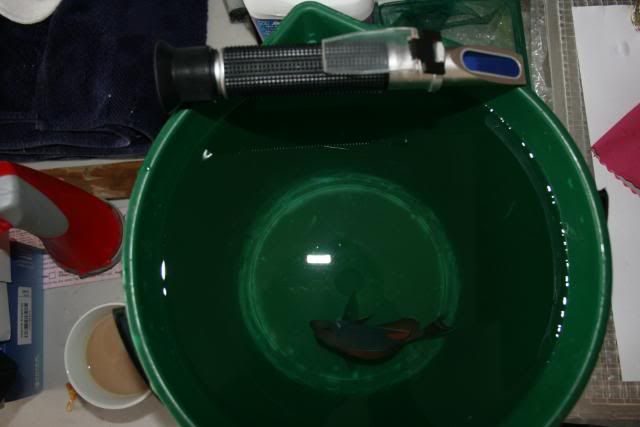 I took the
salinity
from 1.026 to 1.009 over 48hours. He refused all food for the first 24hrs. By the 2nd night he was eating brine shrimp - nothing else.
* 20th February 2011
No sign of
Ich
or any other diesease. He had some fin damage and a cut month on arrival but that had healed within the week. Being feed vitiman enriched brine shrimp and red nori with
garlic
3 times a day. He wouldnt take to green nori but the red nori in
garlic
did the trick. Using a vegi clip, atm but will have to ween him off the clip eventually as I do not use vegi clips in my DT.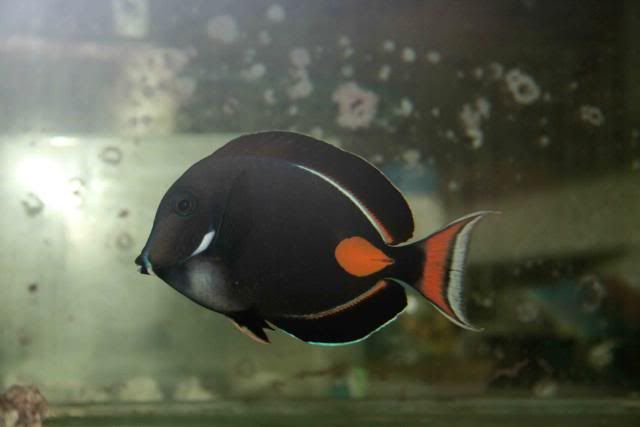 * 7th March 2001
I have been running without lights until now. I have now turned on the lights, photoperiod 1pm-7pm.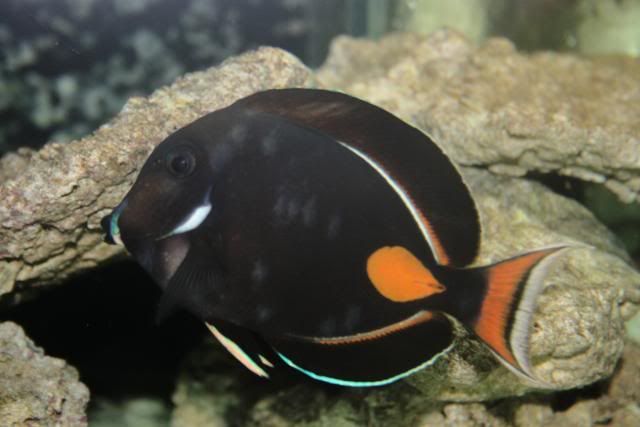 Im not sure what the markings on him are? I know he was in the same tank as a cleaner wrasse who was constantly pecking at him. Still eating 3 times a day, no signs of
Ich
, diesease, or other signs of ill health. Breathing, behavour all seem normal.
Have got him onto mysis shrimp, wasnt taking it at first. Still refusing pellets. Still being fed 3 feeds a day. Definately putting on weight.
Apart from the markings, he looks in good health. Will update again shortly.
Any tips would be great.
Cheers
Michael