Introduction:
I've been into fresh water systems for more years than I care to remember but never marine.
About 8 months ago my 11 yr old son talked me into buying him a small, 2nd hand, 90 liter system. We new little about marine so this was a steep learning curve but even so we quickly outgrew what it offered.
Since we bought that, I've been collecting bits for a new system. With some substantial donations of 'unwanted stuff' from very kind people like Marcus, Adam and others (you know who you are) we are in a position to have a go at building this system. If not for them this project probably would have remained out of reach.
Also a big thanks to the 'experts' at MASA. Lots of advice has been sought and gained from you guys.
System Objectives:
Keep up my fish hobby.
Indulge my passion for lots of DIY.
Keep the kids interested in animals and particularly fish.
Provide an alternative to the TV.
Learn.
System Type:
Building a reef system of sorts. Purists stop reading now
Lots of live rock with fish and coral that we like, but which don't necessarily belong together.
Display System:
Strike up Date:
Commenced chopping things up early April 2010
Display Tank:
5x2x2 Hai Yang marine tank. Kindly donated by Adam when he upgraded his system.
Existing weir to be removed and the holes glassed over. New 'Calfo coast to coast' style weir to be built across what was one end but is now the back.
Display Lighting:
Not sure yet.
We have some MH and T5 bits and pieces to get us going but I'm leaning towards LED's in the longer term.
This will have to wait until the cabinet has evolved to its final form so I can see what I have to play with and what I can afford.
Stand:
Custom timber. Made by me.
Basically tons of 90x45 or 70x35 pine. 1800mm long with 8 legs total comprising two bits of wood screwed together to spread the load.
This may seem overkill but we have a ceramic tiled floor which was laid by a tiler who teaches at TAFE but gained his qualifications from a cornflakes packet. The tiles are rather uneven
Individual leg length differences due to the tiles will be dealt with by epoxy putty pads into which the legs will be dropped and the cabinet leveled.
I figure there's around 130Kg on each leg so this should spread it around nicely.
No cupboard doors. The sides will have 'lift off' panels.
Hood:
Just the basic crown that came with the tank but it'll be integrated into the main cabinet. You'll need to see pics to understand this.
Sump:
Approx 4' x 15" x 18" incorporating a bit of everything (Fuge & DSB).
Refugium:
Should be part of the sump above.
Refugium Lighting:
Either a couple of 9w compact flouros or some T5 tubes.
Will be run on a reverse night time cycle.
Support systems:
System Water:
Planning for NSW.
Currently installing 5 x 200l cascaded rainwater tanks to handle this.
No idea how I'll get the water into the house. Probably just a pump, hose and extension lead rolled out as required.
Display Water circulation:
Mainly as a function of the return pump but supplemented by a closed loop comprising a 4000l pump and some Loc-Line. All mounted through the end of the tank but hidden in the rock.
Also have a couple of cheap wave-makers which I don't want to use but have available.
Return Pump:
AquaMedic OR6500 pump @ 6500 liters.
This will drive a 20mm pvc loop mounted around the crown. Approx 7 x 1/2" Loc-Line nozzles should add some turbulence back into the water.
As back pressure effects are unknown, this will be fine tuned according to reality.
Skimmer:
Have a Reef Octopus NW200 'in sump' model but am looking for a big external. This will free up sump space for the fuge.
Evaporation Top Up:
Will build some sort of automated system dependant on how everything else turns out.
Have water availability in the garage so some sort of RO tank is on the cards.
Chiller:
Totally overkill monster AquaMedic 1.5Hp model.
It'll live in the garage.
Other:
System controller from the 'group buy' stuff.
Large UPS power supply will also live in the garage.
DeBary 25w UV steriliser
Chemical Support:
No idea as its way outside my knowledge at this stage.
As I have some of the system located through the wall in the garage, its pretty easy to add extra ideas in at a later stage.
Calcium Addition:
TBD but the substrate is Aragonite
Alkalinity Addition:
TBD
Other Chemical Maintenance:
TBD
Current Water Chemistry:
Not relevant
Nitrates:
Phosphates:
Alkalinity:
Calcium:
Salinity / Specific Gravity:
Magnesium:
Images:
These pics are of the donor Hai Yang tank before any mods were carried out. Just figuring out heights with our standard units of measure - the milk crate. Actually going to be closer to 3 crates high.
This is roughly where the tank will live. This is an enormous open plan area comprising a huge kitchen, dining space, lounge and my freshwater tank area.
To the left is the dining space. Through the wall/door is the garage where a lot of hardware will reside. To the right is the lounge space. This assembly will become a room divider to break up these spaces a bit.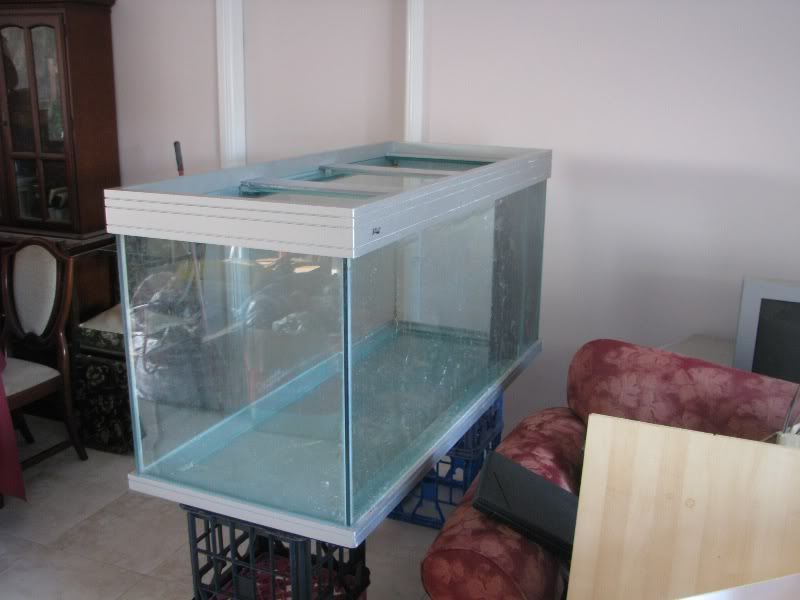 Cabinet kitset creation. Started out on the cabinet components. Settled on 70x35 pine rebated and screwed together. I love power tools.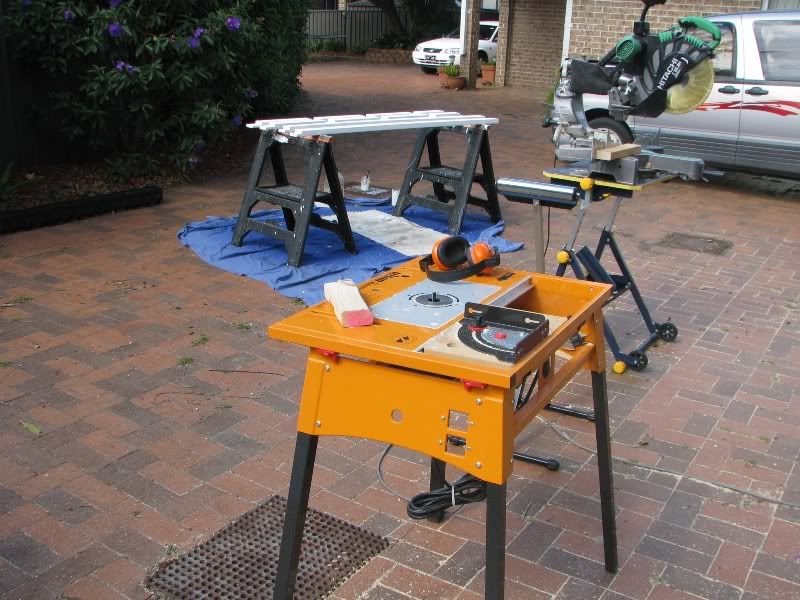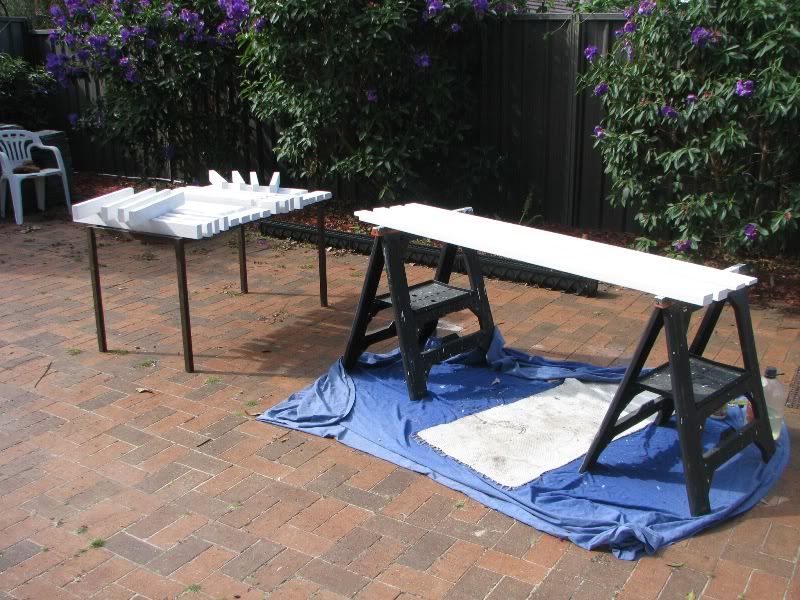 Cabinet assembly time. The sub-frames are complete, just have to screw them together and keep it square.
This construction method gives me 8 x 70x70 feet to spread the weight over ceramic tiles.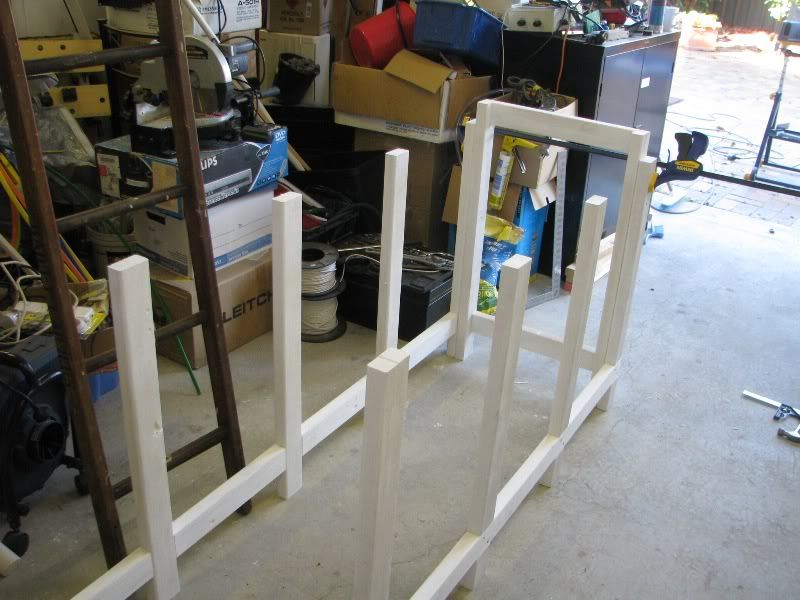 This pic gives an idea of what I'm building. The turret will be against the wall hiding the plumbing etc. The height is to be determined but most likely will be as shown. This is the height of a hutch cabinet you can see in some pics. I'll make some matching crown moldings to carry the flow between room areas. Also from the top, there'll probably be a 'scaffold' protruding to hang lighting off.
Currently looking at external skimmers so as to free up sump space. The skimmer cup should be just above the table surface so no bending down top deal with it. However the skimmer may be too noisy with the cabinet base acting as a sounding board in which case its through the wall into the garage also.
The table top was salvaged from the donor tanks original cabinet. The Hai Yang Is unusual in that there's no foam under the tank. The tank is stuck to another slab of timber and simply sits on top of this table. I'm uncomfortable with this so a lot of effort has gone into getting the cabinet flat and square to stop any distortions. Placing any foam in there would look stupid as there's no side trim hiding anything so I'll have to keep my fingers crossed.
You can see the 4ft sump and RO DW200 skimmer against the left hand wall. That's where it may live (the display is on the other side of the wall) and its proposed height of 2 milk crates. There's a drop between the lounge and garage floors so there's plenty of gravity available.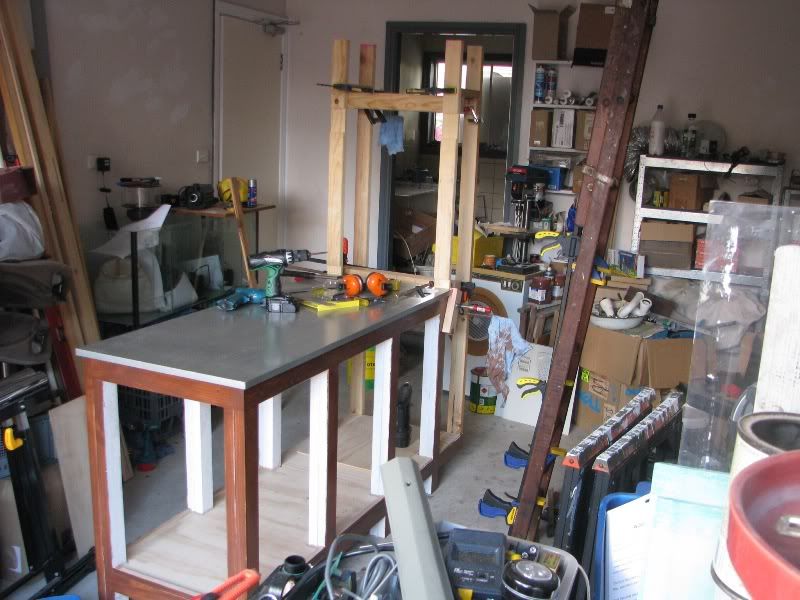 Original weir that I've cut out but it was damned hard to remove. I used a lot of turps to soften up the silicon but great care was needed to ensure it didn't dribble onto the tank silicon. The slab of glass that's flat against the tank side will remain. Simply too hard to remove unless someone has a great solution for me that doesn't involve replacing the entire sheet of glass.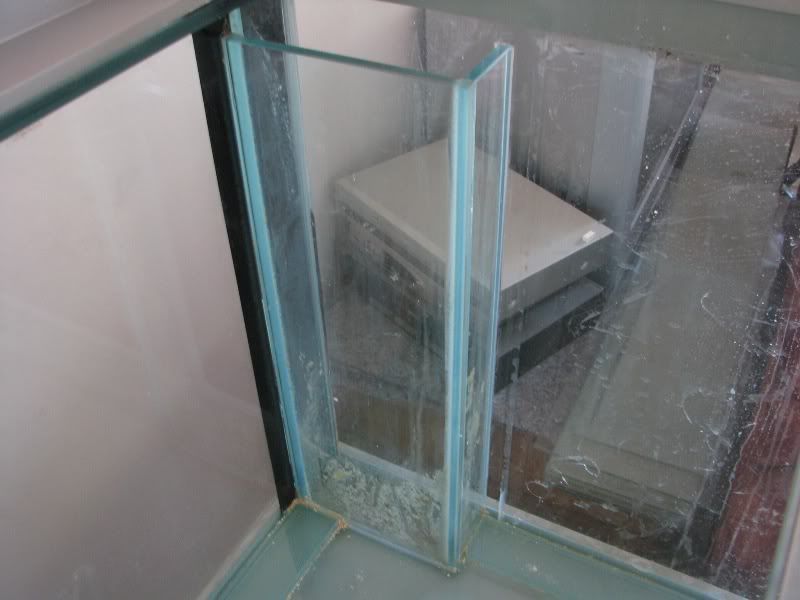 Old weir's gone and this is the proposed replacement weir. Its a Calfo 'coast to coast' style with three down pipes - 2 active and one emergency. Supposed to be totally silent.
The inspiration for this came from here -
http://www.beananimal.com/projects/silent-and-fail-safe-aquarium-overflow-system.aspx
&
http://www.reefcentral.com/forums/showthread.php?threadid=1310585
The cardboard show the glass I have to cut. You can see texter markings on the glass showing overflow holes and elbow locations.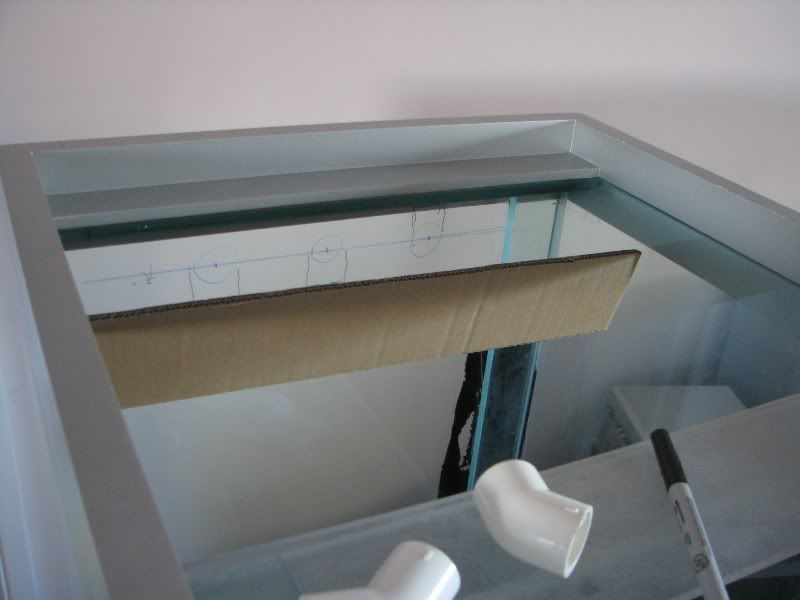 Bulkhead hole cutting. I figured that this should be dead simple despite all the doom and gloom surrounding the topic. I upended the tank so I could keep cooling water in the cut. Made a template hole in a piece of wood and clamped another piece of wood on the other side to prevent any hole blow out and relieve any pressure from cutting. Just had to top up the template hole with water (which didn't run out anywhere) negating the 'Blue Tac' dam I built around it.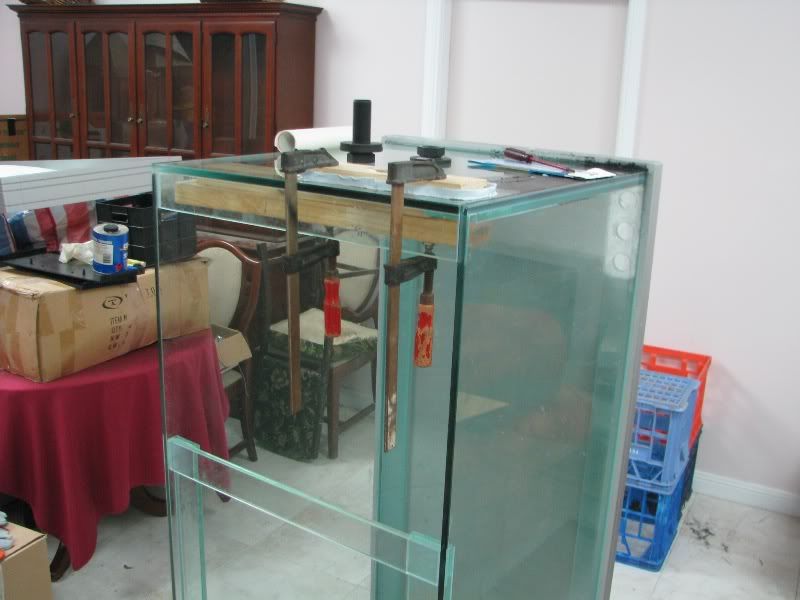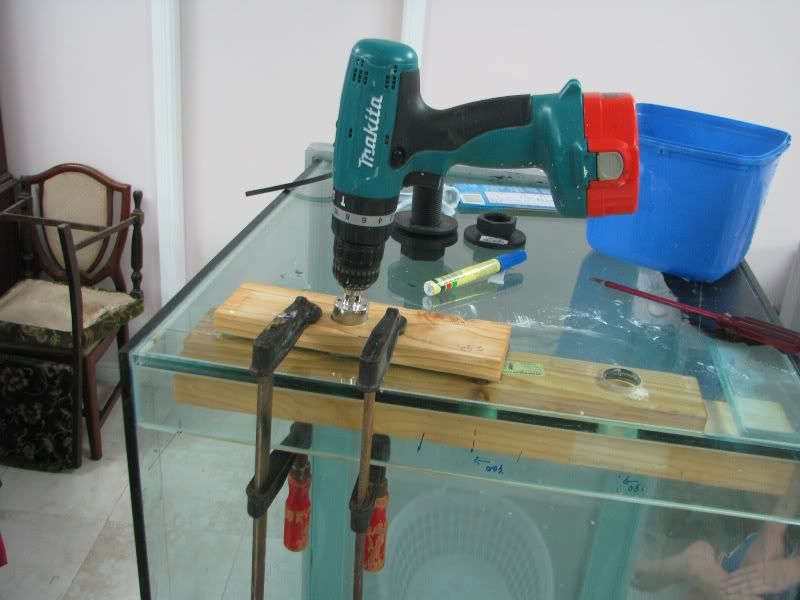 That's where I'm up to. I've ordered lots of plumbing so I'm trying to finish the cabinet whilst I wait for that to arrive.
More updates later.
Cheers
Malcom