Introduction:
After nearly 15 years of reefkeeping, I never got around to actually posting a tank journal....so I'll start with a summary of how I ended up here and try and be a bit more diligent from here on in in updating.
We started out with our first marine tank in 1993ish being a standard 6 ft tank after keeping tropicals for a few years. We bought it second hand from someone who had literally let it go and when we viewed it we couldn't see through the water it was that dark green. We ended up with a couple of fish and some live rock and LOTS of algae but it was a start. This was our learning tank and I must admit we were pretty basic back then with little or no testing, bad lighting and bio balls....(don't tell anyone!!)
After moving house we custom built our own stand and hood but then I saw a beautiful stand on ebay with stained glass windows in the doors and everything and so we moved up at an 8foot tank but this was a bit of a disaster phase as the fake rock wall had little water flow and the lighting was pretty bad and the custom made sump and skimmer were badly planned and built and we ended up selling this about 2.5 years ago around the same time we discovered MASA and worked out we could be doing things so much smarter.
To cut a long story short we bought this current setup up from a MASA member although fairly basic in setup it has been a great system to run and we've now upgraded it to be pretty self sustaining and less work....so now onto our 9x2x2....
System Objectives:
We have a mixed reef tank and have a bit of everything and anything. We still have one of the original corals from our very first tank 15 years ago so despite our ups and downs all has come together well...except now we've run out of room!!
System Type:
Mixed Reef
Display System:
Strike up Date:
Current tank 2005
Display Tank:
9x2x2 + sump ..all up around 1000litres
Display Lighting:
3 x 250W metal halides
Stand:
White custom made timber cabinet 2800mm long x 780mm high...We raised this up on a base section another 170mm to bring the display tank viewing height up a bit higher as it is usually viewed standing up in our main kitchen area.
Hood:
2800mm x 500mm highFully open at the top with 6 totally removable doors which is great for access for cleaning and good ventilation
Sump:
710mm long x 460mm high x 460mm deep split into two with one side being the refugium and the other with the return pumps and protein skimmer
Refugium Lighting:
1 x large compact fluro with reflector
Support systems:
System Water:
artificial salt water - trying to be more diligent with water changes normal water change 200litres being 20% more serious 40% 400litres
Display Water circulation:
1 x tunze 6500 2 x laguna 7000 on closed circuits
Return Pump:
2 x 2500 return pumps
Skimmer:
don't know brand but skims nicely sitting inside the sump
Evaporation Top Up:
Used to be manual but we recently upgraded to a tunze osmolater which sits in a large plastic tub inside the cupboard and has been a the best thing we added on. Use RO water to top up.
Calcium reactor:
Reef Octopus calcium reactor
Current Water Chemistry:
Nitrates:
around 10ppm
Phosphates:
0ppm
Alkalinity:
11dkh or 4 meq/l
Calcium:
400 - 450ppm
Salinity / Specific Gravity:
1.027
Inhabitants:
1 pair oscellaris clowns hosting in an elegance coral
1 x Blue Tang
1 x Australian brown tang
1 x Foxface
1 x Lipstick Tang
1 x Thick Lips wrasse
1 x Flame hawk
1 x coral hopper
1 x pyjama fish
1 x large blue starfish
1 x coral banded shrimp
1 x burnt sausage
1 x large urchin (banned to the sump for knocking things over)
Images: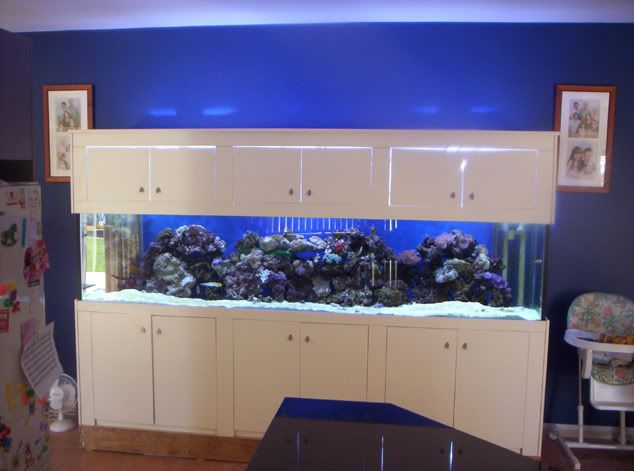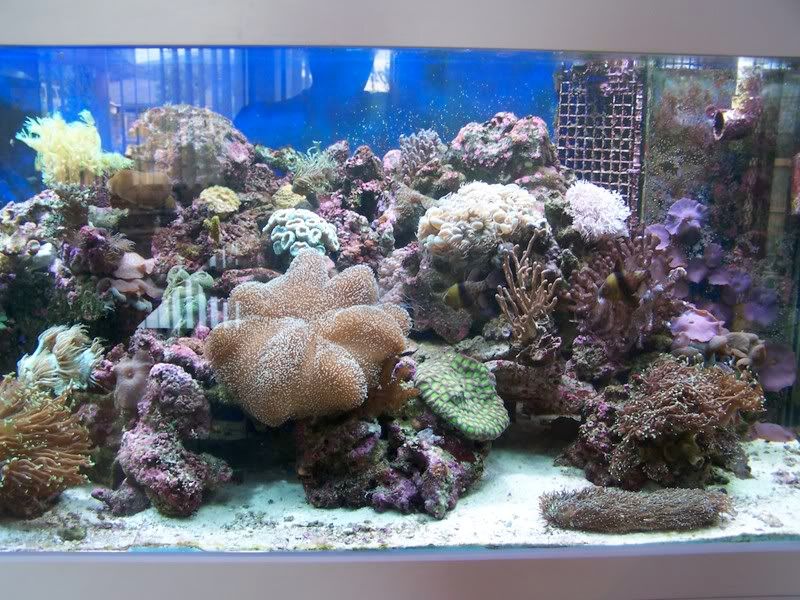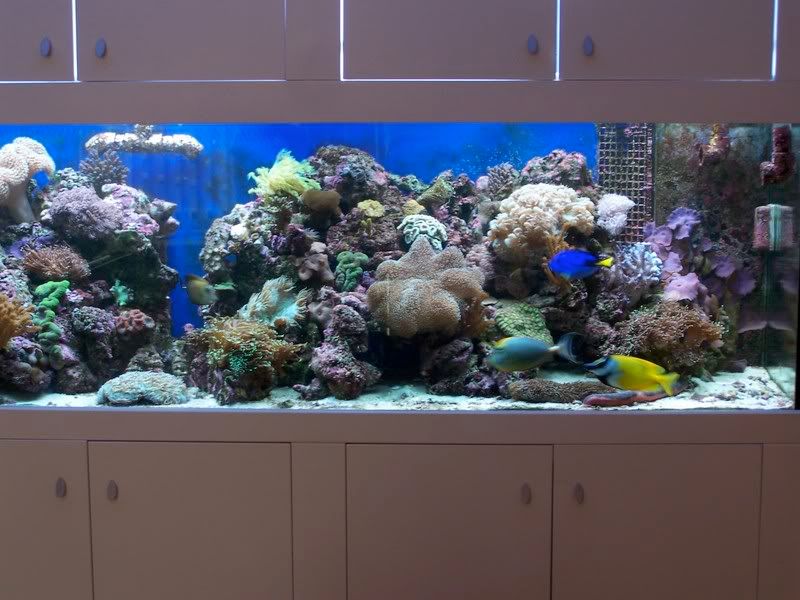 This is the fifteen year coral....see picture above ...directly above the blue tang is the bladder/bubble coral still going great guns...
edit - just tidied up some bold tags