Cermedia MarinePure has always been one of our best sellers, being a revolutionary biological filter medium that suits both freshwater and marine aquariums! The filtration capacity of Marine Pure relies heavily on its dense, interconnected pores which provide ample surface area for bacterial colonization. The most porous and volumous type of MarinePure allows for the anoxic environment required for denitrifying bacteria to grow and prosper, converting the toxic nitrate into non-toxic nitrogen-inclusive molecules.
The
MarinePure 8"x8"x4" Block
is the best product for denitrification, and has approximately a total surface area to volume ratio of 460,000 m2/litre, which is
A LOT
of area. As a comparison, that is approximately 64x the area of a soccer field. All packed in a 20cm wide block.
Customers acquainted with this product would know that it packs a punch too. A single block is rated to be able to filter up to
600 litre
of water! From small nano aquariums to large tanks, this block will do the trick.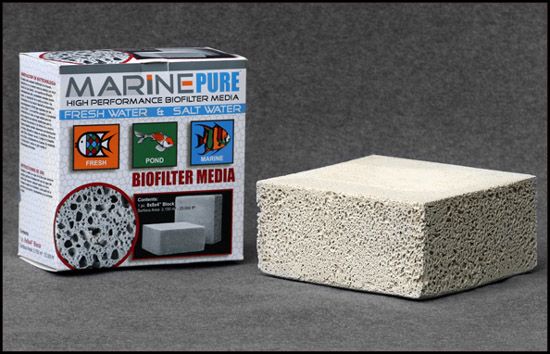 For those seeking a smaller product for smaller aquariums though, the guys at Cermedia has came up with an alternative - MarinePure 2" Cubes! A little over 5cm each dimension, this little cube is rated for 25-50 litres of water! A typical 2ft fish tank is 54 litres, and that means only TWO of these cubes is all you need in terms of biological filtration!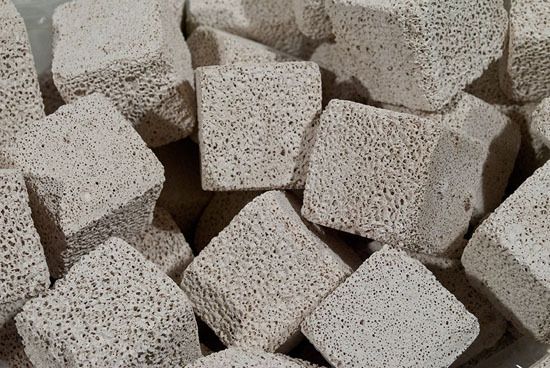 Amazing!
The best news yet? For $2.90 per cube, you won't be looking at spending crazy amounts anymore. This is especially suitable for small betta tanks, where conventional filters will not fit. Not only that, this product will also
last a very,

very long time
! Unlike many other filter media, it does not need to be replaced.
So come on in and grab yourself one of this miracles of technology. That, or purchase them
online
, and have them delivered to you, Australia-wide!
See Paul's instruction's
here
!
To celebrate the introduction of this amazing product, we are having a special on all other Cermedia MarinePure products and Poly-filter! All these products will be on our website for 15% off until June 1st! To take advantage of this promo in store, please mention this post to our staff.
We look forwards to seeing you in store!
~From the Majestic Aquariums Team
Other Majestic News:
-If you are coming to the
Sydney Homes Show
next weekend, come by and say hi! We will be there.
-Our store has had a
showroom overhaul
! Come check it out next time you're by.
-We are a firm supporter of Aussie hand-caught marine fish. More ethical, sustainable, and high quality! Come check out
our selection
!