Introduction:
As some of you know I've been running my little cube for just shy of 2 years now and it's been one heck of an awesome ride. Plenty of up's and down's but more than enjoyable in the end. Due to some continually niggling problems that the tank had been having, I decided that a restart was the only way to move forward and given that the tank has now been restarted I think it was best that I restarted my journal as this is my new beginning. Using everything that I've learnt and the mistakes I made when I first set the tank up I've now tried to improve on it all and hopefully have things work a lot better and smoother!
System Objectives:
I have always loved Acropora sp. and the various other corals that make up the "SPS" grouping and so because of this, once again, I'll be aiming my tank completely towards running an sps dominated system. My aim is to keep them as happy and healthy as possible, with some wicked colours :D I'll also have my collection of ric's and zoa's coming across with me and my dearly beloved T. maxima clam!! (Who will be getting prime position in the tank!)
System Type:
SPS dominated with a few other colourful corals and some pretty fish!
Display System:
Strike up Date:
20th of January, 2015
Display Tank:
600x600x550mm & 200L
(24x24x24" & 50 gallons)
Display Lighting:
At the moment I'm running a 60cm Illumagic Blaze unit that is a 100w LED system, I love it and it's given me some great results but as I'm starting again, I'll be changing the lighting up a bit so stay tuned!
Stand:
Stand is an aluminium frame with perspex plates. Stands 800mm tall.
Hood:
Rimless baby!
Sump:
Sump is the stock 3-chamber sump that comes with my tank and holds enough to make things work!
Refugium:
No refugium will be run on this system.
Support systems:
System Water:
Red Sea Salt (Blue bucket)
Display Water circulation:
2x Jebao RW-4 powerheads
1x Tunze 6045
Return Pump:
Jebao DC3000
Skimmer:
RLSS R6-i, internal skimmer
Evaporation Top Up:
ATO run by the Tunze Osmolator
Other Support Systems:
Due to the success and positive influence that ZEOvit had on my tank I'll be running it from the get-go this time around to enjoy some more of those lovely ZEOvit benefits! I've started the 14 Day Cycle and I'm currently only on Day 2 but it is working it's magic as my fresh live rock and the tank has no smell whatsoever so the system has kicked in. For the moment and until the tank has matured and settled down a bit I'll only be running the basic 4 elements plus Sponge Power.
This is what my dosing schedule for the tank looks like:
ZEOlite Stones: 500ml shaken twice a day
Carbon: 200ml, replaced monthly
ZEObak: 2 drops 3 times a week
ZEOstart: 0.2ml dosed twice a day
Sponge Power: 2 drops every other day
Chemical Support:
Chemical Maintenance:
Brightwell Ca, Alk and Mg. All dosed via my Kamoer 3-channel dosing unit
Current Water Chemistry:
Not applicable as the tank has just started cycling!
Images:
I suppose I can put up some terrible photo's so it's not too boring haha
Here's where I'm at right now: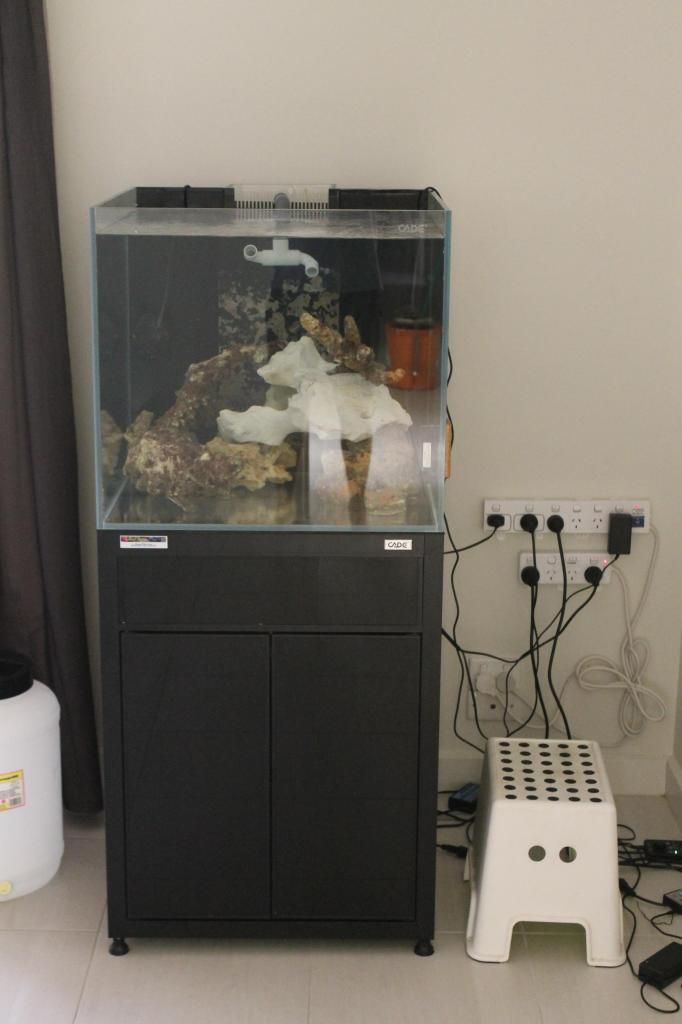 And here's where everyone is living semi-happily for the next few weeks
Well on another note, yesterday was a bit of a get together and LFS crawl with a few other reefer's here in my state so that was a bit of fun :yup: I promised myself I wasn't going to buy anything and I made it to the second last store! I was so close!! Then the greatest thing happened :D
I found something I've been looking for for quite some time now, a drop-dead gorgeous T. crocea and boy did I find one!! This beauty is about 3-4" in length with about 6 different colours on it! I saw it in one of the tanks, half hidden by eggcrate and I fell in love, I didn't really need to be going a spending the kind of cash I did lol but this is one of the best and only T. crocea I've ever seen like this in Australia so it wasn't really a decision of should I but more what can I go without till I'm paid next :P haha Anyway enough talking, here she is in all of her glory!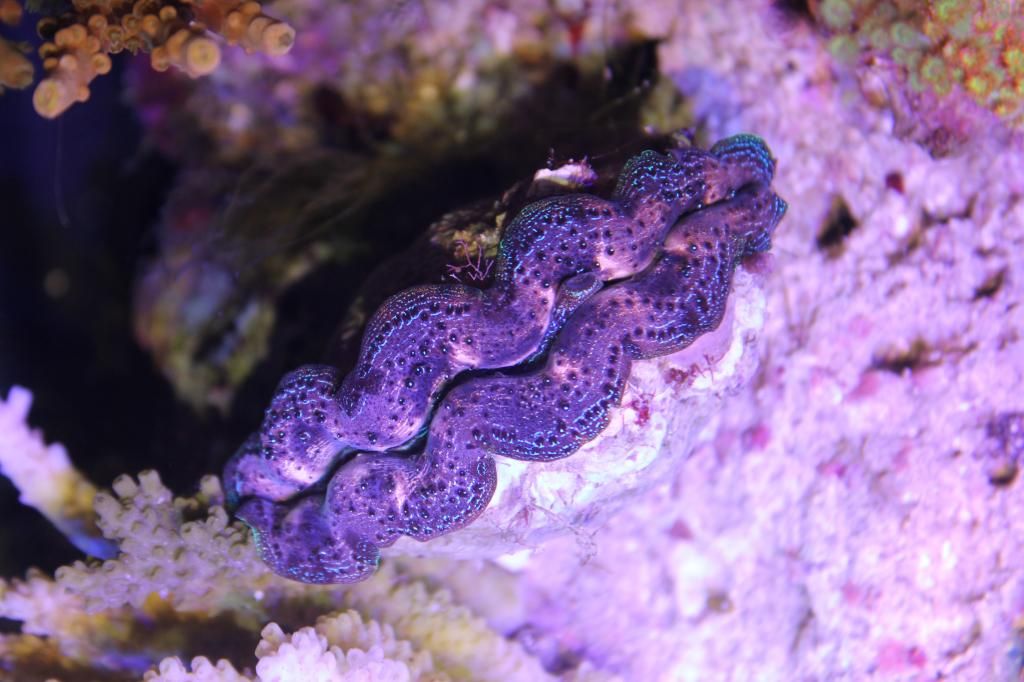 I am absolutely overjoyed at having found such an amazing specimen :D These photo's don't even show the half of it! I'll take some better shots tomorrow when she's open a little more
The mantle edge is green and her inner mantle is as blue as my wonderful t. maxima!
Aside from that I'm getting closer to being happy with my scape
This is what I've come up with so far! The rock on the bottom running to the front of the tank isn't in final position and needs to be cut in half to make it shorter as it's going to be my ric and zoa home
From the side:
Part of my restart was to make things much easier and simpler than what I had and to also keep things a heck of a lot more tidy and today I got most of the way through that :D I sent some time with the good old cable tidy-hidey lol and organised the cabling in my sump and all of the little control boxes that run and maintain my lovely little glass box of water!
It really is amazing how much more clean and tidy the sump looks just by hiding a few cables:
No sand in the tank yet which is why the sump appears to be lit haha
The next step I was going to put all of the boxes into a cabinet next to the sump to hide them and make things a little tidier but I decided to mount them on the side of the tank instead as it's easier to see and use that way, they can always be moved later if needed
Not a pro job or anything but I'm happy with it and it certainly makes things a crapload easier!! All I need to do now it tidy up a few last cables and get a small cabinet for my dosing equipment and any tank stuff I want to keep near the tank
Had my water tested today at my lfs too and it's all A+ across the board! Except for 5ppm nitrate but that's meant to be there lol so zeo has worked and today is day 14 so things will begin the adding process soon!!
Also aquakneaded the rockwork in place so it's nearly all ready! :D
So after three weeks since starting the tank this is where I'm at
First fish is in the tank, my bellus angel, she was the only one trusting enough to get caught haha Other than that the zeo seems to be working well
Most of my acro's have been moved across and have settled in
Half the zoa's and still some to come, still deciding on what to do and where to put the ric's.
All the photo's were taken under blues as I'm trying to improve taking shots under blues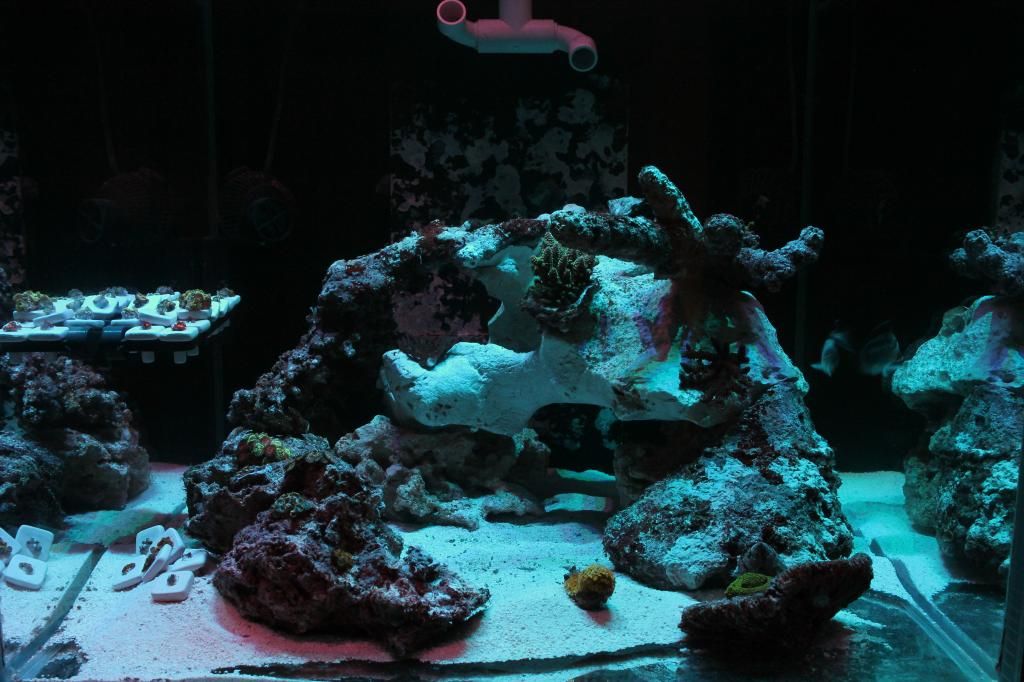 The beginnings of my zoa garden:
The first acro that went in the tank (others are in as well now too):
My little goni is across as well and seems to be cheering up nicely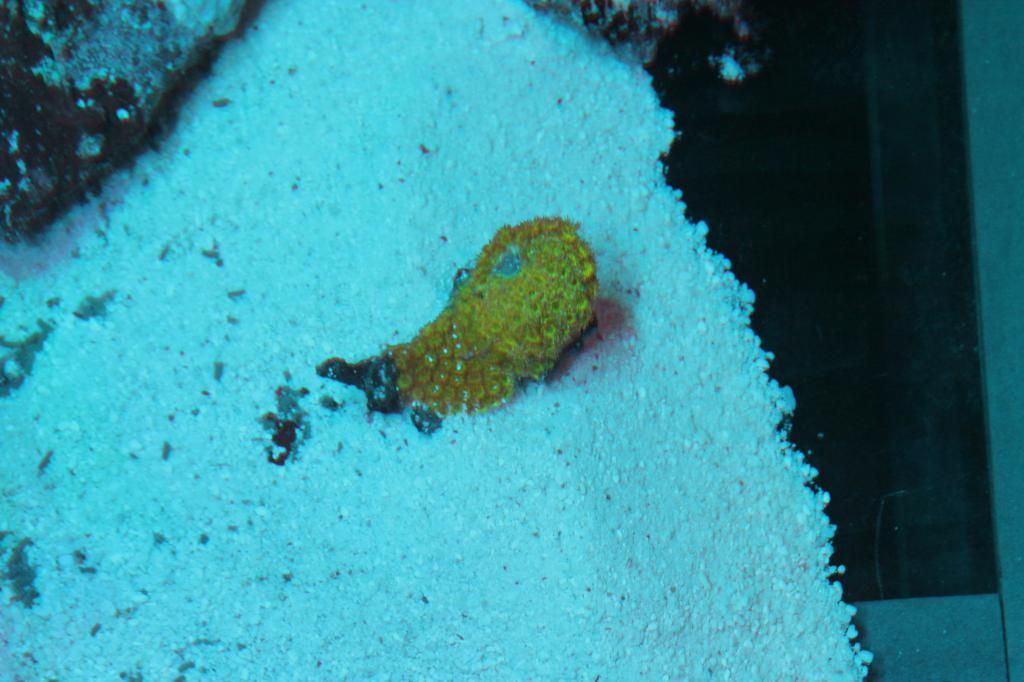 Let me know what you all think
Hopefully everyone enjoys the ride with me as I'm looking forward to taking this journey again with a little more knowledge behind me!
And if you have any questions let me know, I'm only too happy to help out and answer what I can!