Introduction:
This is my second reef tank, i pulled the other one down as i was never happy with the stand or general setup, having designed it when i knew nothing about reef tanks. The tank will be in the same spot though slightly larger ( old tank was 24 x 24 x 30 ) , though i'll re-use a lot of my equipment. Havent had the tank built yet but most other bits I have.
System Objectives: Mixed reef, plenty of SPS and a handful of fish.
System Type: Mixed Reef
Display System:
Strike up Date: estimated November 2014.
Display Tank: 715 (L) x 675 (W) x 740 (D) 12mm glass, eurobraced.
Display Lighting: 1 x Ecotech Gen 1 XR30 with TIR lenses
Stand: 50mm stainless steel
Hood: none
Sump: 570 (L) x 570 (W) x 510 (D)
Refugium: No
Support systems:
System Water: RODI + Red sea pro salt
Display Water circulation: 2 x Ecotech MP40 WES
Return Pump: Oceanrunner OR2500
Skimmer: Tunze comline DOC skimmer 9011
Evaporation Top Up: by hand
Chemical Support:
Calcium Addition: Two Little Fishies C-Balance
Alkilinity Addition: Two Little Fishies C-Balance
Other Chemical Maintenance: Phosban 150 running activated carbon, plus JNS ALpha 2 Bio pellet reactor
Water Chemistry Target values :
Nitrates: 0
Phosphates: .03
Alkalinity: 10 DKH
Calcium: 450ppm
Salinity / Specific Gravity: 1.025
Magnesuim: 1400
So far I've had the stand built, ill use magnetically attached panels so i can pull them all off for maintenance. the magnetic latches are attached to the inside. the stand was expensive but im really happy with the way its come up, worth every penny.
I've used 'Adjust-a-foot' feet as the floor isnt entirely level where the stand sits. there's a nut welded into the bottom of each stand and the feet screw in. the feet are load rated at 600KG and will only support about half that maximum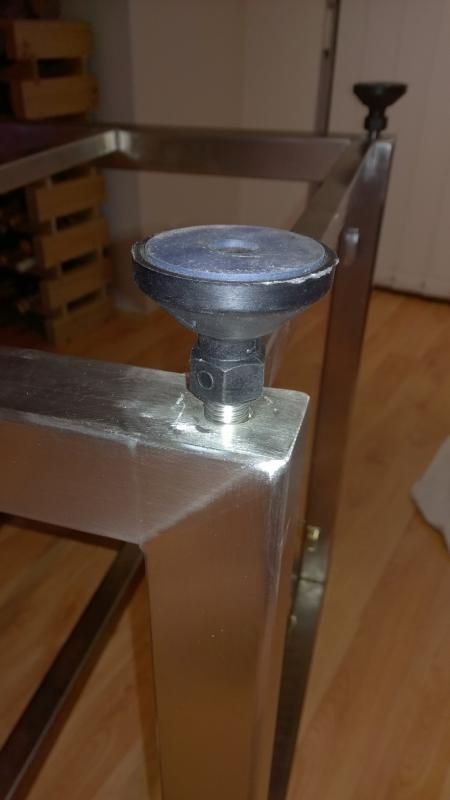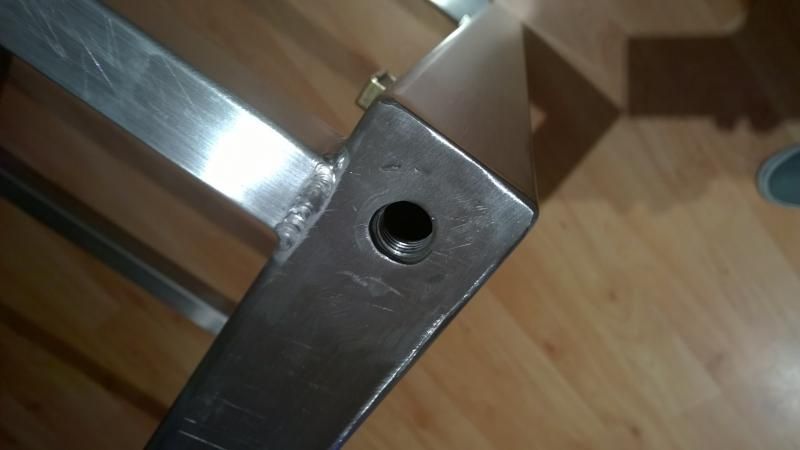 i'm re-using my old sump, no baffles except for the bubble trap on the intake, i thought about putting in baffles but prefer having maximum space available for equipment so my giant hands to get in for maintenance.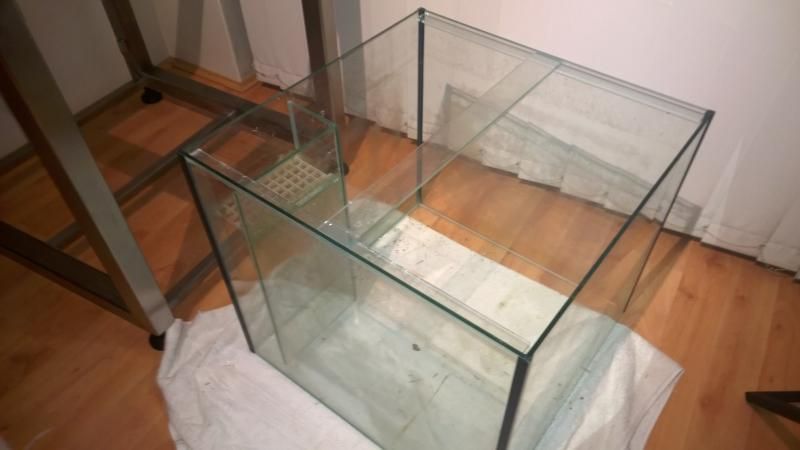 Next up i'll be doing the paneling for the stand then getting the tank knocked up.