Introduction:
Hi
I'm Connor and I'm addicted to reef tanks. I set up my first reef tank November last year, and have been enjoying it ever since! As with most people, I made a bucket load of mistakes when buying equipment, So this time I've decided to go all out and do it right the first time!!
System Objectives:
I'm looking to set up a SPS dominated mixed reef, that I can put some Anthias
as well as a few other fish in maybe a purple tang if the police wont arrest me
. I'd also like to build this setup so I can have a proper go at fragging and propagating corals, hopefully trying some of the more complicated methods along the way to help colour them up.
Current(ish) FTS:
System Type:
Mixed Reef
Display System:
Strike up Date:
Not wet yet
Display Tank:
30x24x24" Custom Built by Dave at Extreme Reef
Display Lighting:
ATI 8x24W Power Module (yet to purchase)
Stand:
DIY stand build by 50x25mm RHS Tubing. 762x600x850h, started cutting and welding 22/12/2012
Hood:
N/A
Sump:
Got to design and build
Refugium:
Designing still
Refugium Lighting:
Potentially LED lit, to prove light for some frags in the sump
Support systems:
System Water:
Natural Salt Water collected from Bundeena
Display Water circulation:
Vortech MP40W, will supplement later if needed
Return Pump:
RE Red Dragon 3 Speedy 50W
Skimmer:
RE Bubble King Double Cone 180
Evaporation Top Up:
Tunze Osmolator (yet to purchase)
Chemical Support:
Calcium Addition:
Dosing Pump
Alkilinity Addition:
Dosing Pump
Other Chemical Maintenance:
Magnesium etc
Current Water Chemistry:
If applicable
Nitrates:
Phosphates:
Alkalinity:
Calcium:
Salinity / Specific Gravity:
Magnesuim:
Images: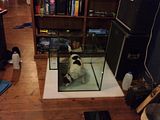 Thats it for now, hopefully more to come soon!!