Introduction:
Hi all,
This is my first marine setup, I have had a 4ft running with freshies for around 6 years. Had a lot of lake Malawi cichlids, which bred frequently. This was a great start and I learnt a lot along the way. Tried a lot of DIY stuff and it all seemed to work well.
System Objectives:
To learn the basics and then move onto the harder corals in a few years.
System Type:
Mixed Reef
Display System:
Strike up Date:
28/4/12
Display Tank:
4ft x 18" x 24" centre weir with 2 corner returns
Display Lighting:
DIY 100xBridgelux 3w LEDs from aquastyle online, 6 maxwellan dimmable drivers. LED strips for moonlighting
4 x 54w t5
Stand:
4ft cabinet from the old setup
Hood:
4ft hood, with the DIY led rails built into it. 2 x computer fans for flow thru.
Sump:
2.5ft x 14" x 18", 3 sections (skimmer and return, return section and refugium section)
Refugium:
approx 1ft x 1ft cube section in sump
Refugium Lighting:
DIY 12 x Crea LEDs. 6 royal blues and 6 10k whites with meanwell driver (purchased from forum member)
Support systems:
System Water:
NSW
Display Water circulation:
Vortech MP40W and MP40WES operating anti sync reef crest, mp10wes back wall
Return Pump:
EHEIM compact 5000
Skimmer:
Royal exclusive bubble king mini 160
Evaporation Top Up:
cheapo chinese auto top up with 2 float switches
Chiller:
Hailea hc250a
Chemical Support:
Kamoer Dosing pump 3 channel and 4ch expansion
Calcium Addition:
Calcium Chloride
Alkilinity Addition:
Sodium Carbonate
Other Chemical Maintenance:
Magnesium sulphate and magnesium chloride
Rowaphos in fb150 phosban reactor
Carbon in reactor
Current Water Chemistry:
Salinity / Specific Gravity:
1.026
pH:
8.1 (api)
Phosphates:
0.00ppm (hanna)
Alkalinity:
7.6dkh (red sea test kit)
Calcium:
430ppm (salifert)
Magnesuim:
1200ppm (salifert)
Nitrates:
2.00 (red sea kit)
Nitrite:
0.00ppm (api test kit)
Ammonia:
0.00ppm (api test kit)
Current fish list
"the" purple tang
Yellow tang
Mandarin gobie
Flame angel
2 x occy clowns
5 x lyretail anthias
5 x dispar anthias
2 x yellow coral gobies
Collector urchin
Images:
Current FTS
23/7/13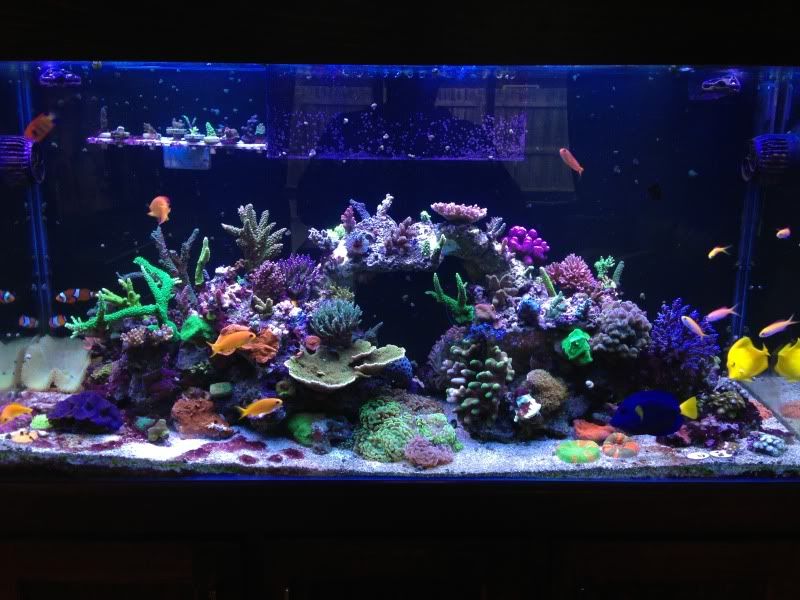 23/6/13
15/6/13
28/4/13
22/3/13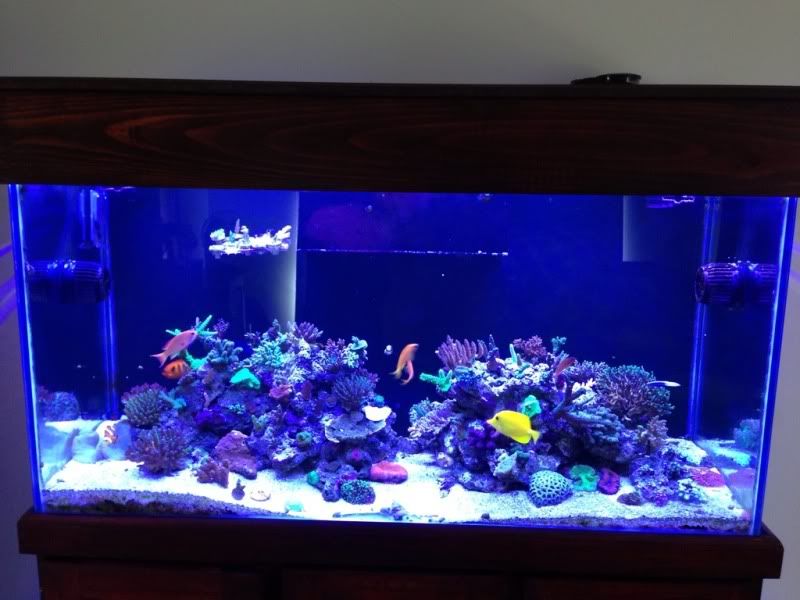 4/3/13
1/1/13
2/12/12
22/11/12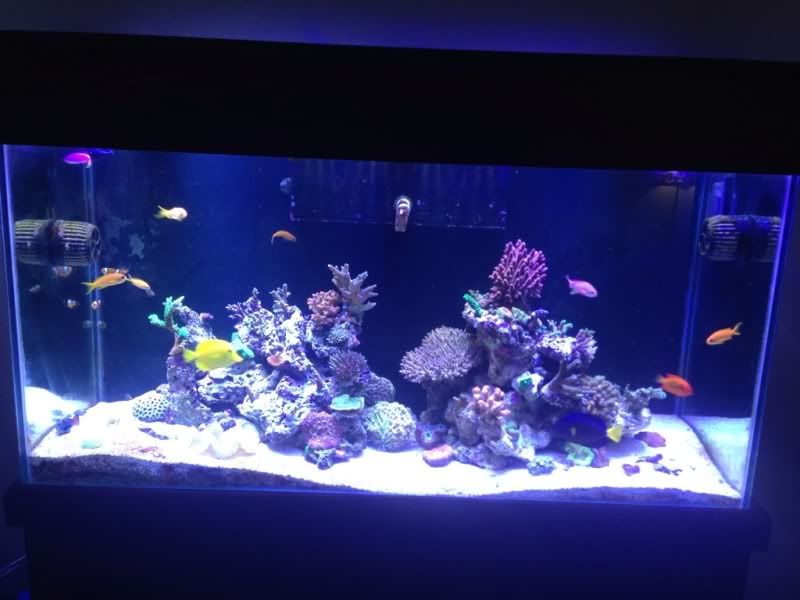 16/10/2012
20/09/2012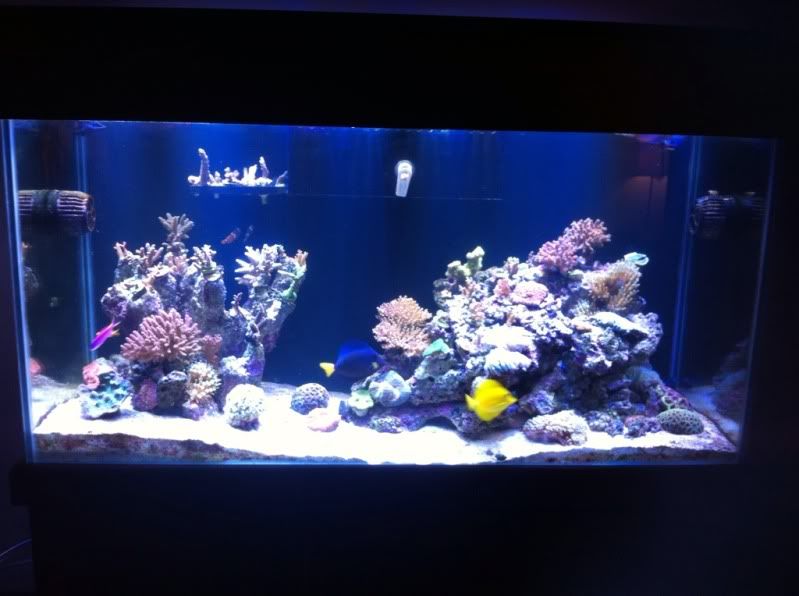 6/09/2012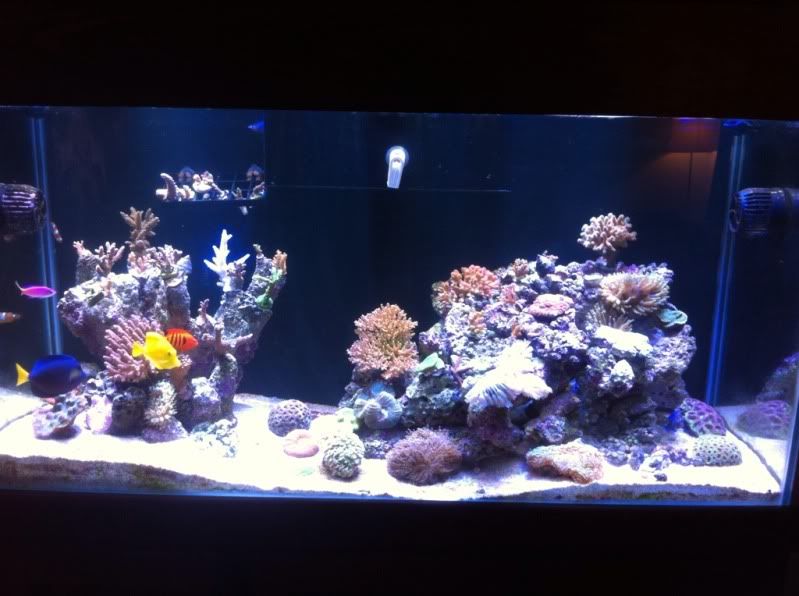 22/07/2012
20/06/2012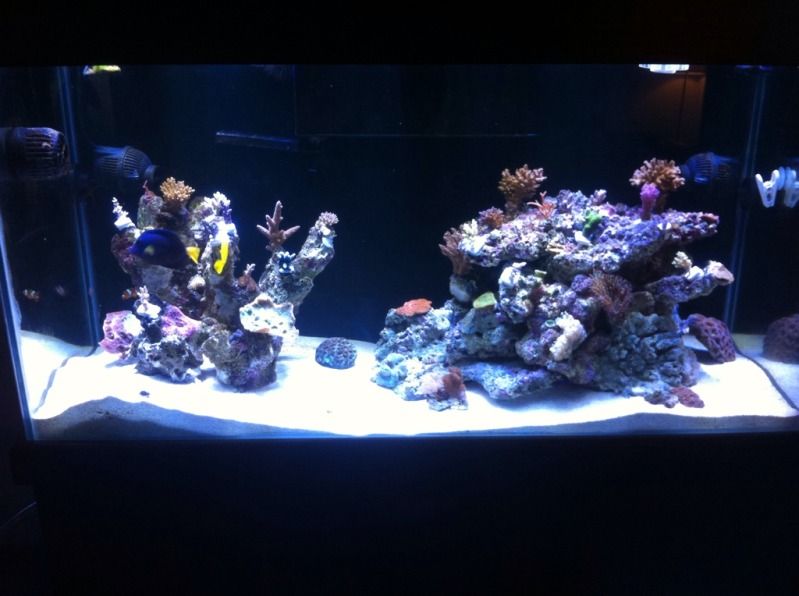 16/05/2012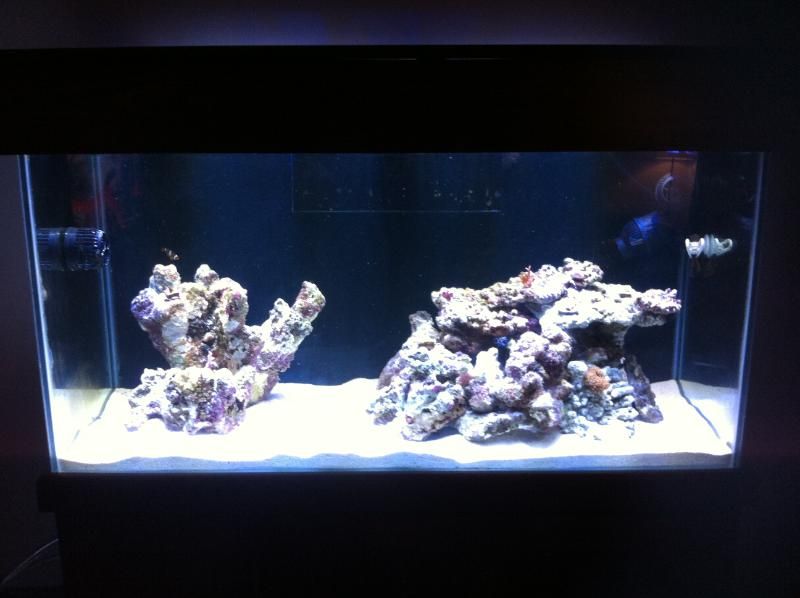 5/5/12