Introduction:
Hi everyone, 5 months after selling my previous tank, I have decided to take on the world and set up another tank.
My old Tank Journal can be found here
My Old 3ft adventure
It wasn't an easy decision to set up another tank as I did enjoy the free time I had!!
System Objectives:
With the new tank, I want to come up with the design that will look nice, maximize space, hazard free, and easy to access from the top.
With all that in mind, I have asked Dave from Extreme Reef to custom made one for me. It takes time but it's all worth it!!!!!
System Type:
For stock, I will go with fish and mixed corals, but mostly softies, LPS with only a few easy to keep SPS in the mix. Basically low maintenance is what I want to achieve, as after years of keeping SPS I feel like a change
Display System:
Strike up Date:
Not sure yet, but looking at early December 2011.
Display Tank:
Custom built 900mm Long x 600mm Weight x 500mm Height
Centre external weir with one piece euro bracing.. will look sexy!!!
Display Lighting:
InWatter Stingray 3ft LED unit. Not entirely happy with the colour so far, so I am planning to add some UV supplement. I will try out the Execotic UV Stunner strip and Pete at Oceanarium is getting this organized for me. Thanks Pete
Stand:
Steel stand clad MDF – natural white in colour, with adjustable legs
Sump:
Custom built 900mm Long x 500mm Weight x 350mm Height, with Refugium. I will share the design with you guys.
Refugium Lighting:
LED sump light. Bought a chinese branded one from Hong Kong
Support systems:
System Water:
Natural salt water
Display Water circulation:
Vortech MP20
Return Pump:
Eheim 1260
Skimmer:
Skimz SK181. The pump has been replaced so hopefully all the issues will now be gone.
Evaporation Top Up:
Auto top up – RO water using Gravity feed system
Chemical Support:
Calcium, Alkilinity and other chemistry Addition:
Manual dosing at the beginning but will move to Dosing pump once tank cycle completes
Images:
Let the photos do the talking !!
Tank – It is designed and built by Dave from Extreme Reef. Very impressive craftmanship I must say.
I love the one piece euro bracing in particular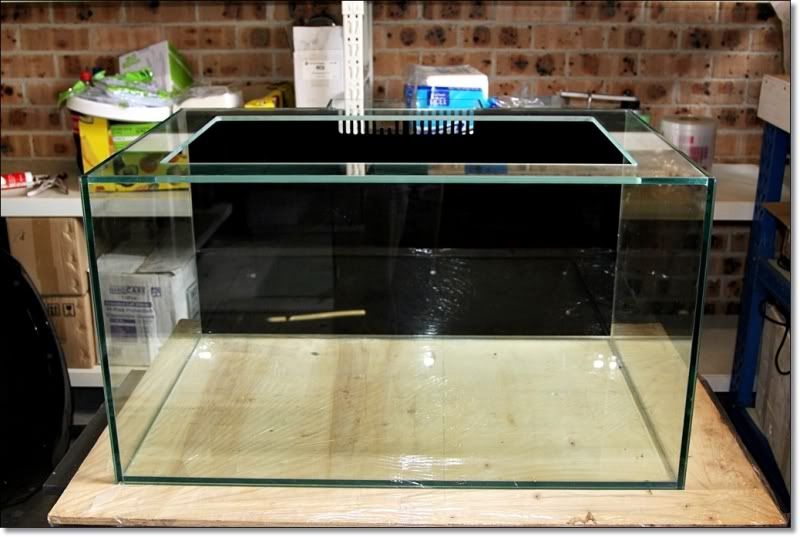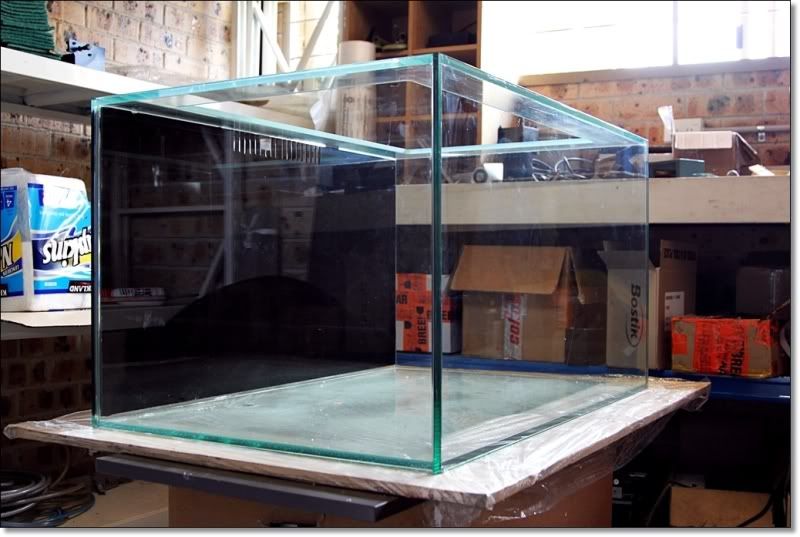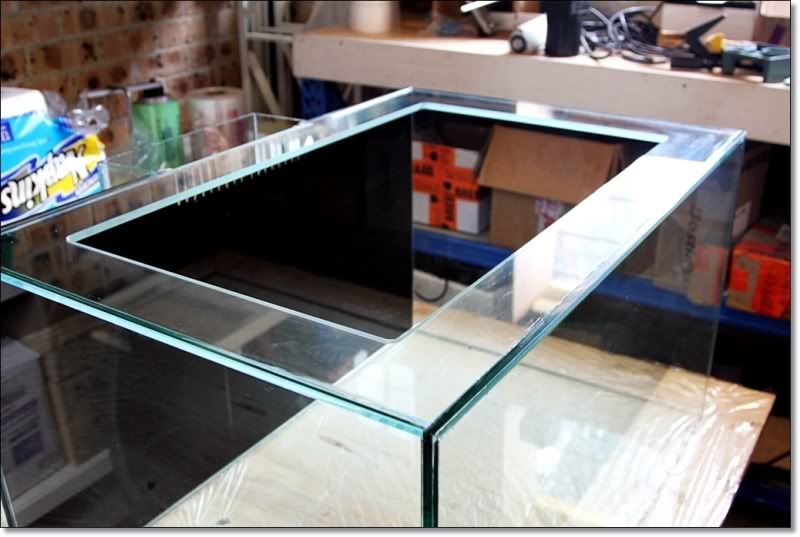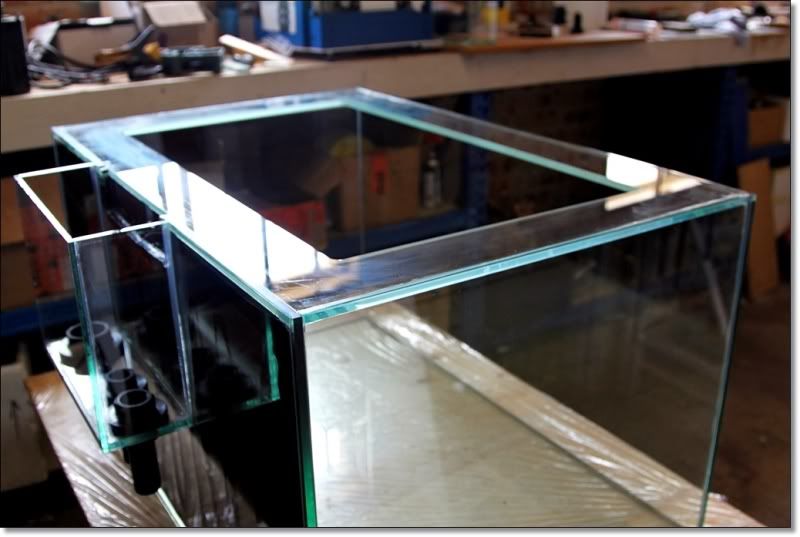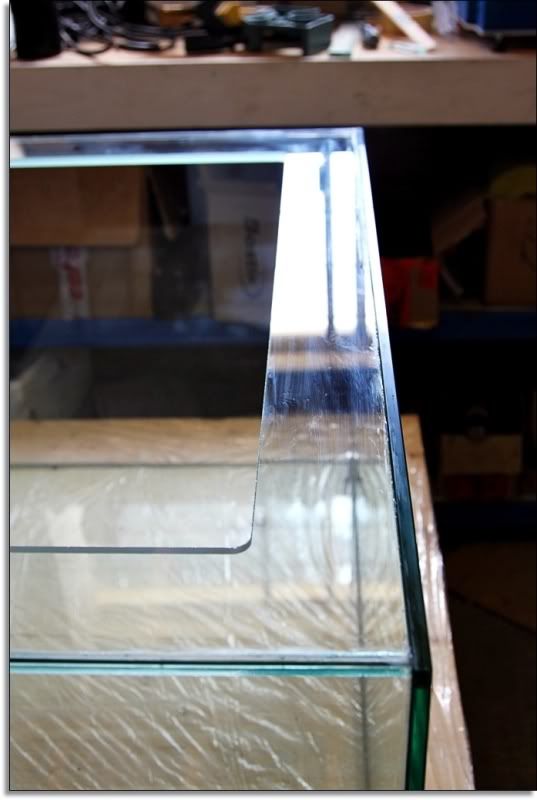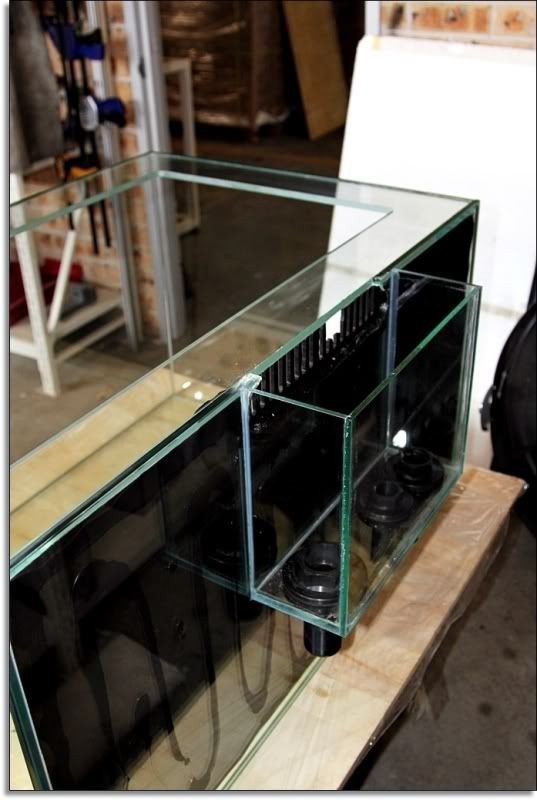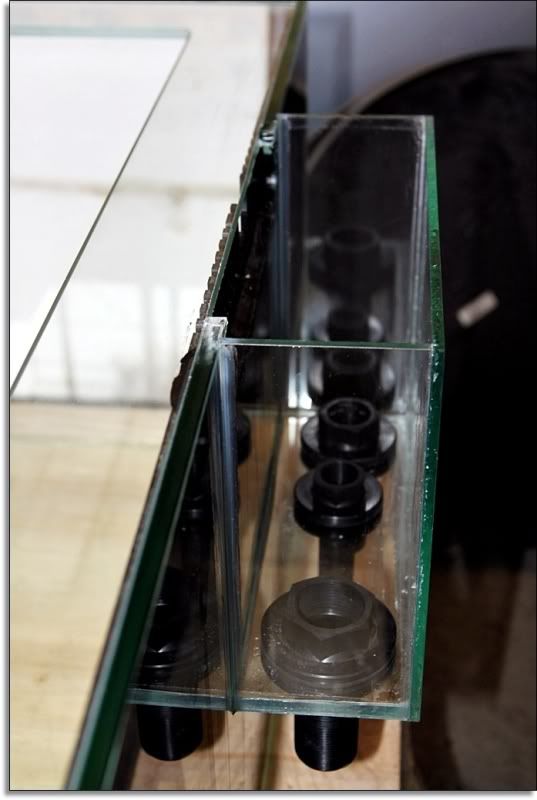 Stand
Thanks to Dave again for his excellent work. From welding to sparying, all top quality finish!!!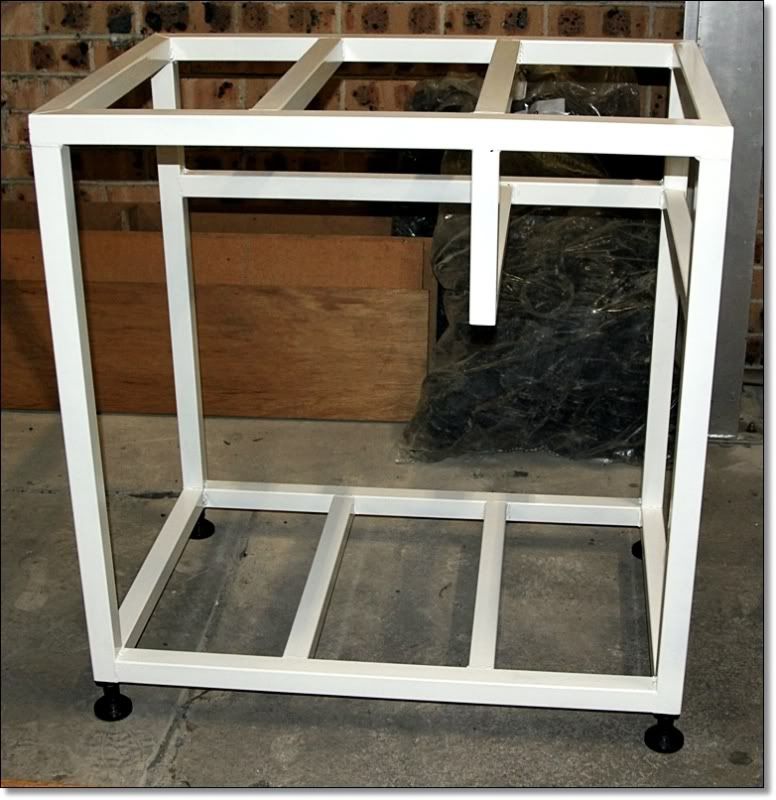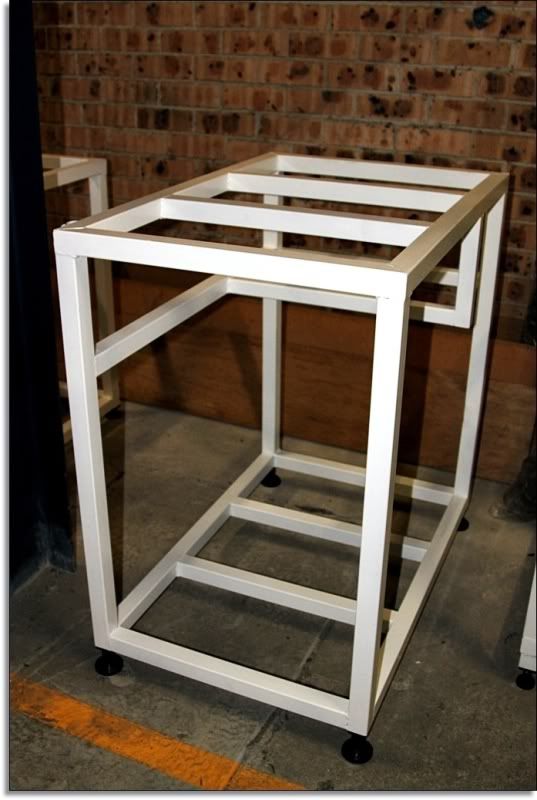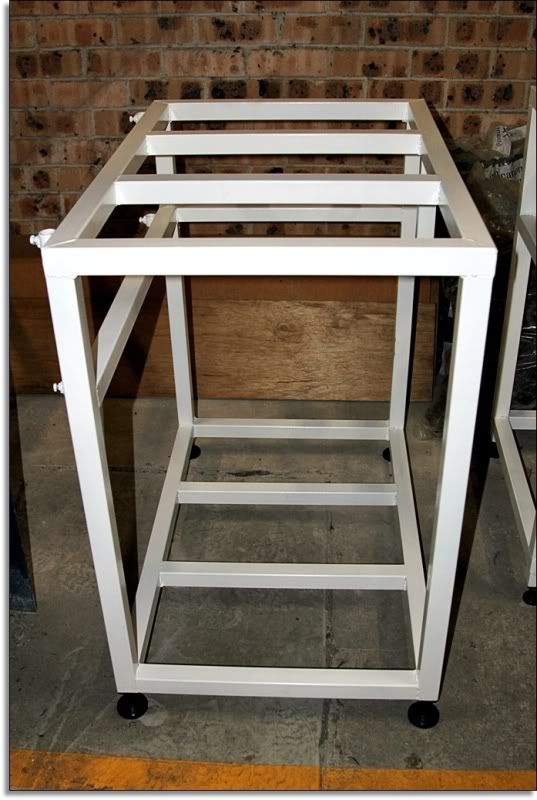 Dave came up with this idea of having legs so that the stand will be lifted from the ground so in case of water spill I can reach down and clean up easily.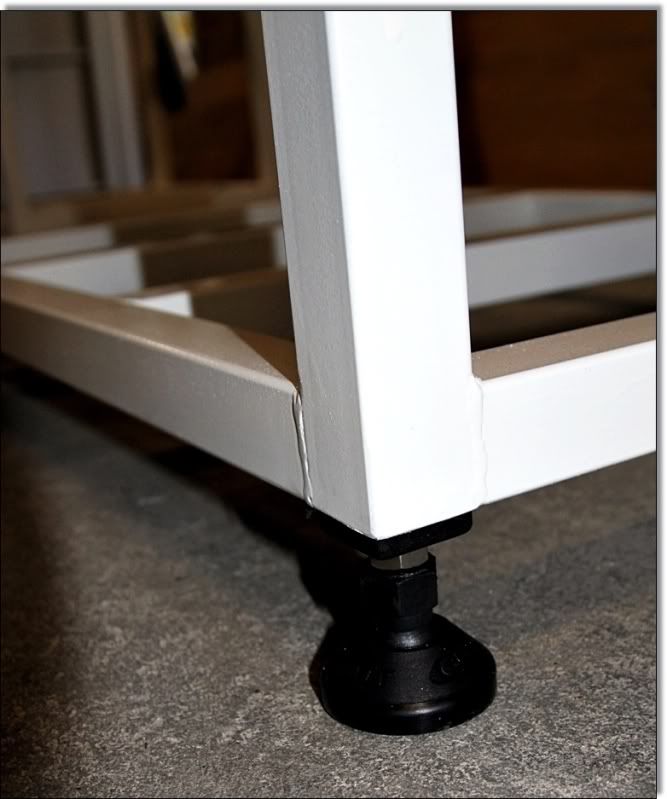 Close up of the leg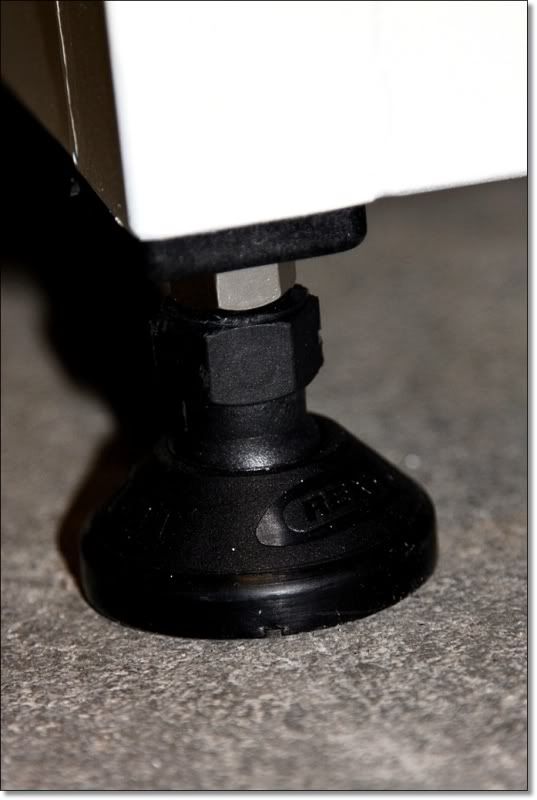 More photos to come!