Introduction:
So finally the time has come to start up the build thread!
My brother and I have always been fascinated by nature so it was only a matter of time till we got bitten by the reefing bug. I had a Fully planted Nano FW aquarium in collage that brought me back into the hobby after years, but it wasn't till my friend Julian introduced me to marine tanks that i fell in love with them. A big thanks to Julian for helping set up steve's (My Twin) 60 liter Nano aquarium that is still going strong and that will become the quarantine tank once the new tank is up and running.
System Objectives:
The end result will hopefully be an open central island styled aquarium that is modern and uninterrupted by weirs, pumps, cords, ect. The main criteria of this set up is that it has to be self contained, the reasons being that we want it to be a modern feature in a room. The other and biggest reason is that the aquarium needs to be able to be moved by two people relatively easily, as we lease a house moving is a yearly thing. Therefore we went with a 3-foot aquarium. The goal for the system is that it needs to be relatively automated, being that it must be able to survive for a week to 10 days as we travel for work.
System Type:
SPS/mixed reef (SPS with an anemone)
Display System:
Strike up Date:
Will be wet hopefully next week or two
Display Tank:
100x52x65cm euro braced (12mm glass) with left hand Bean's overflow
Display Lighting:
300W LED pendant from china
Stand:
DIY pine support stand, clad in 12mm MDF
Hood:
Made to match cladding
Sump:
DIY 33x57x41cm (5mm glass) (running level at 16cm)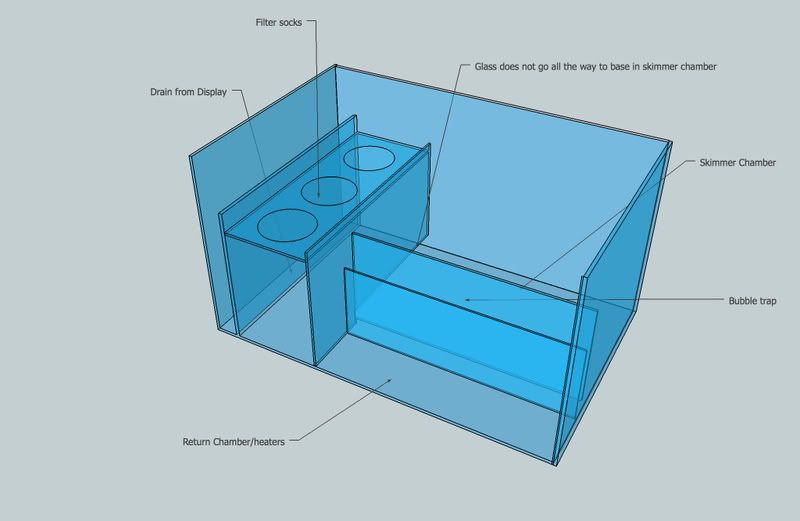 Refugium:
N/A
Refugium Lighting:
N/A
Support systems:
System Water:
Artificial salt water
Display Water circulation:
Vortech MP40w ES (hopefully will get another one down the line when cash allows)
Return Pump:
Eheim compact 2000 (might be upgraded depending on flow requirements)
Skimmer:
ATB Nano Cone Skimmer (B version) with airstar pump
Evaporation Top Up:
Tunze osmolator 3155
Heating & Cooling Controller:
Forttex TC-10 Digital thermostat
Heating:
2x Eheim Jager 150W heaters
Cooling:
PC fans / Chiller to come down the line
Chemical Support:
Calcium Addition:
Dosing pump (GHL dosing unit)
Alkilinity Addition:
Dosing pump
Magnesium Addition:
Dosing pump
Other Chemical Maintenance:
DIY Nitrate reactor, DIY carbon reactor, DIY Phosphate reactor (all made from clear acrylic)
Current Water Chemistry:
Nitrates:
N/A
Phosphates:
N/A
Alkalinity:
N/A
Calcium:
N/A
Salinity / Specific Gravity:
N/A
Magnesuim:
N/A