Introduction:
Hello, thanks for reading.
My name is Jack, I'm 27 and I'm an AquaHolic, and have been (self)diagnosed with "MTS" (multiple tank syndrome) and "Collectoritis"
(the desire to own or have owned 1 of at least every species legally allowed according to ones local regulations) :D
I have kept fish in one way or another almost my whole life. At the moment I have 3 freshwater planted tanks in my lounge room, two of
which are being merged to free this tank up to be converted to a "Learner Reefer" tank. Im very excited to be trying marine for the
first time, I have always wanted to ran a salty tank but It's never been the right time.
I decided to start a reef tank when I put a couple of large freshwater shrimp in there and they proceeded to massacre 16 neon tetras,
~20 endlers guppies and a large pair of rainbowfish
leaving only my large catfish and algae eaters. I was never really happy with the
way the tank was heading so it didnt take much to convince me not to re-stock the tank but to wind it down and convert it into my first
marine adventure.
So here I have decided to start a journal detailing/recording the transition from a freshwater planted tank to a mixed reef.
This is going to be a long slow process, so dont expect too much to change quickly in here :D I guess this is true of most things in
keeping aquaria.
System Objectives:
Learning the ropes, this is my first marine tank.
System Type:
Mixed Reef eventually, probably starting out with just zoos and morphs.
Display System:
Strike up Date:
TBA Hopefully I will have the main tank full of salt water in a couple of weeks......
Display Tank:
5 sided corner tank measuring 750mm on the 2 back sides and 450mm tall. (~195L)
Display Lighting:
2 x 150w MH shoplights (Not decided on lamps yet)
Stand:
DIY using offcut timber from a carpenter mate of mine :D Yet to be clad, my brother spray paints kitchens for a living
so it will probably be 2pack painted high moisture resistant MDF with routed edges.
Hood:
Coming soon built to match the cabinet.
Sump:
600mm L x 300mm W x 450mm T. (This was my second ever tank) Once the display tank is finished I will finalise the sump
design because I want to work out how much overflow space I need to leave. Will have a DSB in there.
Refugium:
Considering building a small refugium in/on the hood which will overflow into the DT. Avoiding the need for a pump
between the tanks.
Refugium Lighting:
TBA prob DIY LED
Support systems:
System Water:
I plan to start with NSW but I will keep some salt handy for when I run out if I cant get to the beach soon
enough.
Display Water circulation:
Undecided.
Return Pump:
TBA probably red devil 3000LPH.
Skimmer:
Still on its way... Mercury SA-2011 I know nothing about it other than it was good on paper and fit my budget. I will see
how this goes, there are always other options.
Evaporation Top Up:
Manual with filtered tap water to begin with but I will get sick of that pretty quick so I will eventually
build something and I will switch to RO or RO/DI sooner rather than later.
Chemical Support:
At what point is this needed?
Calcium Addition:
I dont know enough about this stuff yet.
Alkilinity Addition:
I dont know enough about this stuff yet.
Other Chemical Maintenance:
I dont know enough about this stuff yet.
Current Water Chemistry:
This system is still full of fresh water until I re-home some fish.
Nitrates:
Phosphates:
Alkalinity:
Calcium:
Salinity / Specific Gravity:
1.000
Magnesuim:
Images:
I dont want to shock anyone, so look away if you are easily disturbed.
Here is the tank more or less as it stands now. Full of freshwater. This was pre-massacre but other than having less fish nothing much else is different.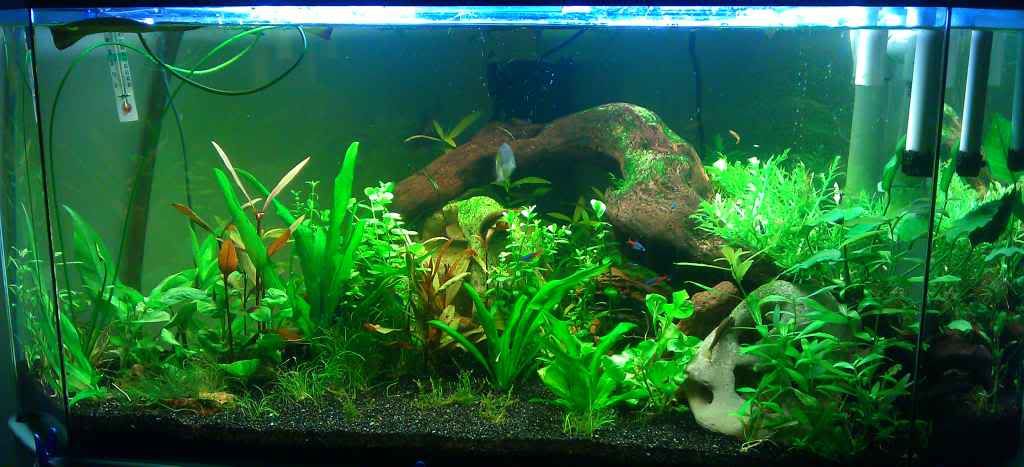 Now for anyone still reading here is a link to my old tank journal
http://www.plantedtank.net/forums/tank- ... -tank.html
Regards,
Jack