Welcome to my journal, please check back from time to time and help me out and watch me grow
Here goes.
Introduction:
I recently moved and sold my fresh water set up and decided I would not redo a fresh water set up, but rather start a reef tank for myself. After a few very good years of fresh water keeping, from planted tanks, to big fish, to small fish, to breeding fish and the like
The tank is upstairs on my left while I watch the television infront of me, though i spend most of the time with my eyes on the tank ofcourse hehehehe.
System Objectives:
I would like the system to end up a very pretty attraction of the room, to keep everyones eyes on the tank (not just mine :D ). Would also like to try my hand at breeding marine fish eventualy
System Type:
The tank will hopefully be a mixed reef tank. Lots of pretty corals, some very pretty fish
Display System:
Strike up Date:
System was set up on the 12th of July. However 95% of the parts were received on the 17th of july and was all put together that night.
Display Tank:
This tank is a 4 foot long by 18 inch high by 18 inch wide. 4' x 18" x 18" (L x W x H)
Display Lighting:
6 x 54 Watt High Output T5 Unit.
Bulbs are as follows:
2 x Actinic Bulbs
2 x 10,000k bulbs
2 x 14,000k bulbs
Stand:
Currently a raw pine cabinet, will be painted/stained to match my table and tv stand once I figure out the colour :P
Hood:
Same as the cabinet.
Sump:
Sump is set up with a refugium. Total size is 2' x 16" x 16"
Refugium:
Currently has a DSB. Looking for macro algae. I intend on turning this into a coral frag tank eventually (once i have corals to frag ofcourse).
Refugium Lighting:
Currently no lighting (apart from the light it gets from the tank lights hehe). Will be set up soon as i find something I like.
Support systems:
System Water:
Natural Sea Water (NSW) bought from a LFS.
Display Water circulation:
2 x 3000L/h wave makers. May get one more to increase flow later on but for now is plenty of flow at approximately 23 times turn over rate without return pump. Approximately (bit higher) 30 times turn over rate with return pump included.
Return Pump:
Sump return pump.
Eheim Compact 3000 pump. A 3000L/h pump. Max head height of 3 or 4m (cant remember, needa read the box again..)
Skimmer:
Waiting on this to come in on, should be here Monday the 19th of July.
Skimmer is a Reef Octopus Classic NW-110. Rated at a 500L aquarium. Approximately double my tank
Evaporation Top Up:
Manual, need to find a supplier of RO/DI water until I can afford my own. On a uni student budget
Chemical Support:
Calcium Addition:
None Yet
Alkilinity Addition:
None Yet
Other Chemical Maintenance:
None Yet
Current Water Chemistry:
Test kit is arriving on Monday the 19th of July hopefully.
Nitrates:
Phosphates:
Alkalinity:
Calcium:
Salinity / Specific Gravity:
- 1.025 - 1.026 (Going to recalibrate refractometer soon as i can find some distilled water).
Magnesuim:
Images:

Click To Enlarge Photos!
First Day of Set Up:
Tank Shot With ALL Lights ON: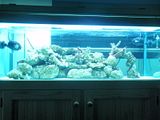 Tank Shot With ONLY 10,000k Lights ON: (I think)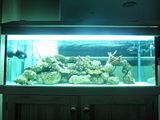 Tank Shot With ONLY 14,000k Lights ON: (I think)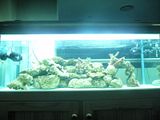 Tank Shot With ONLY Actinic Lights ON: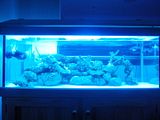 Tank Shot With ONLY Blue Moon Light LED ON: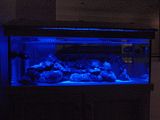 Cabinet Shot - Sump Included: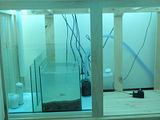 Shot of Unopened Refractometer:
Thanks for looking, and keep coming back every so often and watch my tank develop and answer my questions. Im sure I will have ALOT of questions as time goes by