Introduction: See more below
System Objectives: To have a healthy and happy reef tank that is as relaxing as possible and still allows for easy maintanence when traveling or being away in hospital with daughter.
System Type: Mixed reef & fish.
Display System:
Strike up Date: Hopefully July 2009.
Display Tank: 10 to 12 L x 2.5W x 2.5H
Display Lighting: At this stage i have 2 eco tech radions G3pro
Stand: 10L x 2.5W x ??H
Hood: No hood planned at this stage,
Sump: At this stage will be 8'L x 2"W x 1.5'H
Refugium & Refugium Lighting: yet to be determined.
Ok so we got the contracts signed and finalised for our dream house to be built when the block titles in March (hopefully)
so goodbye renting hello owning my own home again. With that sorted i am beginning to think about and plan my first full reef tank.
So a little bit about me first. my passion all began back in September 2000 when my husband and i moved from SA to Wollongong NSW. As we moved away from everyone and i had no friends or family i was allowed to purchase a standard 3ft tank with canister filter. It was run with just 2 fluro's and last me well (after a really bumpy set up due to dodgy advice from the LFS, its fine to only have a fish in after a week starting with tap water and salt right
) into 2005 when i upgraded to a 4 x 2 x 2. both tanks were fish only. In 2017 the heater on the 3fter died, sending the temp spoaring and crashed the tank so the tank went into retirement leaving only the 4fter.
In 2011 we moved to Melbourne with hubbys and i tried to dabble with soft corals. Things started well until i tried to fix things that weren't broken by trying to automate the tank with hubby building various devices (it helps that hes in IT sometimes but this was really one of them) the more i tried to fix the worse it got
. There were only a few losses of some dominos (kids fav looking fish
) Then in 2014 i had my 5th child who was born with a heart defect and ended up spending 6 months in hospital with my my father in law watching the kids and tank for me. This resulted in him trying to help top up the tanks using salt water and salt poured straight into the tank (and into my frog tank
losing 5 green trees) and a crash that i was never able to recover from. Even the new equipment purchased didn't help. So after 2 years of trying to fix it and a house move, the end result is a dry tank from July 2016.
So now with a new house hopefully built by the end of 2017, the plans for a big feature tank are beginning even though im currently out of my depth and will need all the help i can get to plan it and get it right the first time. Ive spent the last 3 weeks reading various journals and have been inspired my Kan and Jen's 12ft dream tank. Hopefully i can do something similar build wise but with my own twist to make it mine.
I will be taking kens idea of lining the stand with acrylic to try and make it water proof while also trying to make it some what automated so that if and when my youngest cherub get sick and goes to hospital i can still look after the tank while avoiding the mishaps of the past.
SO the house design is the Queenscliff from fairhaven.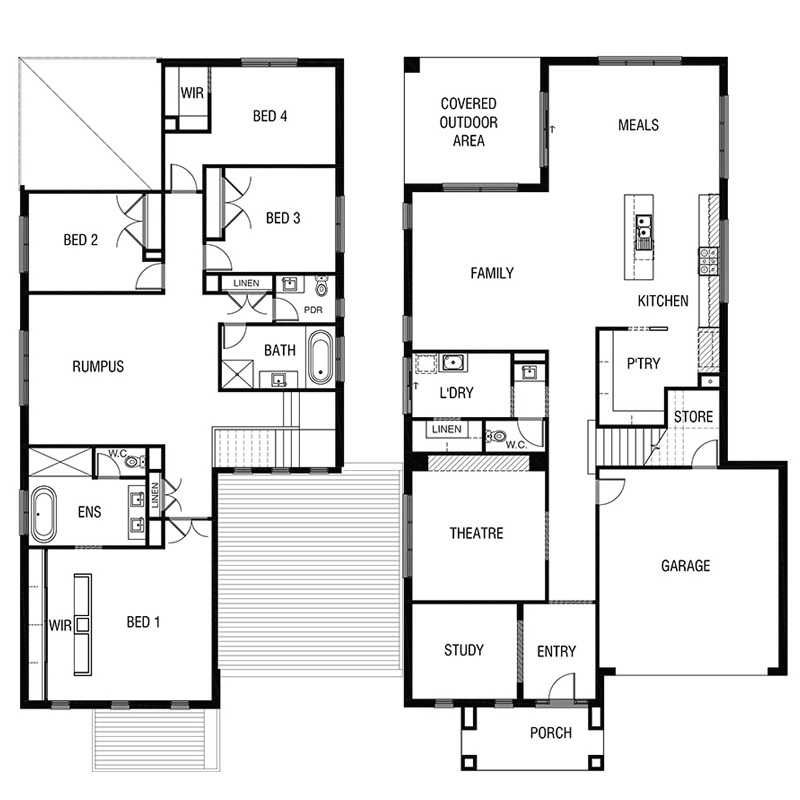 But the idea is to place in on the wall at the back of the dining room (meals) adjoining the kitchen so it looks like the cabinetry flows from the kitchen to tank the entire length of the wall. The tank is going to be about 3400 long 2.5 foot wide and possibly 3 ft tall, but ill have to wait until the house if built for final measurement to see just how much wall i have to cover. Ill be putting 5 power point on the end wall of the tank on a separate circuit for the powering of the tank. Im thinking 4 down low for everything in the sump and one or two up high for lights at this stage. The sump i think will be 8 to 9 foot by 2ft by 2ft. How it will be laid out i have no idea.
I already have 2 eco tech radions so those will be the lights i use, ive got a small reef octopus skimmer and biopellet reactor which i hope to be able to use as well are an MP40 and an MP10. The idea is to use an apex controller for monitoring the tank. I was laos thinking of using the eco tech vectra as the return pump. I have no idea on what type of skimmer to get and how or what ill need to dose once its set up and running but thats ok as i have a long time to work out the nuts and bolts of it all over the next year.
Thats as far as i've gotten at this stage because im not sure if it will work or if i need to change everything. I definitely need advice on skimmers, dosing and everything that comes with a reef tank, especially plumbing as ive never used a ball joint thing or whatever they are called, for me it was a check valve and plastic tubing all the way with the 4 footer so ive got a lot to learn and im hoping you guys will help me get it right.
Ive just applied to join the MASOVso thats a start of my educational experience as ive never been a member of any before.
Support systems:
System Water:
Display Water circulation: 1 x VorTech MP40W and 1 x VorTech MP10W already owned more to come
Return Pump:
Skimmer:
Evaporation Top Up: Auto top up to be decided
Chemical Support: N/A at present.
Calcium Addition:
Magnesium Addition:
Alkilinity Addition:
Other Chemical Maintenance:
Current Water Chemistry: N/A at present.
Nitrates:
Phosphates:
Alkalinity:
Calcium:
Salinity / Specific Gravity:
Magnesuim:
Images: