Introduction:
I've planned an upgrade and dedicated fish tank room for years. Originally my wife and I planned to build a house and have the tank room incorporated as part of this build, though we had some issues which resulted in the house never being built. So we bought a house (2009) which we have been renovating for a long time now, though one of the reasons for buying this house was the large rumpus room. As soon as I saw this room I knew what's its final purpose would be. This is a project as the room is being renovated to accommodate this tank including a room for the running of the tank and a viewing room. The tank will be viewable from 3 sides as I've learnt from my current tank, not being able to see in from the sides is a real PITA.
To fund this project we had to borrow some money for the renovations and to pay for the tank and my new light I cashed in my long service leave as I changed industries and wanted to use the money for this project.
Once this tank is ready, I plan to move all the equipment and livestock from my current system across to this tank.
System Objectives:
I'm looking to grow out the corals I have and plan to really let this tank mature with only a few intended new additions still to purchase.
Display System:
System Type: This will be a mixed reef, though I don't know if I'll put in any softies. This will depend on the families input though I would prefer SPS and LPS only.
Strike up Date: Tank is here though the room is still under renovation, so a wet date hasn't been set as yet. I have to find enough people to help lift the tank to progress this.
Display Tank: 1800mm L * 900mm w * 600mm d with an external overflow. Front and side are starphire glass with the back in normal glass. The tank walls are in 12mm with 1 centre brace and the bottom is 15mm thick. This tank was built by Abyss Aquariums and I'm very happy with the build quality and the service
Abyss Aquariums
Display Lighting: 2x Cheap LED's and 1 Orphek Atlantik V2.1 (I will be buying another V2.1 in the future)
Stand: D.I.Y - L.V.L beams and posts with structural 20mm C.D ply top. A base has been included which is just 70*35mm pine with 15mm C.D ply on top.
Hood: None. The bulkhead around the tank will hide the lighting which will only be visible from the wet room behind the tank.
Sump: An old standard 6ft tank to be fitted as a sump
Refugium: Incorporated into the sump.
Refugium Lighting: None, this will a cryptic zone set up.
Support systems:
System Water: Definitely ASW. The brands I use vary depending on availability and price.
Display Water circulation: Tank will have 2*Tunze 6205 and 1* 6105 + a mix of other pumps. Other wave makers are getting purchased soon.
Return Pump: Start with a Laguna 6000 and go from there if the need arises
Skimmer: ATI Medium with option to switch between Airstar and the Pro model. This still has a euro plug so I will have to decide whether to do something about this.
Evaporation Top Up: Auto top up - Tunze osmolator.
Controller: Neptune systems APEX controller
APEX
Chemical Support:
Randy's 2 part recipe run of a dosing pump.
Calcium Addition: Calcium Chloride
Alkalinity Addition: Bi-carb soda
Other Chemical Maintenance: Magnesium Chloride and Sulphate as required, Potassium Chloride and Strontium Chloride added to every drum of salt mixed up. Lanthanum chloride as required instead of G.F.O though I hope to not need this.
Current Water Chemistry: Dependant on salt batches
Nitrates: Not tested unless there is a problem
Phosphates: Not tested unless there is a problem
Alkalinity: 3.2 - 3.5Meq/ltr
Calcium: 410-420ppm,
Salinity / Specific Gravity: 1.025-26 or 35ppt
Magnesium: 1350+ ppm (current salt batches are coming in at 1500ppm)
Images:
When we first bought the house it was in need of renovation. This house was in poor condition and we decided we couldn't really live in it so we set up in the rumpus room. This become our bedroom, lounge room, office;
And then later, our nursery.
This year we finally got the money to build a new shed so that I could move my tools and gear out of the house. The rumpus room has been my tool shed for a few years. So once the shed was built, tools moved out I could get under way
How I've got my RO/DI unit set up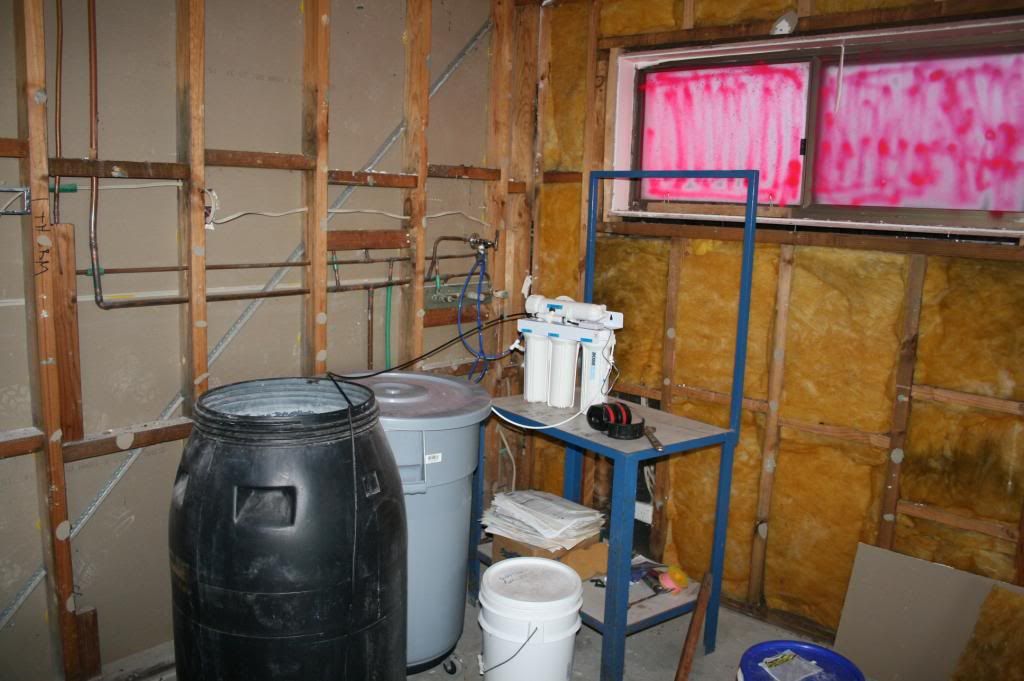 My old 6ftr from my fresh water days. I did give this tank to my brother who didn't want it anymore so I grabbed it back to use as my sump.
Since this is a full room project, I'll include the other parts under renovation. We have a split system in this room which I had disconnected to allow my to put ply on the wall. This is for insulation and bracing as the house does move a bit.
Moving along, this tank will be in the wall and since it's viewable from 3 sides, I've built the wall so that the tank protrudes out of the wall.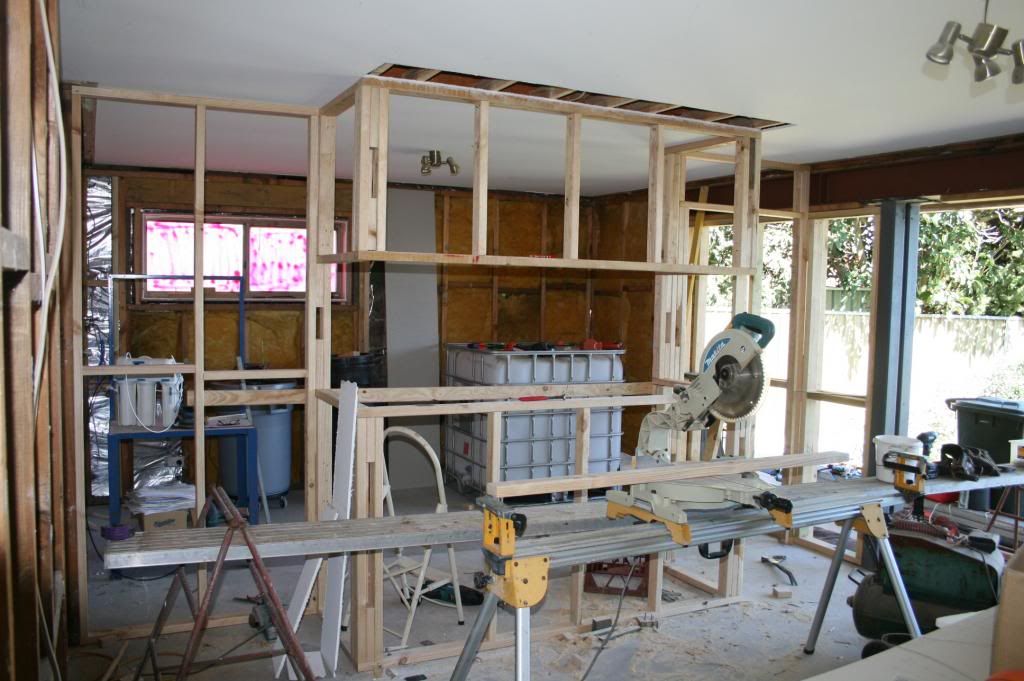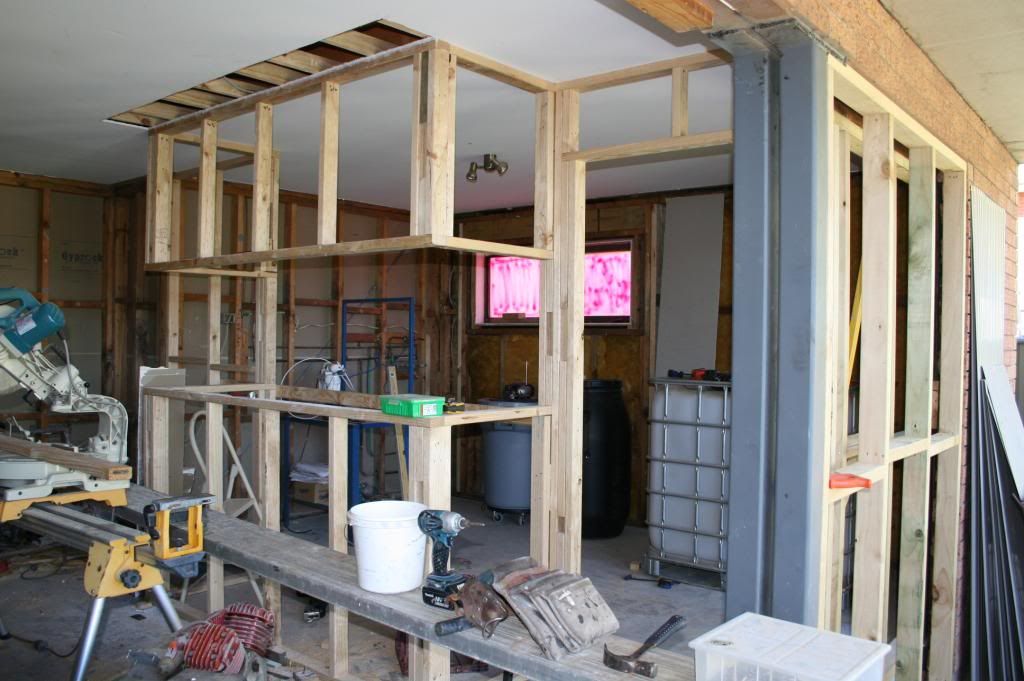 Trimmers cut in between the floor joists to properly support the bulkhead as it will be loaded with some weight in the future.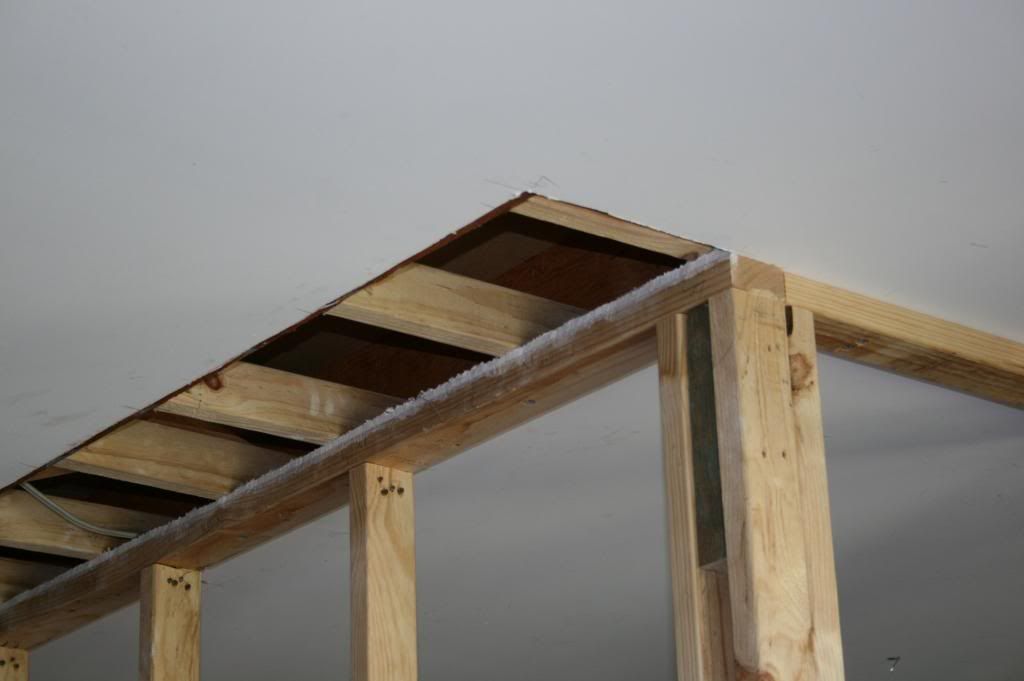 Ceiling closed up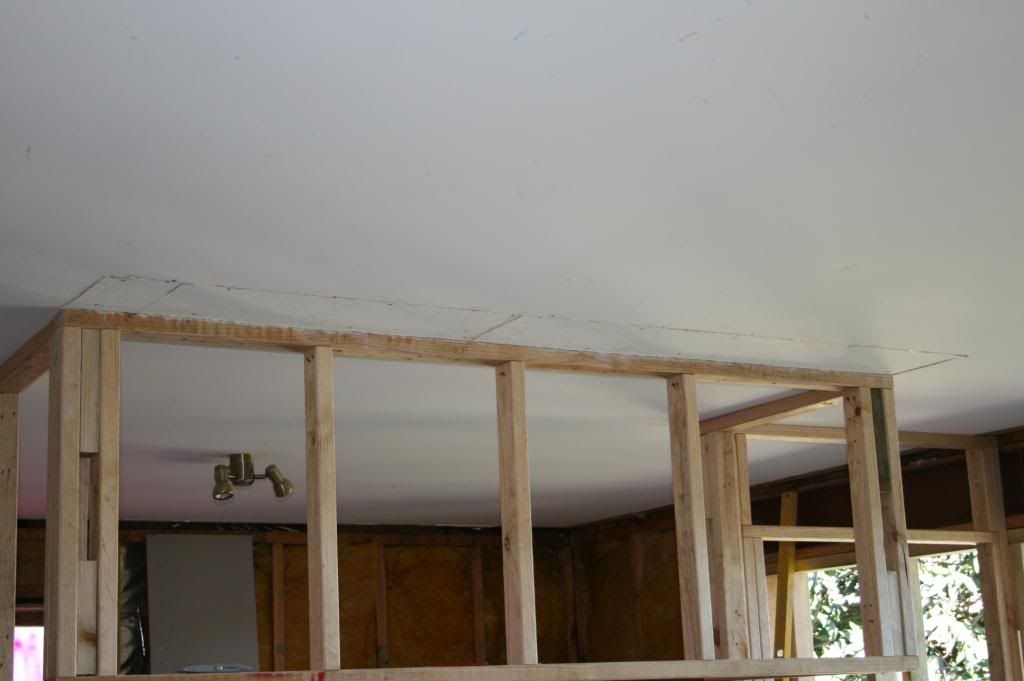 .