Introduction:
Well after looking at my other tank journal
http://www.masa.asn.au/phpBB3/viewtopic.php?f=148&t=219890
and reflecting, I realise that it has been 3 years since getting into the marine side of aquariums. So I guess this upgrade is due. I have been mentioning/suggesting such an upgrade to the wife for the last 2 years with not much luck. So I was surprised the other day when out of the blue she started asking questions about a bigger tank.
I'm not an idiot(can be debated
) so with approval granted from the boss I didn't waste any time and started the plans for the upgrade before she changed her mind
Also realised how out of date my details for the current tank journal is. Will try to be a bit better with this one. Not promising though
I must admit I am pretty excited
System Objectives:
Hoping that with a larger tank I can get more swimming space for Tango(yellow tang) as well as a bit more real estate for further coral growth as the 2fter is getting cramped.
System Type:
Plan is mainly SPS with the odd LPS to keep the wife happy and interested
Display System:
Strike up Date:
22/04/14
Display Tank:
Peninsula style 6.5 x 2 x 2ft. 15mm Glass full Opticlear
Display Lighting:
3 Ecotech Radion Gen 2's
Stand:
50x50x3 box Steel stand powder coated.
Hood:
Aluminium box section clad with one sides hinged to allow access for feeding etc.
Sump:
Racetrack sump as per final design pictures below
Refugium:
Around 40ish Litres
Refugium Lighting:
48W Power Compact lighting only utilizing 24W at a time though
Support systems:
System Water:
Natural salt water with auto water changes done with Stenner duel head pump. 4L per day = around 120L per month = 15% per month
Display Water circulation:
3 x Tunze 6105's controlled by Apex
Return Pump:
Royal Exclusive Red Dragon 3 Pump 80 Watt
Skimmer:
Deltec SC 2560, Avast swabbie and siphon cleaning with RO wast water to drain.
Evaporation Top Up:
ATO controlled by Apex controller
Tank being controlled via the Neptune Apex controller. Controlling Lights, ATO, RO storage container filling, Skimmer and cleaner, Return pump, heaters and much more. Love it.
Chemical Support:
Calcium Addition:
Randy's recipe via Bubble Magus auto doser
Alkalinity Addition:
Randy's recipe via Bubble Magus auto doser
Magnesium:
Randy's recipe via Bubble Magus auto doser
Iron:
1/2 ml 3 times per week. Will increase over time due to larger tank.
Current Water Chemistry:
Nitrates:
Phosphates:
Alkalinity:
Calcium:
Salinity / Specific Gravity:
Magnesuim:
Images:
Here are some planned tank pics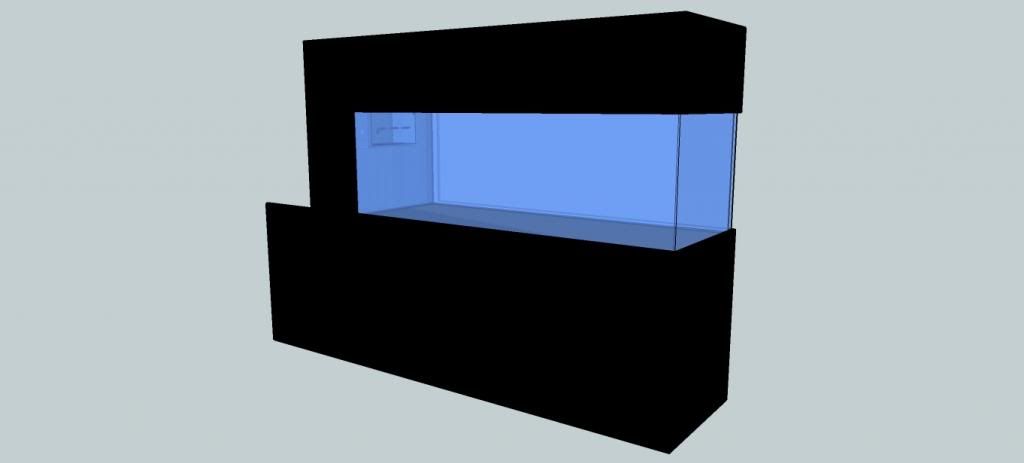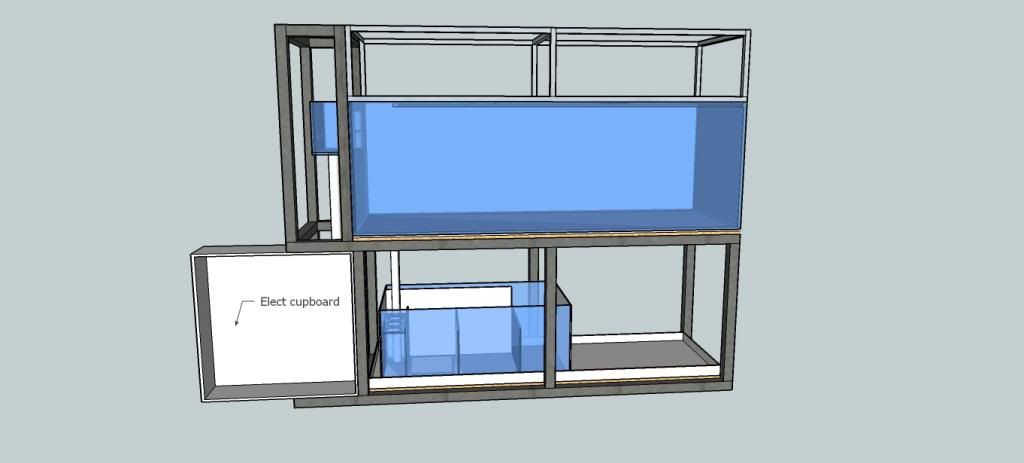 Finalised stand design.
Planned Sump design. What do you think? Bigger? Changes? Ideas?
Planned tank design/dimensions. Thoughts, Concerns?
The idea of the deeper overflow is that there will be an acrylic sheet for the weir and this will have slots in it lower to facilitate water changes through on of the drilled holes. You can see the idea better in the complete tank stand picture.
Thanks for looking. Getting excited