Introduction:
Hi guys. For those who don't know me, my name is Brett. I have been interested in reefing for approximately 4 years. Started off with a std 3 foot tank which i converted from fresh to salt water, then it evolved from there. When i built my house, that was as good a reason to get a larger tank, and expand my mind, experience to the reefing world.
The tank has been running for about 10 months now, and now i have a bit more time up my sleeve, im finally getting around to my journal, better late than never i guess
Latest system specs can be found here ---> viewtopic.php?f=145&t=239341&p=1188194#p1188194
System Objectives:
Looking for a healthy system where all inhabitants are happy, and a joy to sit and watch
System Type:
Mixed Stony Reef LSP & SPS
Display System:
Strike up Date:
23/7/2011
Display Tank:
1700 x 750 x 750 (5.5 x 2.5 x 2.5)
Display Lighting:
Pacific Sun LED Black python lamps 2 x 200W fixtures. Suspended from ceiling in DIY Black acrylic clad aluminium frame.
Stand:
DIY 76 x 38 x 1.6mm Galv patio Tube, primed + 2 coats of good quality cold galv paint. HMR MDF (sealed with marine varnish on both sides) for tank and sump to sit on + Polystyrene foam.
Hood:
Still in construction, not a hood as such, more of a acrylic border around the top to hide the lids, and the bracing. It will extend down just below the water level.
Sump:
1000 x 600 x 450 high with 2 sections.
1: Syphon, overflow and macro fuge
2: main sump area, heater & pumps for skimmer, chiller, TLF reactor and return.
Refugium:
Caulerpa and left over live rock
Refugium Lighting:
24w, 6500k Energy saver globe.
Total Water Volume:
approx 850L
Live Rock:
50kg
Substrate
CaribSea Arag-Alive Special Grade
Water Changes
120L Fortnightly, looking to increase.
Water Change System
IN
- 1000l IBC down the side of the house, simply just plug in 25mm ribbed hose onto electric pump, and pump into tank.
OUT
- Tee fitting off of return pump. Connect hose onto tee fitting, open valve, and the water is pumped out.
Temp Control
Controller
ATC-800
Chiller
Teco TR20.
Heating
1 x 300W & 1 x 150 w Jager heater,
Support systems:
System Water:
Natural salt water
Display Water circulation:
2 x MP40WES on reef crest mode, anti sync. 1 x Tunze 6045
Return Pump:
Eheim 2000lph - at the return pipe
Skimmer:
Reef Octopus Hurricane 1500 Shorty - External.
Evaporation Top Up:
Auto
Chemical Support:
Calcium Addition:
Randys recipie Pt 1
Alkilinity Addition:
Randys recipie Pt 1
Other Chemical Maintenance:
Magnesium: Randys recipie
Current Water Chemistry:
Nitrates:
0 - Red Sea test kit
Phosphates:
0.08 - Red Sea test kit
Alkalinity:
2.8meq/l - Red Sea test kit
Calcium:
400ppm range - Red Sea test kit
Salinity / Specific Gravity:
1.026
Magnesuim:
1400ppm - Red Sea test kit
Inhabitants
1 x Sailfin Tang
8 x Bicolor Anthias
Numberous turbo, trochus & strombus snails + crabs
Corals
Acropora
Montipora
Pocillopora
Toxic Hammer
Std Hammer.
Images:
Front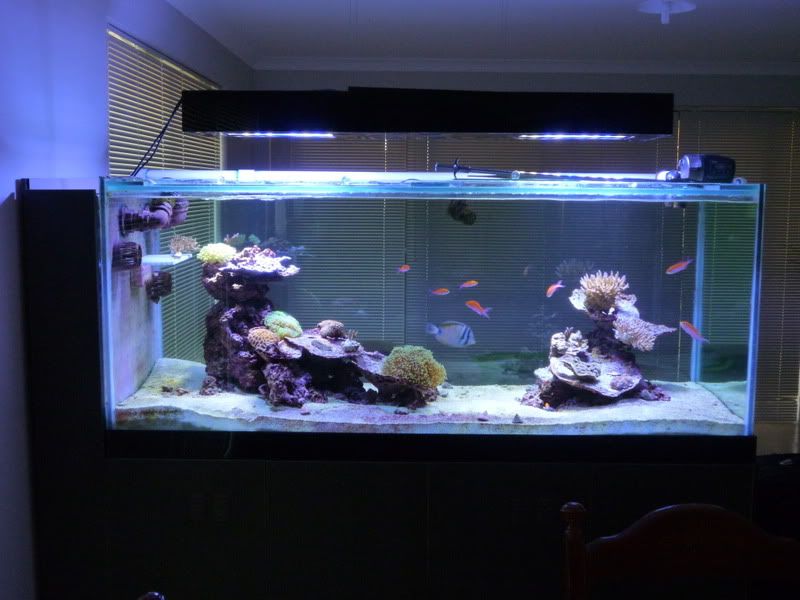 Rear
Side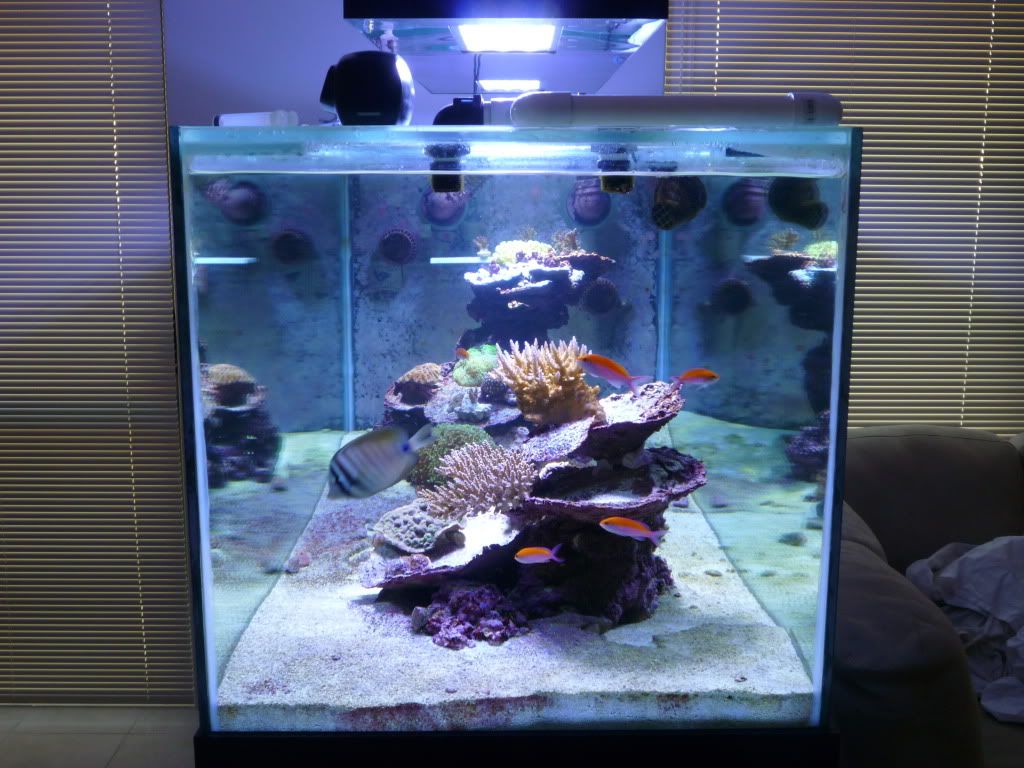 Toxic Hammer