Hi all
It has been over 6 years since I last shut down my 10 footer. Its been hell suffering the withdrawal symptoms, but I am finally back. I purchased a second hand ex display fully equipped Octagon tank from an LFS.
System Objectives: A beautiful, FOWLR or healthy reef system. (Not sure yet)
Strike up Date: TBC
Display Tank: 1100 x 1100 x 900 15mm glass Weir situated in middle of the tank with 3 x 25mm, 2 x 32mm holes
Display Lighting: (Work in Progress)
Stand: Came with tank but will be replaced
Hood: Came with tank but will be replaced
Support systems:
System Water: Natural salt water
Display Water circulation: Flow of the return pumps
Return Pump: Aquamedic 6500 Ocean Runner x 2
Skimmer: Aqua Medic Turbofloater Multi SL 1000
Heaters: 3 x 300w Jager
Evaporation Top Up: DIY auto topup
RO filtration: 4 stage reverse osmosis wall mount unit with an De-ionization post filter
Live Rock: TBC
TANK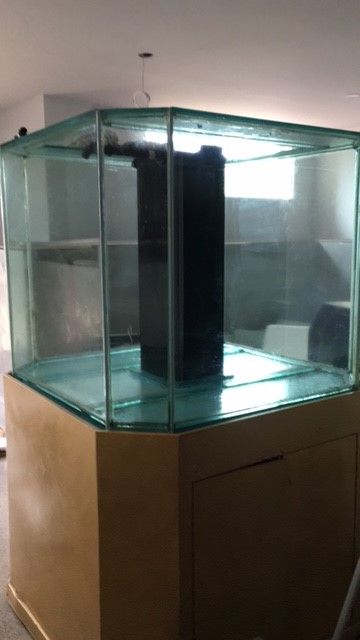 WEIR
As mentioned above, the tank has a central weir with 3 x 25mm holes and 2 32mm holes (see pics below)
At the LFS, 2 of the 25mm holes (end ones) were used for gravity feeding the sump and one in the middle was used to run an electrical wire from the roof to supply electricity to the equipment in the sump. I will most probably use the middle one for the electrical wire, but was considering installing a Herbie system with the other two holes (Thoughts?)
The LFS ran 2 x 6500 Aquamedic Ocean runners and each was allocated to a 32mm hole for the return. That must of been some serious flow in the tank via the 4 x 20mm outlet at the top of the weir (see pic below) I will most probably continue with this return system. The return connections have a ball valve connected to control the flow
RETURN CONNECTIONS
SUMP
The sump provided was more geared for housing all the equipment with bioballs (see pic below) so I am in the process of redesigning the sump to incorporate a refugium on one side, sump on the other and the return pump in the middle. All three compartment will be separated by baffles to trap any bubbles.
My 10 footer I had previously was a great success mainly due to the invaluable feedback/advise received from you guys on MASA, so please any feedback/suggestions would be greatly appreciated.