In 2007, I started my first ever reef tank in a 30cm x 30cm x 30cm cube, which went on to become
ReefKeeping magazine's first "Tank of the Month"
that was a nano tank. I think the Aussie supporters had much to do this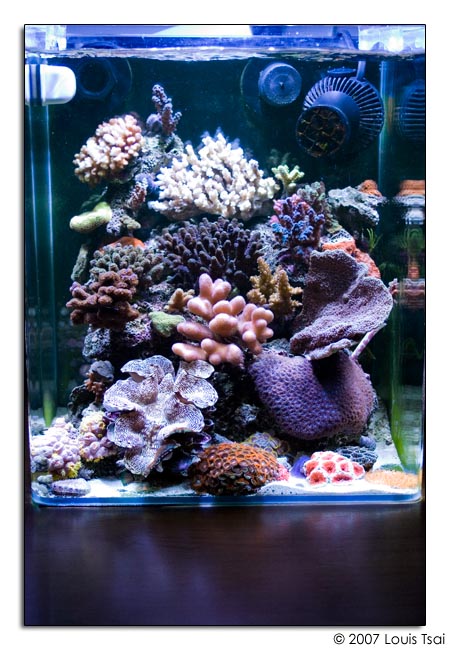 However, soon, I needed a bigger tank (as we all do), and Anthony (Axeman) sold me his "frag" tank, which I turned into a shallow reef. At the end of 2009, I shut down my 4x2x1 shallow reef tank because I did not have time to give it the proper care it deserved. It was a sad day, we even went to send off our little yellow goby to his new home. Most of the corals grew from small colonies into dinner plate-sized colonies. The tank had 4x Tunze 6045, 1x MP40 and 2 eductors and the corals were still blocking a lot of the flow!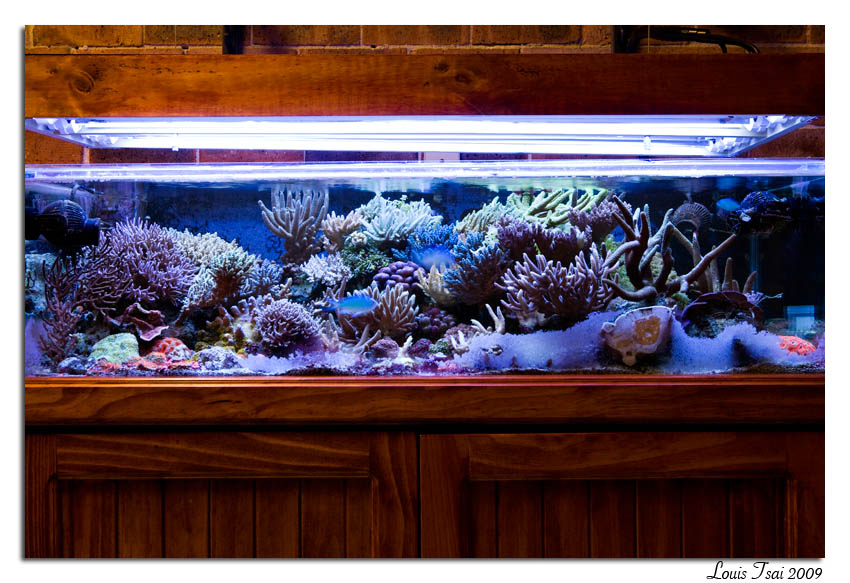 Three years later, I finished my PhD and got engaged, moved to Melbourne and finally I am getting back to the game! My fiancee loved my old tank, and I am embarrassed to say that her, not I, shed tears over the fishes and corals we sold to fellow MASS reefers.
We decided to set up a new nano tank in our apartment. It had to be small, since we will be getting our own place in the near future, and it had to be portable. We wish to keep some less demanding corals in here to begin with, but we'll see how that works out in the long run.
Tank: Dymax IQ5, which has an internal dimension of 21cm x 21cm x 25 cm (WxDxH). It has a back section which is partitioned into 3 compartments, one as the overflow, one for heater and one for the return pump.
Lighting: It came with a LED clip on light that's more of a keychain LED torch. I am ordering the AquaIlluminations Sol Nano with controller to replace it. This light should allow us to keep anything we want and can be used when we upgrade to a bigger tank.
Flow: The return pump is a 300 L/hr powerhead, which resides in the last compartment (right most when viewed front-on). The return is piped through the back wall and back into the display through a tiny little "loc-line", which has internal diameter of approx 6-7mm. The pump was originally connected to the loc-line through ~20cm of tubing, which severely impeded the pump's power since it is only rated for 60cm of head pressure. I shorten this tube to approx 7 cm, which improved the flow significantly. I wish to put in an EcoTech MP10wes in the near future. The Ecotech I had on my old tank was briliant. I do wish to keep the tank as equipment free as possible.
Livestock: corals, lots of it. 1 fish, most likely a yellow coral goby.
The tank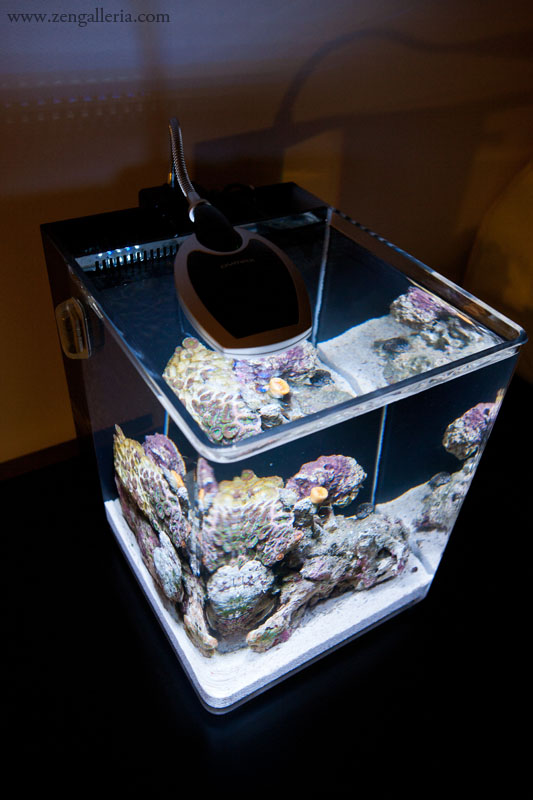 The three compartments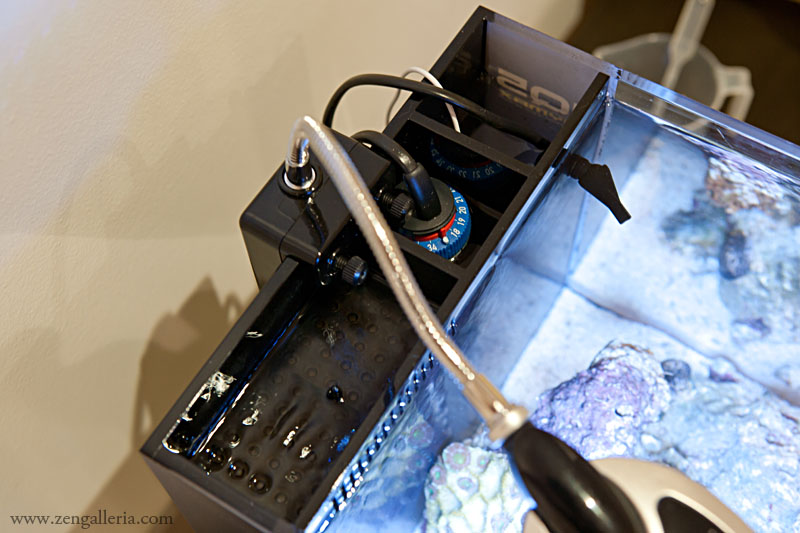 Float switch installed for auto top off.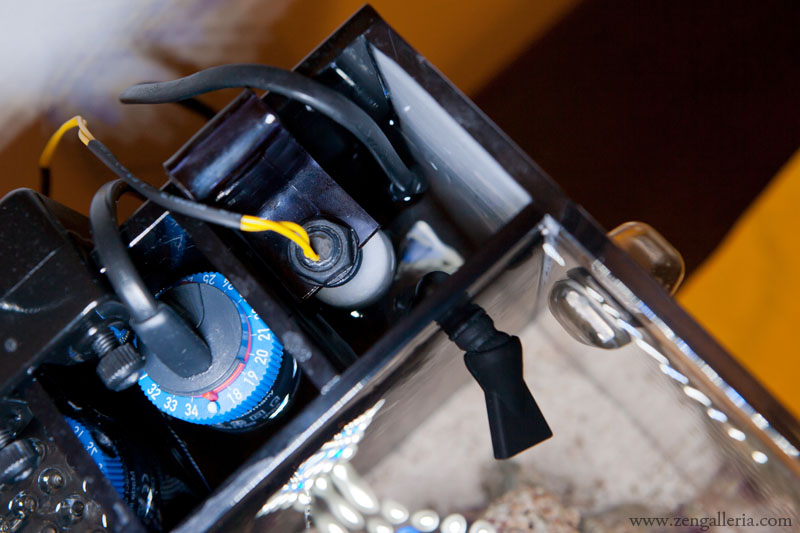 Peristaltic pump for the ATO. I am showing this pump because unlike normal peristaltic pumps, which requires a relay between the float switch and the pump (for control), this pump already has build-in circuitry to be externally controlled. In this case, when the external signal's circuit is closed, the pump runs. Therefore, I just had to connect the float switch directly to the pump's signal input. Simple. This pump had 2 channels, but only one will be used.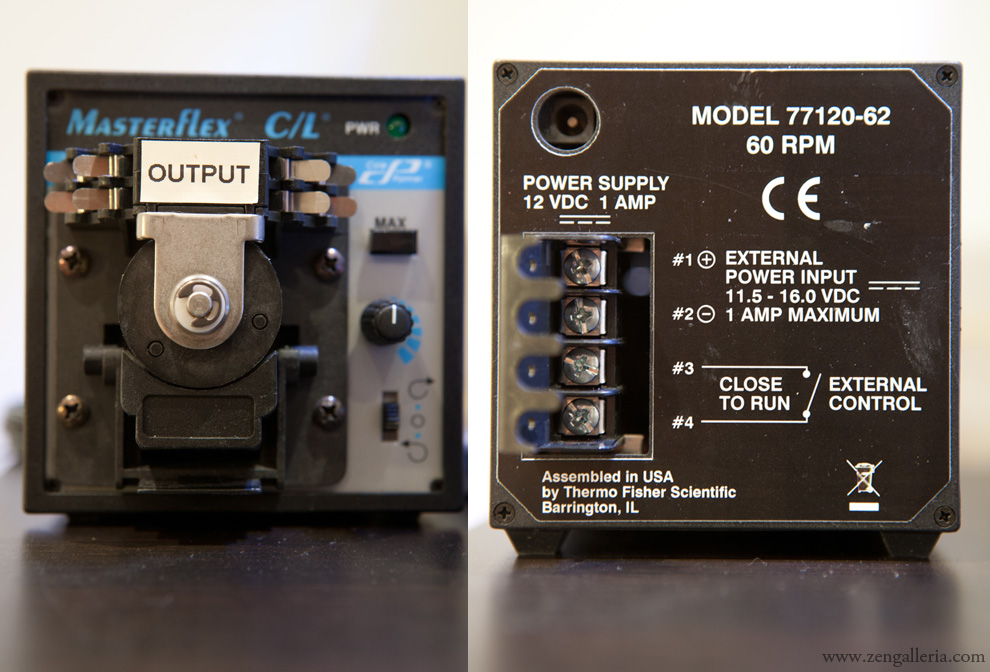 One of the current inhabitants. The other is a colony of green Acanasthraea that I rescued from the LR bin, and 1 head of Dendrophyllia.